Me and Minimus.
Forget summer, momentarily - it's raining, it's a cold morning, and I'm snug in my green old-school dressing gown in the cottage armchair. Minimus (my cottage cat) wants us to go into the garden, but I'm not motivated to venture out just yet. Not quite yet...

Minimus My Grey Cat
Monday 12th November, Early Morning...
I've been thinking. This is the only time of the year that my Mutabilis rose looks respectable. It's may be an unfair comment, but this sprawling old rose is better suited to a shrubland, and I've planted it right by the house. Oh well. Better get dressed, pop out, and take a quick photograph.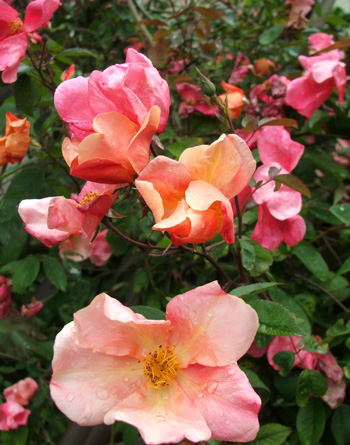 Mutabilis Rose
Mutabilis!
Eek! I'm back. Some flowers look gorgeously romantic when their flowers are covered in raindrops. But no, not the old rose Mutabilis, the oldest rose in my garden.
Writers have described this shrub as being covered by shimmering pink butterflies. Alas, the butterflies on my Mutabilis need desperately to dry out their wings. It's not a 'photographable' look.
Now I've decided it's too wet and too cold for gardening. Sorry about that, Minimus.
Tuesday 13th November
Again I am blessed by the infinite goodwill of cats. It's another non-summery, coolish morning, so I've let young Minimus out, shut the door, and turned on the little puffy heater. I've decided to read a bit until the temperature outdoors improves.
'A cat's love is very uncomplicated.'

-Moosey Words of Wisdom.
For nearly an hour now my cottage cat been sitting on the verandah waiting for me. Whenever I look up she's still there, staring out at the pond. It's so simple - she's neither peeved nor impatient. A cat's love (for its human mother) is very uncomplicated. When I decide it's time to go into the garden, she'll be there with me...
MInimus up a Tree
Much Later, Back in My Cottage...
I've just been explaining to Minimus how good we've both been today. I am full of red wine, so it's just as well it's only a cat I'm prattling away to. She's purring, and I'm slurring...
And yippee for the spellchecker, even if it insists I've been busy planting pink lavatories (lavateras). My typing is somewhat erratic after drink.
I've started pulling out the oldish forget-me-nots, and as a consequence my dog's furry legs are completely covered in biddibids. I've done some semi-serious weeding, hands and knees stuff, in the glasshouse garden. I've cut variegated elm tree suckers out with the kitchen scissors (oops). The garden looks so refreshed by the recent rain - even the droopy irises look magnificent, glistening with little raindrops.
All my antirrhinum and lobelia seedlings are pricked out, and I've sown some more white cosmos seeds. A summer garden cannot have too many white cosmos plants - they fill the gaps, bind all the stronger colours together, while looking so feathery and pretty.
All day long my bellbirds have chimed and whistled, and I've lost count of the new rosebuds I've seen. I've forgotten some of the colours of the recycled roses in the glasshouse garden, but their new growth looks robust and healthy. More of my Hen House Garden roses are flowering now, as are the rugosas by the water race.
Wonderful Roses...
Crepuscue on the pergola is in full flower now, and big Othello by the house is just wonderful. He's fragrant cherry-purple, a big impact rose, even with those tiny rust spots on his leaves. I've sprayed him thrice, and I hope the active rust is gone. Spotty leaves - if that's all my garden's got to worry about, then I'm doing alright, I reckon.
Wet Crepuscule Roses
+10Minimus agrees with me - I am a good worker, and she's enjoyed my company in the garden. So me having wine and her having top quality beef mince (no preservatives) are totally justified evening rewards for our respective busy days. OK. Enough of this winy chatter. My bed is waiting, I have my Agatha Christie novel to continue reading (I love Hercule Poirot), and young Minimus deserves a smoochy cuddle for being such a good listener. Goodnight from us both.