More trees are in blossom...
Aargh! I've been stuck inside doing web-gardening, and it's a beautiful spring morning. Aargh! So many things to do, so many different gardening planes, so to speak. The hot dry winds are still blowing, so I'm off to put on the hoses again. And then - well, I'll just forget all about 'html's and rejoin the reality of spring. Yet more trees are in blossom - the Prunuses are brilliant this time of the year. Please, wind, don't blow all this prettiness off!
Euphorbia myrsinites
Thursday 6th September
Aargh! I can hear the Moosey web-master clumping down the stairs. Time to make a dash for it. Escape! Quickly! Aargh! Too late. He wants to show me something new on the Moosey website data base....
Later...

+5This has not been my most glorious gardening day, but one tiny piece of stone wall by the water race is semi-rebuilt. Rusty the dog stands in the water and helps me, grabbing any greenery that floated downstream. Dear dog!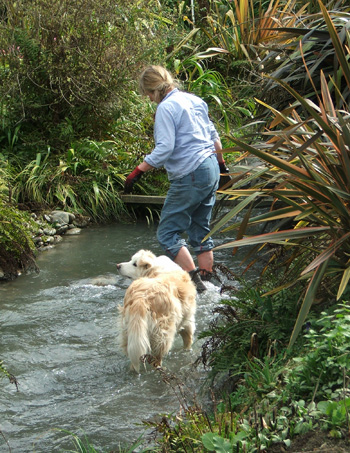 Head Gardener and Rusty the Dog
Shift Those Hoses
So every hour, on the hour, I shift the hoses - I'm trying to be systematic. Today it's the turn of the Wattle Woods Camellias and the Cottage Garden, plus the side of the house where my big striped cannas grow.
Right. It's time to paint some facial features on my new gnomes, and then shift the hoses again. The reason I'm watering at this time of the year is the nor-west wind, which dries the garden very quickly. Some of the recently planted roses need a bit of help.
Friday 7th September
I am going to have a day full of superb accomplishments today. It's the eve of my birthday, and it's high time I started winding up my celebrations. To be honest, my birthday week is much simpler these days. What do I want? Healthy lambs born to sensible sheep-mothers (three so far, just one ewe to go), my dog and cats to be happy and healthy (Rusty the dog is showing slight signs of stiffness when he emerges from his kennel in the mornings). Food presents only, all to be donated to the Salvation Army's food bank. And the wind not to blow too fiercely, so the beautiful spring blossom stays up there (on the tree). There's time enough for carpets of pink and white petals on the ground below.
Cricket on the Back Lawn
Multi-Tasking
Today my multi-tasking begins in earnest. I have to shift the hoses every hour or so, which requires concentration time-wise. I have seeds to do. I have weeds to remove, and gnomes to continue painting (beards, eyeballs, and belts). The garden has its own ideas, and it will have lots of glaring needs. Not that my garden ever glares at me, though...
So it's a 'tidy mind in a tidier garden' sort of day. I'm watering the rhododendrons in the Wattle Woods (one hose) and Pond Cottage's garden (new David Austin roses) with another. Ooooh. What to do first? Ha! Beautiful sunshine. Put on some sunblock.
Lunchtime...
So far so very good! I've pricked out the little yellow annual daisies (so useful, these flowers), shifted the hoses, and done my gnomes. I've also stood in the water race to finish yesterday's little stone wall. It's a gloriously warm day, if a bit windy - perfect for those new born lambs to start their lives. OK, it's time to return to the garden. Maybe a spot of gentle weeding would start my second session nicely. But first of all I need to scoop up some self-sown yellow daisy seedlings from the path to the compost. I love these daisies!
Bergenia
Much, Much Later...
Done. I painted my new wooden garden seat a soft lime green colour, and then did an hour of weeding in the Stumpy (AKA Willow Tree) Garden. And I've turned on the water drippers for the roses in the orchard. I hope the new ones I've planted in there (which include the famous Sir Edmund Hillary) will thrive.
Some exciting new from the couch - Daughter of Moosey is about to go trekking in the Himalayas for twenty-two days, and I'm couch-trekking along with her. She has sent me a spread sheet of each day's itinerary. I'll be 'crossing' Kongmo La, Cho La, and Rengo La in her footsteps, as well as popping into Everest base camp, which I have mixed feelings about. How rubbish-strewn and people-strewn will it be? There will be much Google-map excitement, methinks!
And now, to celebrate the evening of my Birthday Eve, I'm going to have a cold beer. The garden has been a good companion today, and I'm very blessed. That's what I reckon. If I wasn't here now (still alive, I mean), think of all the things I would have missed out on. For example, five years ago I only had one garden gnome, and now I have over eighty. Wow. That says something. I'm not sure exactly what...