I'd love to build a herb spiral...
Something terribly exciting has happened. I've seen something in a community garden that I'd really, really like to replicate in my garden. It's a herb spiral made with bricks. This afternoon Non-Gardening Partner drove us to see it, and he dutifully looked at the construction details. What do you think?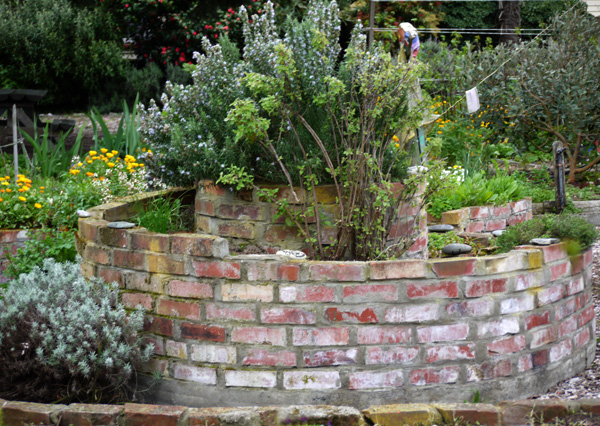 Herb Spiral at Opawa Community Gardens
Saturday 15th September
I think it's a gorgeous design, appealing more to me than a herb wheel laid at ground level does. I'm really inspired - I love the inherent spirit in a spiral shape, like the koru pattern of my brick courtyard. I'll be able use more of the earthquake bricks which fell down in Son of Moosey's house. Now, where in my garden would I build it?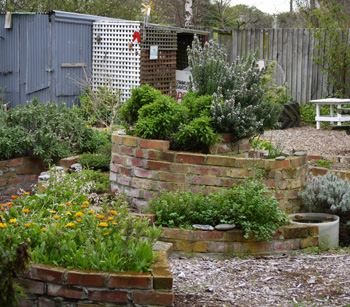 Brick Spiral and Raised Beds
A Bit Later...
Well, I've looked critically at the space I loosely call my vegetable garden. I've tried to be good during the off-season, shovelling on compost and the like, and I've tried to keep it relatively weed-free. I keep finding purple potatoes sprouting (silly things) and loads of Calendula seedlings, which have colour potential, as well as nuisance potential.
Obviously...
But I've decided this is the obvious and perfect location. What do herbs like, after all? Sun!
I also want to build some brick-walled raised beds, to curve around the spiral and hug it in place, so to speak. And woodchipped paths in between. And all of this needs to be done before vegetable planting time, which is from mid-October on. In fact, I should have my seed potatoes sprouting and ready now. Aargh! There's no time to lose - as usual...