The website make-over continues...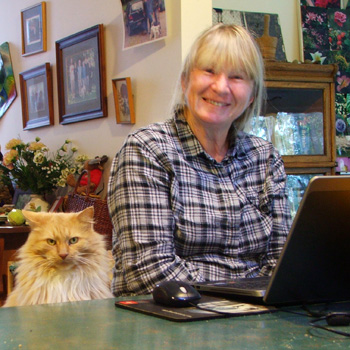 Head Gardener, Head Gardening Cat
Oh dear. I have so much real gardening to do, but the website make-over continues at full speed. Having a live-in webmaster is intense. One day I am pinned down at the breakfast table, so to speak, to hear his latest web-idea. The next I am dug out of my latest hiding place in the garden for yet another Moosey business meeting. Aargh!
Wednesday 19th September
The word 'daft does come to mind. You may know that I write lots of silly lists. Well, how would you like to click a button on the website and be able to randomly generate your very own Moosey list? You can even nominate the number of items. This amazingly useful function will soon become available. Hmm...
And if you are in any doubt as to how 'gardening mad' you are, well worry no more! Webmaster has created a 'Gardening Mad' questionaire. Just a few simple questions, think a bit, click a few buttons, and hey presto! You get a 'gardening mad' score. Just in case you weren't already sure...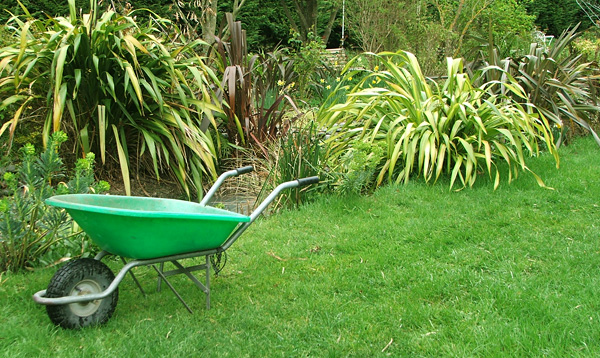 Abandoned Wheelbarrow
Perhaps stronger words than 'daft' come to mind. Anyway, it's high time I escaped out of webmaster range. I have seeds to do, plants to organise, and weeds to pull. And none of these things can be done with a giggle and a click of a button...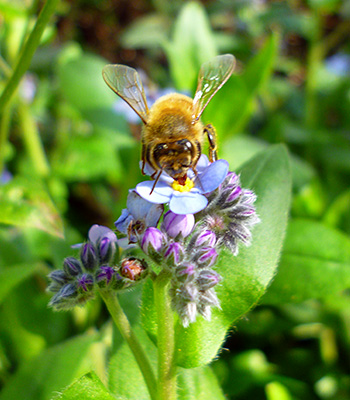 Bee on a Forget-Me-Not
Later...
Ha! A minor triumph of sorts - I've weeded for an hour and a half, fairly rigorously, and now the garden on the edge of the Frisbee Lawn is ready to accept new plants. The dahlias? Too dry, and now enough sun for long enough, maybe. Seriously, it's time for much more of this serious garden weeding action.
Floating around in my good jeans poking at little pottles of seeds is all very well, but there's a lot of large-scale work needing to be done. The Head Gardener is now thinking slyly about the sneaky puffy bottle of weed-killer she's stashed in the garage. Hmm...
And Later Still...
Aha! I have done so well. I have accomplished stuff. Stuff! Real, hand-dirtying stuff! Brow-mopping stuff! Let me elaborate:
Planted: Silver Astelias and a brown Pseudopanax in the Hen House Garden. Astelias are great foliage fillers, and these are planted in space where seedling Hebes were struggling, in the quirky garden I call Henworld.
Spring Blossom and Purple Seats
Blossom...
Noticed: The Driveway Garden's big flowering cherry tree is just starting to drop its blossom. So the lawn is slowly being carpetted in pale pink. So beautiful. I love my blossom trees, and it's OK that they be ephemeral. That's gardening life, after all...
Potted: more purple cornflower seedlings (I have squillions) and cuttings taken of Wallflowers, the variegated Elderberry and the variegated Buddleia. New variegated shrubs, hopefully later this year - yippee! And so my glasshouse work continues, but at a good, moderate pace. Perhaps a touch of piu mosso is needed soon?
Escaped From: You-know-who, the lovely Moosey webmaster, who didn't check the far corner of the glasshouse, where I was hiding, hee hee... But seriously, I love the new website look. I'm twice blessed - in the real and the virtual gardening worlds. And twice as proud at the end of the day.