Frightened about my climbing roses...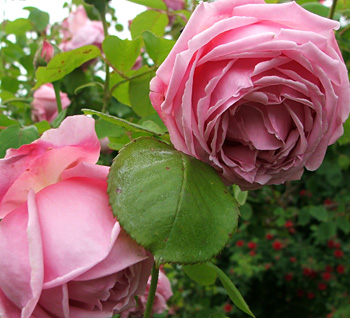 Madame Caroline Testout Rose
Ridiculous. I've been too frightened to check on the 'progress' of my archway climbing roses, just in case... Today, alert and armed, I sneaked apprehensively into the Hazelnut Orchard. What horrors and mayhem would be waiting?
Sunday 8th January
OK, OK. It wasn't so bad. Ghislaine de Feligonde needed severely trimming (it is customary to walk through rose archways). Teasing Georgia was looking dreadful - there's really no excuse for a modernish David Austin rose to be so leafless, apparently having embraced every rose disease known to woman. I knew that Madame Caroline Testout would be partially naked, but she's an old lady (?). I also knew that Coconut Ice would be far too puffy for its archway.
But my newer, reputable, climbing roses are doing poorly, too, and I suspect wind drift from Non-Gardening Partner's hazelnut sucker spraying regime.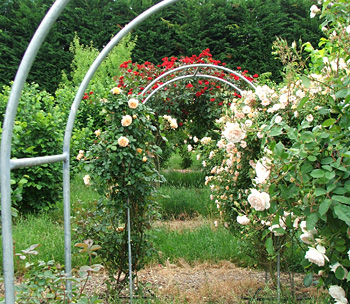 Coconut Ice Rose
Avoiding My Roses
I'm really cross with myself. I've been avoiding these roses for some weeks now, long enough for the beautiful cherry rambler Chevy Chase to come and go. All my so-called climbing Uetersens look like duds to me, in the climbing sense. Hopeless. Pretty pink, though.
I now have a lot of weeds to remove, canes to tie in, and other canes to remove. Mid-summer may or may not be the correct time to do all this. But I don't care. I am the boss.
Monday 9th January
Ah, Pond Cottage! How do I love thee? Let me count the ways... It's like a dream come true to have my own shed-with-a-bed right in the middle of the garden, being woken up by duelling bellbirds. I deserve this? Too right I do!
Important instruction to self - today I must plant the new bags of recycled daffodil bulbs. But where? I did have the perfect place, but have since forgotten it. Now every time I look at them I freeze and wait for enlightenment. It doesn't come so readily when one gets older...
Gardener at Work
Later...
Sorry but it all turned into a bit of a 'tomorrow-I-need-to-do' day. I've been swimming, visited the vet (Rusty the dog's stitches are out) and the library (I'm going adventuring with a cyclist in Siberia, hee hee). The Christmas jigsaw is now close to being finished, and I've been playing through all the Brahms intermezzi, semi-slowly, avoiding the dodgy finger where possible. Gardening and piano playing are probably two of the worst finger impact exercises!
Hydrangeas
I've wandered around the garden enjoying the scenery, which is pretty important. I love the hydrangeas, planted a couple of years ago underneath the variegated elm tree. They are finally all bushed out, filling out this summer-shady garden.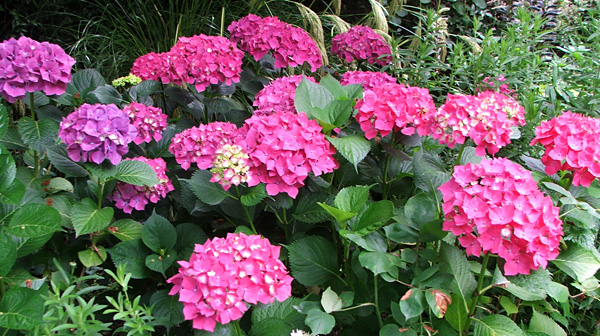 New Hydrangeas
One and a half bags of daffodil bulbs have been placed and planted, very carefully, on the edge of the Shrubbery's stone wall. They'll be visible from the house in spring. I've collected a barrowful of rose dead-heads and weeds, and I've put the hoses on for three hours to water some extra-dry bits.
Tuesday 10th January
Today will be a gardening day. Recharged with fresh rose-confidence I might sort out those climbers in the orchard. Then again I might plant the new plants in Rusty's Lavender Garden. More of my daylilies are now flowering. I love the raspberry coloured one in the Septic Tank Border.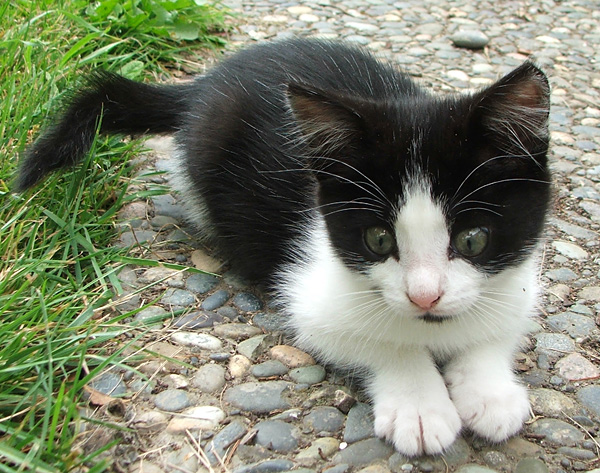 Little Mac the New Kitten
I notice that Stella D'Oro, on the edge of the Birthday Rose Garden, isn't bothering to bloom at all. Slack plant!

+10Little Mac is scampering around after two breakfasts. He is now a size three kitten, lapping his pet milk really well, and enjoying crunching the big cats' dried food. It takes him a while to dismantle one of their cat nuts into kitten-sized portions. It's great when a small kitten is eating well.
Later...
I've had a brilliant gardening day. First I weeded and cleared in the Birthday Rose Garden. Out have come the dwarf blue irises (none of which have flowered for the last two springs). I pulled out old forget-me-nots and assorted weeds and dead-headed roses. Out have come some purple Ajuga plantlets, and they've already been replanted behind the cottage.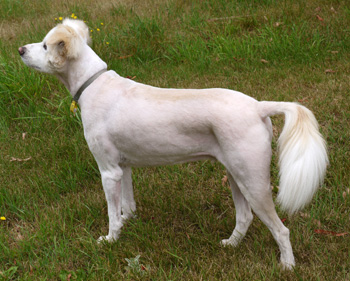 Rusty the Shaved Dog
A New Look for Rusty
After lunch Rusty the dog went to the dog groomer and while he was away I set to work enlarging his Lavender Garden. It's done, and the new lavenders are planted, helped by Little Mac the gardening kitten. I planted another bagful of daffodil bulbs. Then Rusty the dog came back from the groomers. Oh my, oh my! He has a brushed fluffy end to his tail. He looks a bit silly, but not as silly as when he had to wear that plastic bucket-head.
I'm really proud of my efforts today, so I've allowed myself a glass of wine. There's a twenty litre container of home-made naturally fermented wine in my hallway (thanks, Larry, Son of Moosey's neighbour), which should keep me going and glowing all year. I'm about to wander off to Pond Cottage to do some cycling in Siberia. Life is good when adventures in a library book satisfy the need for roaming, so to speak. Goodnight.