Couch-hiking and couch-cycling...
Just as my gardening settles into autumn slow-down reflective mode, my couch-activities are getting wondrously exciting. Fresh from couch-hiking with Daughter of Moosey in New Zealand's mountains, I'm now couch-cycling from Paris to Nice.
Early this morning, on the way to Sisteron, I saw my first spring blossom. The French countryside looks cold, washed over with grey and sepia shades, no leaves on the fluffier trees. It's all very non-green, apart from the cold, stiff green conifers. It is spring, however. Brr...
Autumn Compassion Roses
Tuesday 13th March
My couch-trekking with the adventurous Daughter of Moosey begins in earnest - well, in Nepal, actually. But I can't follow my spread sheet. Google maps is having me leap all over the place, into India and back again, even suggesting Japan. I will have to seek clarification from the real trekkers, and check the spelling...
Bright Yellow Freisia Rose
Back to Reality...
Back to reality. A resounding 'phew' for things that didn't happen last night. I didn't get a mouse in the cottage, I didn't leave my camera out in the dew on the back lawn, I didn't blow a musical fuse at choir practice (came pretty close, oops). And Non-Gardening Partner has made me feel better about my money mini-woes, so my petrol allowance can now include a short car-trip down the road to get horse manure.
Right. Time to turn my attentions to the garden - spreading horse manure and mulch, rose planting, more weeding in the vegetable garden, maybe another autumn bonfire. Back to down-to-earth real-life, with my gardening animals for company.
Lunchtime...
I've been 'bonfiring' all morning, gradually getting rid of the burnable rubbish along the fence-lines. This is not the sort of gardening to inspire soulful rambling, but it is satisfying, in the grand scheme of things - specifically modular garden maintenance. Right? I'm back off outside, and this time Rusty the lazy armchair dog can jolly well come too.
Mid-Afternoon, Apres-Gardening...
Aargh! I don't know what to do first - read my book in the sun and dry my hair, play both my solo piano pieces (Jerez by Albeniz and Grand Sonata in F Sharp Minor by Schumann), do some jigsaw, take my dog for a walk, or listen to Brahms's piano concerto (which I will, alas, never play) and write up my journal. Well, it's a bit obvious what the immediate choice is... Hmm...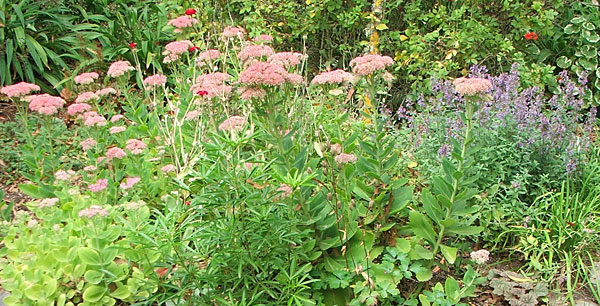 Sedums and Catmint
Let me just record today's progress before I wander off. Rosewise I've planted three Precious Platinums and the unknown small-flowered apricot rose in the Island Bed, as planned. I've also popped in the white Lilac and some clumps of Muscari. I don't care about their common-as reputation - I like them, so there! I've left spaces for some clumps of the sedum Autumn Joy, which needs space and fresh air to look good in autumn.
I estimate I've wheeled fourteen loads onto the bonfire, which is now gurgling merrily. The house will smell like a cigarette smoker's convention!
Little Mac :

Little Mac is old enough to go to the vet for his/her first immunisation.
Little Mac the kitten follows the wheelbarrow, so he's done quite some mileage today, and is fast asleep in his basket. We've been discussing the high possibility that he is a girl, so it won't be such a shock when we go to the vet.
I'm also trying to explain to Minimus that she was a rescued kitten, just like Little Mac. Hiding sneakily in the garden and then pouncing onto the kitten in a sinister fashion just isn't fair. She needs to share the garden.
I've saved money today. I haven't driven anywhere far away, lunched on sushi, or bought any garden gnomes. And we are having home-grown vegetables for the evening meal. Day One of my March Money Rules has been successful.
Hiking Gardener under Willow
Wednesday 14th March
Today, deciding that I needed to get out more, I've been out with the walking group. It was an easyish, long-enough trip, mainly sidling around lumpy high-country hills, visiting Lakes Ida and Catherine. My hiking trousers fitted properly, and I had a grand day out in the autumn sunshine (something to balance all those sporty couch activities I've been doing, hee hee).
The Celmisias (native daisies) were past their best, but lots of white Gentians were starting to flower, tiny dots in the green, brown, and beige vegetation. The scrub was typically scruffy with lots of Matagouri (a spiky native that one brushes past as carefully as possible).
Alas, the small rewards after a big day out are not available, because the power is off. No hot coffee or hot meal (had heart set on an oven-baked potato) in front of TV (in Oxford, watching 'Lewis'). No problem, though - the light is fading now, so I'm off to bed to read with my head torch. Great day! Great work, knees, hips, and legs.