I need to reboot my March gardening plans...
Honorine de Brabant
I need to reboot my March gardening plans. For example, what did I do in the garden yesterday? Oops. But the weather was pretty ghastly (ignoring the sun that started shining in the late afternoon). I wonder if I should break with tradition and get some goals for March?
Friday March 2nd
Personal stuff first. In another of those 'Why Didn't I Do This Ages Ago' moments, I have switched to decaffeinated coffee. I've always drunk coffee for the taste, not the caffeine, and I can't even tell the difference... Even at four cups a day maximum, this has to better for me, right?
More personal stuff - a huge tribute to London Son of Moosey, who has helped so much over the last 24 hours. Love you, son. OK - a slightly horrid cyber-start to the day has been followed up by a boring and basic gardening session, in which I cleared the little Agapanthus stone-walled garden, and pulled huge weeds out of the driveway. I redug the edge of the Frisbee Border's corner garden and then (I am so ashamed) the nasty weed killer was sprayed (symbolically?) on all the dodgy grasses and the dandelions. Ha! I feel much better, though. Systemic weed-killer is a web-gardener's punch-bag?
Little Mac :

Meet Little Mac, the newest Moosey feline.
Little Mac the kitten has been with me, scampering up and down trees. 'Don't go too high, little one' I call out - as if he can understand what I'm saying. And thankfully last night in the cottage I was mouseless. Do you know that Minimus has caught a mouse each evening this last week? In the window she pops, squeaking and carrying on, waking me up. On goes the light, and aargh! Yes, I am proud of you, young Minimus. Keep up the good work, but how about hunting in the daytime?
Later...
I guess it doesn't count, but I've spent half an hour picking up gum tree bark from behind the Pond and through the Wattle Woods. Well, it counts if I'm going to wander dreamily around the paths and over the little bridges at dusk with a glass of Larry's home-made naturally fermented wine...
Off-Duty Cricketers
Saturday March 3rd
Aha! March is so far, touch (untreated) wood, a mouse-free month. Two nights in a row and young Minimus the cottage cat hasn't brought me anything that wriggles in the middle of the night. Phew! But March is almost a gardening-free month, so far. Today, for example, has been blustery and rainy, and I've been doing my jigsaw and listening (with great nervousness) to the cricket. New Zealand (small-time) is playing that powerhouse of cricketing talent, South Africa. My own concrete cricketers are taking a bit of a break - their pitch (AKA lawn) needs mowing, and the lawnmower is still broken.
And since this is a gardening journal, I don't have all that much to say. I have, however, just about finished editing and publishing the stories of Daughter of Moosey's great hiking Loop Trip. I've been virtual-hiking with her every day of the way - it's been such fun.
New Pink Lily
I do have one gardening plan for tomorrow. If the wind and rain die down it's time for a huge bonfire, to burn all the dry rubbish piles on the fence-lines. If, as some say, the beginning of March is indeed the beginning of autumn, then this will be my first autumn bonfire. Hmm...
Sunday 4th March
I am good. Good am I. I am good.... The wind was behaving, so I've been carting and burning rubbish for four hours. I've cleared everything from underneath the Leyland hedge, between Middle Bridge and the driveway end. I've cleared the Wattle Woods fence-line, and taken most of the gun bark piled up behind the pond. I conned (oops) Non-Gardening Partner into helping a bit, too.
It's hard to write in an energetic, excited way about a four-hour bonfire. I ended up totally pink-faced and the tiniest bit bored. But boy do I feel smug, now I'm inside and cleaned up, smokefree. Hey - I may not have planted anything flashy, or made-over any of the gardens, but what I have done has been terribly sensible. Garden maintenance is like that. Unfortunately my house smells like it's been invaded by a family of chain-smokers...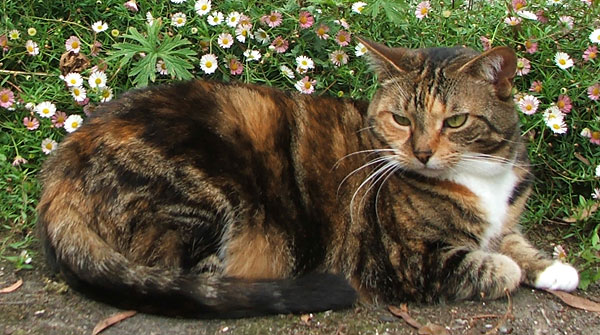 Tiger the Senior Cat
Regarding my hunting cats, I've been thinking about Tiger the tortoiseshell, senior feline. She never, ever catches anything outdoors. She gets her hunting-cat-thrills putting out a lazy paw and trying to scoop up the little fantails which flutter stupidly into my house. And I'm looking at her now, sitting by the food bowls.
Going to Seed!
Is the body of a cat supposed to fit where the cat's heads can go? Oh dear. Tiger's wouldn't. She is really going to seed. She's an official too-fat fattie!
Hydrangeas
I'd like to thank, in no particular order, my new hydrangeas for flowering and looking lovely, my late summer roses for doing likewise, and my new pink lily, which looks a little un-natural, but I guess that's lilies for you.

+20I'd also like to thank Little Mac the kitten for being such brilliant gardening company. Follow that wheelbarrow! My bees would, I'm sure, like to thank me for persevering with growing giant Angelica, flowering now. I wish I had a huge patch of them, though - I must get more seedlings organised.