SBW? Super-Bonfire-Woman!
In my gardening world there is a new female super hero called Super-Bonfire-Woman, SBW for short. She collects wheelbarrow loads of scrappy pine and gum tree mess, and trundles over to her bonfire, for hours and hours. She is sleek (well, semi-sleek), efficient, and rather stinky. She is me!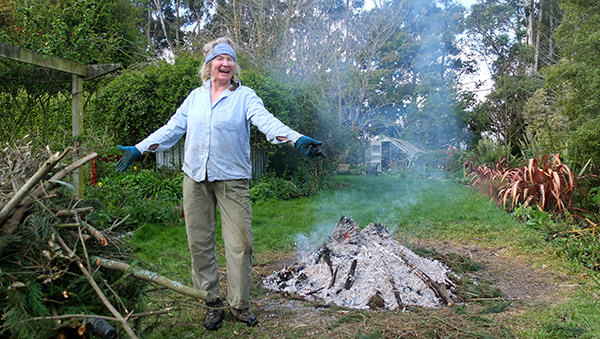 Super-Bonfire-Woman
A tiny explanation about the burning - the smaller-scale mess can't be shredded, and there's far too much of it to leave lying around. I sort out the larger branches for shredding and firewood. And when I get a bit bored I collect up the pine cones. Actually, I love gathering pinecones.
Friday 20th September
It's hard work being a super hero. I long to go back to being a normal spring gardener again, without the frenetic urge to clean-up, clean-up, and then clean-up some more. Early this morning Non-Gardening Partner chain-sawed the remains of the tree in the corner Frisbee Lawn Garden. Now if I just remove those logs, and then sort out a few more piles of branches for the shredder, and then finish clearing in the Hazelnut Orchard... Not to mention the garden behind the pond...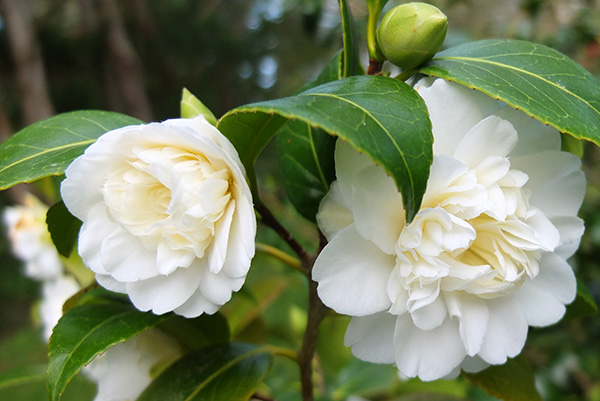 White Camellias
Aargh! But all my hard work has made a huge difference, with huge thank-yous to friends who've helped me. So there's still more, but hey! But first I'm going to make myself watch the scary catamarans sailing their America's Cup race in San Francisco. Aargh! We lost!
Flaming Bonfire :

Here's my bonfire in action. Lots of flames, a safe and sensible size, and water nearby - just in case!
Now it's the evening. For three hours I was Super-Bonfire-Woman. A shower, a quick change of clothes, and I turned into someone completely ordinary - an electoral assistant, tucked away in a local library taking special votes. They I zoomed home, whirled around clockwise three times, and SBW re-emerged. Hee hee.
Saturday 21st September
Ah, the weekend! Chain-sawing men are arriving later this morning, including the brothers with a super-sized one. I'm up early - I've already watered the new lawn and the newly planted recycled rhododendrons, and it's not yet 8am. Non-Gardening Partner is up, too, and off to 'tail' the latest lamb. Now I'm going to prick out some more of my seedlings. It's time to have a more balanced gardening day, methinks.
Lunchtime...
Except that it's raining. I've already been clearing for a couple of hours, so this is the ideal time to do the glasshouse seedlings. Some gentle words of encouragement - you are all doing sooooooo well.
Sifters Red Camellia - Roger Hall
And then it stopped raining, and friends came to help, so I've had a brilliant clean-up day. First of all I cleared the garden behind the pond, and fished out bits of pine tree from the water, while NGP sawed the tree into movable logs. Two variegated Pseudopanax shrubs are badly damaged, but perhaps they'll sprout again from the base. Various roses have lost a cane or two - not a problem! The white irises are lost underneath a sea of pine cones and needles. A couple more gnomes have - bitten the dust? Tasted the sap of the pine? Oops.
One Firewood Pile
My friend and I continued clearing down the side driveway. She trimmed the pine branches, while I carted the mess off to the bonfire. We've cleared a good sized space now where sawn logs can be stacked. It's a problem when cleaning up big mess - what to do with the consequences, like shreddings, or firewood branches.
Five Weeds Pulled Out!
Late in the day NGP partially unblocked Rooster Bridge, so now I have lots of brittle Wattle tree branches to add to the bonfire. That's my first task for tomorrow. And guess what? I bent down and pulled out five weeds! Yeay! That's five squillion minus five to go...