Eradicamus!
If just one gardening wish could come true - might it be something to do with weeding? Imagine being able to remove a weed with a concentrated, withering stare and a Harry Potter whoosh of the gardening digger. Eradicamus!
Dandelion Weed Flowers
There'd be no sore hands at the end of the day, no feelings of utter hopelessness while contemplating of the meaning of infinity, garden-wise... But the world of gardening would be rather sterile and tame without weeds, I guess. Here's a slight rewrite of a poem by Gerard Manley Hopkins.
What would the world be, once bereft
Of weeds and wildness? Let them be left,
O let them be left, wildness and weeds,
Long live the weeds and the wildness yet.
Monday 9th September
I'm enjoying some breakfast couch-sailing in San Francisco - watching the 'big cats' racing each other with my own big cats sprawled on my knees. And do I ever want to go real-sailing? No, nay, never! I need to go real-rose-planting, though...
Histeria by a Dock Weed
Later, Lunchtime...
I've finally finished all the digging. The curve of the Glass-House Garden is more graceful, and the whole of the water race border is weeded. My hands are sore, so I'm allowing myself the smallest of breaks inside - just as long as it takes the New Zealand pianist Deidre Irons to clatter through two early Beethoven concerti. And the nicest thing - I forgot there were some birthday chocolates left. Yum.
Much Later...
All the roses are planted, in terribly sensible places, where their new country life can be joyous, full of sun and fresh air. It's been another seven hour day, and I can't understand why planting takes so jolly long. I am tired, but happy.
Tuesday 10th September
This morning's breakfast activity was a continuation of my couch-cycling journey through Spain. I'm going pretty fast! (TV, but just the highlights). Then I weeded for four hours in a most unsettled way. I couldn't decide what type of weeder to be. Nit-picky? Or merely squinty-eye satisfying? I sort of dithered between the two, and got really mixed messages when I looked at my efforts later.
Basic Pink Bergenia
Path Widening
I also widened and rerouted the path from Willow Bridge into the Stumpy (AKA Willow Tree) Garden. I dug up the clumps of Acorus, managed to get them weed-free, and replanted them. This slight modification does look really nice, and a path walker won't get thrown off balance into the Yellow Wave Phormium anymore.
The Bergenias in my garden are funny. The unsubtle pink ones (the species, I think) are starting to look tatty, whereas the other coloured hybrids haven't even flowered yet.
I've analysed my weeding styles. There seem to be four main categories, with some natural blurring in-between :
Hopelessly Superficial : Pretty much a waste of good gardening time.
Squinty-Eye Satisfying : Instant gratification, removal of guilt.
Mildly Thorough : Gives that glowing good gardener feeling, without using excess mental energy.
Nit-Picky : Head-spinning, mind-numbing attention to detail. And soooooooooo boring.
All day a noisy nor-wester has been poking around the garden, looking to get up to some mischief. It's blown my rubbish out of the wheelbarrow, chairs on the patio over, and now is eyeing up the flowering cherry blossom. Please, no, Mister Big Wind. Not the blossom - it's only just begun! I'd better shut the glass-house door, just in case.
Plum Blossom
Much Later...
Mister Wind is being a real nuisance, roaring and whining, winding himself up. The big trees are swaying in scary slow motion arcs, and we've got no power. So the gasoline emergency lantern is buzzing, and I'm making loads of spelling mistakes. I wonder how noisy the cottage will be tonight?
Wednesday 11th September
Hmm... Subdued by the roaring of the gale force winds, I retreated back to the house with Minimus tucked underneath my arm. Then the worst of the wind arrived, at about 10pm. Not pleasant! Our immediate neighbour has lost about a hundred huge pines and gums, twenty of which have crashed onto our property, blocking our side driveway, and smothering parts of the Stumpy Garden. This seems so unfair. I hope Non-Gardening Partner and I can clear the major mess off the garden before the big machinery arrives.
The Side Driveway
We've lost one or two of our own big trees, and some large branches. The house, cottage, and outbuildings are fine, but there may be some gnome casualties. One huge pine branch has crashed down the ram paddock, and reaches into the pond. Ouch! I can't get close enough to check.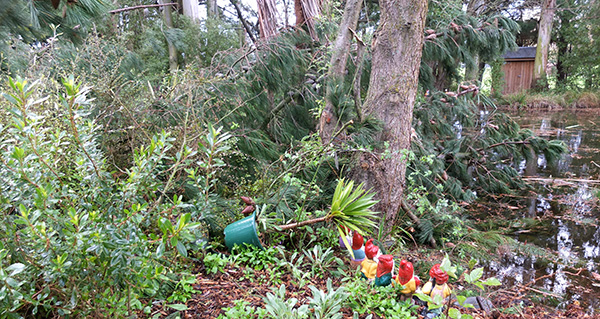 Pine Tree in the Pond
I've already been outside to start my small scale clean-up of a large Wattle branch, down on Rooster Bridge. My little bow saw and I worked well, but this wood is tough to saw by hand. I cleared the debris caught up in the river pumps and got them rotating again.
Aargh! Thunder and Lightning...
And then thunder boomed, the edges of my eyes flashed with lightning, and down came the rain. So I'm inside, hoping that all the cats are OK. Big Fluff-Fluff gets very scared in extreme weather events. We rarely get thunderstorms and lightning, so he's not used to the noises.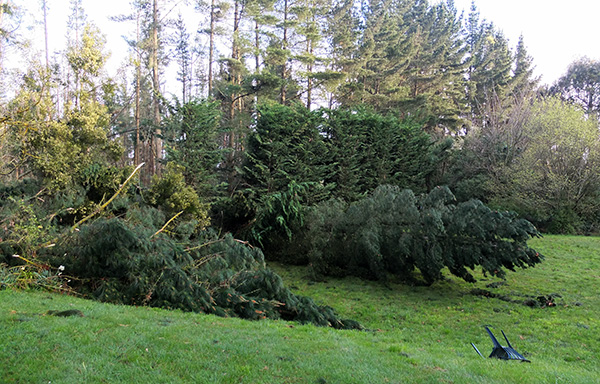 Trees on the Frisbee Lawn
I'd rather be out there doing the smallest something than sulking inside. I don't really like this thunder, and our power isn't back on yet. There's something nice thing about real books and a piano, though - they don't need recharging or plugging in to anything! And I can always go back to bed and sulk properly, hee hee...
A final thought. Plagiarising Gerald Manley Hopkins might not have been such a good idea. What he actually said was rather prophetic.
What would the world be, once bereft
Of wet and wildness? Let them be left,
O let them be left, wildness and wet,
Long live the wet and the wildness yet.
Hmm... Wet and wildness...