Christmas 2014
Aha! It's Christmas Day, 2014, and I am back in my lovely mid-summer garden. Almost all of us except me are asleep - snoozing kittens, dogs flopped over on the kitchen floor, Non-Gardening Partner snoring on the couch. You see, it's hard work participating in Christmas celebrations - carrying the basket of presents to the car, driving for half an hour with absolutely no other traffic on the road, sitting at daughter's outdoor table eating yummy food, and so on. I've already unsuccessfully tried the energetic approach. Would he like to do some Christmas lawn mowing? Hmm...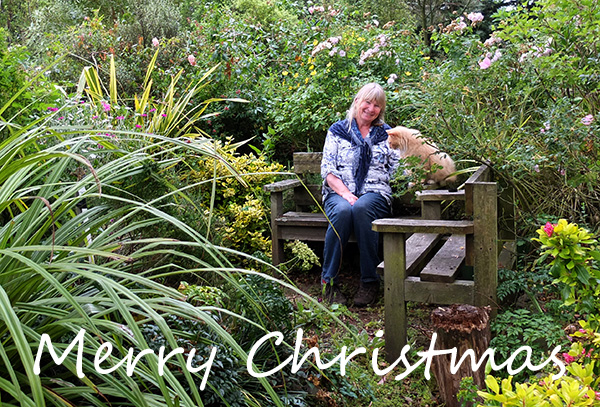 Merry Christmas 2014
Now begins a new and truly delightful stage in the life of new Moosey kittens - garden independence! They follow the gardener outside, confidently dismiss any nosy dogs, and discover the trees near the house. And so they do their first climbs up (and down) the rough trunks of the gum tree, and get to walk out on the lowest branches of the Liquidambar - so clever!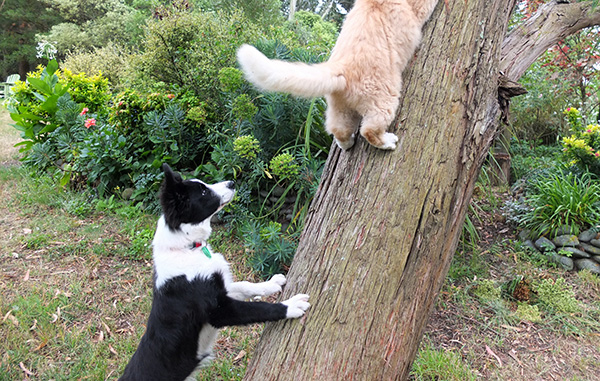 How Do You Do That?
On the ground below Winnie the puppy is mesmerised - why can't she do that? This is sad but inevitable moment when Winnie realises she is inferior to a cat. And not just any old cat - a tiddly little kitten named Tiddles who is smaller than her doggy tail and sillier than a chook. How fair is this? Hee hee... Meanwhile Buster the black kitten has been over to the pond to check out the cottage. Minimus my cottage cat is blissfully unaware of the two newcomers - I hope she doesn't get too snarly if and when she notices them.
Greenery, Trees, Water
Tying Up Loose Ends
Gardening Memo to self - whatever happened to my favourite apricot iris which I usually see from the house? Hmm. This spring I didn't see a thing. It is a favourite colour, so subtle, and I seem to have lost it. Blast.
Personal grump - my head-cold is going really well, as is my Christmas cough. Sleeping in two hour chunks overnight isn't ideal. Mind you, Minimus and ginger Percy leaping in and out of the cottage window do not help. Everything rattles and booms and I wake up thinking I'm being after-shocked. Even the most relaxed of the earthquake-experienced (me) reacts a little in the middle of the night.
World Wish - isn't it so obvious? Peace and tolerance - yes. Greed and violence - no. And turn off the TV news if having difficulty staying positive. Have a happy Christmas week. Be a gentle gardener, and reach out every day to do something nice for someone else. Easy.
Garden Thanks - thanks so much to the greenery and the trees for providing beautiful shade for summer. And the water features (the pond and the water race) for providing clean never-ending water in which to cool off. So lucky, I am, so very lucky.
Boxing Day
It's really hot and sultry. I've done a tiny bit of shade gardening in the water race, accompanied by Winnie the puppy, little Tiddles, and big Fluff-Fluff (who has appointed himself chief kitten-nanny). Yesterday I watched with joy as Winnie went for her first deliberate swim in the pond. Sensible pup on a hot day! Today she's been sloshing around in the water getting caught up in the old forget-me-nots I'm pulling out. Biddi-bids galore!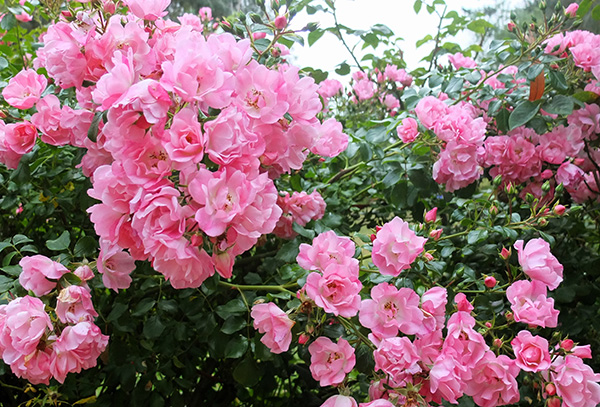 Pretty Pink Roses
Now the dogs are stretched out underneath the table, the kittens have made themselves as long as possible (Buster the black is really warm to the touch) and the big house cats Fluff-Fluff and Tiger are airing their tummies. NGP is back on the couch reading a nerdy magazine. I've started the Christmas jigsaw, and the cricket test is on (I'm listening to the commentary). Oh, yes. Summer. Hot days, the cricket radio, the watering hoses, my shorts, sunscreen, sunnies... And NGP lounging around at home, ripe and ready to be organised.