Custard?
The official word from Non-Gardening Partner : 'The Weather is going to turn to custard'. Not the most nerdy of descriptions, and certainly lacking detail. What type of custard? Home-made with real eggs? A cardboard container from the supermarket deli fridge? A packet mixed with milk? Hee hee...
Monday 13th April
But I'm getting a bit picky here. Fully understanding the idiom, I've spent a couple of hours barrowing in wood from my last outdoor woodpile (even though the woodshed is full) and stacking it outside the back door. Back and forth, back and forth I've plodded, with the dogs, the two young cats, and big Fluff-Fluff. They don't seem to notice the repetition...
Autumnal Strawflowers
Then I lit the log-burner and waited. Nothing much happened, apart from streaks of sun between the angry grey clouds. I watched a recorded episode of 'A Touch of Frost' on TV with Percy the ginger cat on my lap. Still nothing - a sky busy with clouds, glowering greys, bossy whites. Wow! No sign of custard, either...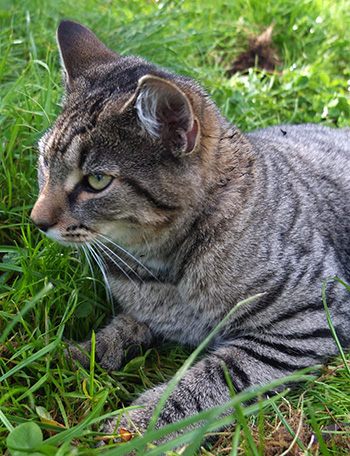 Tiddles is Back
Welcome Back Tiddles
Great news - I'd like to welcome Tiddles the bucket-less cat back into the house and garden. She's been out walking with the dogs, climbing trees, and wrestling (ever so gently) with sister-cat Buster. Am overjoyed one minute and fussing like a worried old cat-nanny the next. Overall feeling? SO happy!
Tuesday 14th April
Brr... It's a bit nippy. So I'm going for a swim, as one does, while the dogs go happily back in their kennels. 'Bedtime for dogs! I announce, holding some treats. They've only been up for two hours, but really - dogs will believe anything! Then we'll go to the dog-park, hoping that the cold wind won't put others off.
Later...
Success! Toby the black labrador and Ruby the American bulldog (AKA bullydog, but enough of that) were there, plus two fluffy Huskies. So we all formed a pack and walked, ran, etc. around and round to keep warm. So much fun. Back home I'm not going to do any gardening. I'm going to have a cup of tea and catch up with my TV couch-cycling. I think today's race is in Flanders.
Wednesday 15th April
I've been dog-socialising twice today while the cold southerly wind has been blustering. The plan is to return to gardening tomorrow, and not to watch any more old episodes of 'A Touch of Frost' in the daytime. Pretty naughty, really. I have pots of Lavender to plant, and gum leaves to rake up.
Eddies White Wonder Cornus - Autumn
B-Puss :

Meet dear B-Puss in my cats and dogs section.
And the Cornus Eddie's white Wonder in my Cats' Memorial Row has turned bright red. This deserves a special mention, as does B-Puss my white wonder cat, who has been at rest underneath it since 2007. Never forgotten, dear B-Puss, never forgotten.
Thursday 16th April
I have a new house rule. Since it is only just autumn, and nowhere near winter, there will be no more daytime TV watching. If I can't think of anything else to do I just put on the appropriate jacket and take the dogs for yet another walk round the orchard.
The Island Bed
And a new outdoors rule. Perhaps the thought of wet feet has stopped me doing any serious gardening these last days. Well then. I've got out my wet-and-cold seasons gardening boots, and they are ready to go. They are my old hiking boots, sturdy and fairly waterproof.
Winnie the Puppy Dog
Off to the Dog Park
Now we are off to the dog-park for a quick visit, then I will transform into the cold-weather hard-working person that my garden so easily accommodates. Brr...
Later...
The Lavenders are all planted and watered, 'helped' (not) by Winnie the dog and Tiddles the tabby, both of whom are fascinated by the hose and all the planting holes that I dig. Winnie rather likes digging holes herself...
Thanks, Fluff-Fluff...
I've just had to fill in a survey. The statistics company has been hounding me for weeks - obviously I am an integral part of their random sample taken from the electoral roll. Not feeling very co-operative, I answered everything I could in the neutral or don't know, don't care boxes. Oops. Except for one page where big Fluff-Fluff the cat pranced over the computer and managed some rather wildly extreme answers. So I left them in. Ha! Fit that into your normal curve, annoying survey people!
Autumn in the Dog-Path Garden
Right. I'm off to shift another of the watering hoses. I know why it's hotter today - there's no wind. And no custard. The autumn air is at peace.