Oh dear. How sad. Never mind.
Star of Holland
'Oh dear. How sad. Never mind.' My thoughts, having just been into the Hazelnut Orchard to check on and photograph the archway roses. Never mind that it was drizzling and the grass was really wet. Oh dear - the roses! How sad! Someone (me) forgot to prune them and tie in the canes.
Saturday 12th November
Never mind. Interesting that many of the climbers are looking absolutely ravishing, thriving on my neglect. They've had a decent amount of spring rain, and the Hazelnut Orchard is blessed with good soil. And there are no signs of rust or black-spot yet on the leaves. Touch rosewood!
I made several trips with the camera, getting wetter each time. I wrote down detailed notes, sorting out all the names correctly. No longer will I confuse the once-flowering Alchymist - it hasn't quite flowered yet, and is by far the worst of the 'floppers'. Alchymist shares Archway No. Six with an equally robust Westerland, opposite the more delicate, delightful Celine Forestier. Celine has never looked so good. As usual, Souvenir de la Malmaison's blooms have all 'balled' and are slightly brown and rotting. Silly, unlucky rose, growing on Archway No. Thirteen. Hopeless!
Tomorrow's plan is to tidy up all the roses - without removing any of the beautiful flowers, and with as little blood as possible. A list of equipment follows :
Stepladder
Rose ties
Secateurs and loppers
Heavy gloves
Blast! It's a new day. And it's raining. Does this change my plans? No way. My first thoughts on waking up were of the orchard roses - how beautiful the flowers were, while how disgracefully messy were the sprawling rose canes. I am going to put on a layer of merino underneath my gardening shorts and do my drippy best.
Six Hours Later...
Oh boy, What a big day! I finished the orchard roses, all except the cherry rambler Chevy Chase which I've left to ramble around through the grass. I'll wait until it's flowered, then do some major tie-up reconstruction. This rose isn't really suitable for an archway, anyway - it's too vigorous.
Curiouser and curiouser - I see there are three roses opposite Celine Forestier. There is hardly room for them all - the one I'm sure is Alchymist is an extremely strong grower. I need to record as many of the names as I can (if only for my own interest). I don't want these ongoing rose puzzles. I will use photographic evidence from 2010, check my old journals, and use my powers of deduction.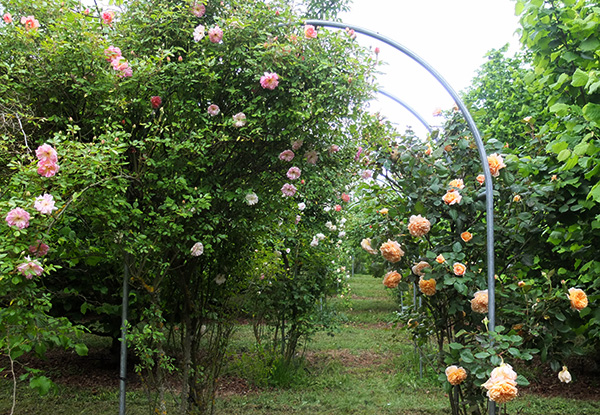 Archway Roses
Right. The 2016 Definitive List of Orchard Archway Roses
13. Souvenir de la Malmaison : Souvenir de la Malmaison
12. Star of Holland : Star of Holland
11. Uetersen : Uetersen
10. Chevy Chase : Chevy Chase
9. Mme Caroline Testout : Mme Caroline Testout
8. Unknown Yellow : Bantry Bay
7. Teasing Georgia : Unknown Red
6. Celine Forestier : Alchymist, Celine Forestier,Westerland
5. Coconut Ice : Handel, Awakening,Unknown Salmon
4. Phyllis Bide : Crown Princes Margareta
3. Parkdirektor Riggers : Parkdirektor Riggers
2. Ghislaine de Feligonde : Ghislaine de Feligonde
1. Sombrueil, Summer Wine : Meg
I have numbered the archways backwards because number 1 is closest to the house (if that makes any sense). Some things to note :
Two Lady Hillingdons were originally on Archway 8, but they were hopeless.
Adam is no longer with us on any archway.
Spek's Centennial, City of London, Ivory Magic, Casino, and White Knight all came from the nurery and were planted in 2010. They all died of spraying.
Sir Edmund Hillary wouldn't climb, and is now by the pergola.
Bloomfield Courage is now by the obelisk.
A spindly Birthday Present is sulking, not even knee-high, on Archway 8.
A Reine des Violettes was tried and died.
Well, I think that's it for now. Of the three unknown roses, two were recycled from a friend's garden, and the third came from the nursery with the incorrect label Handel. Let's hope that they all continue to thrive, and that I can get Chevy Chase up and over it's archway in summer.
The Banksia Rose
After trimming the flowers off, I burnt the prunings. But first I had to shovel out the bonfire ash, and then I had to collect loads of dry gum leaves to encourage the fire. Right at the end of the day I started work on the huge Banksia lutea, which has crippled its host plum tree. This is the start of a big project - the rose has to be chopped to the ground. I need to trim away all the smaller stuff so the chain-saw can see what it's doing. Aargh! A rather daunting task for the end of a hard-working day.