New socks!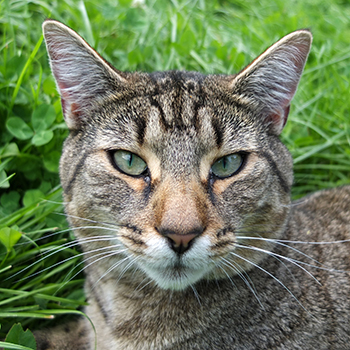 Tiddles the Tabby
I'm having one of those 'I am so lucky that I'm medium-old' days. That means that my knees and hips aren't too sore. The dog park is the social highlight of my day. And I get really excited by a new pair of socks. And I love being a gardener, but that goes without saying.
Saturday 30th January
The nice thing about being medium-old is that one can become totally obsessed with gardening and not feel at all guilty. I enjoy being out in the fresh air, too. I've just done three good hours of gardening, with cats Buster and Tiddles for company, and cricket on the radio to listen to.
I've been quite decisive, too. The Glasshouse Garden is much, much tidier. There are enough new little Lychnis plants to completely pull out the old ones. My goodness! Such strength! And I've spread lots of lupin seeds around in the gaps.
Buster in the Garden
But by the end of the day my optimism starts to fade. Perhaps I could consider merging the wisdom of me at this age with the energy, stamina, and knees of a younger woman. But then I wouldn't be satisfied with new socks, would I? And Non-Gardening Partner mowing the lawns probably wouldn't be exciting enough for the younger version, hee hee.
Miniature Agapanthus
NGP has spent the last half hour cruising around on the ride-on, while I've been one step ahead of him frantically scooping up cordyline leaves. I reckon I've filled the barrow ten times and wheeled the contents to various dumping places by the fences. And I reckon that's pretty good for a day's work, and I deserve a fruity cider.
Random thoughts...
Some random garden thoughts - the Phormiums really self-destruct with their heavy flower stems. The topsoil/compost I've introduced has been very weedy, and that is so unfair. The Agapanthus look wonderful now they are all flowering, but I'm biassed - blue is my favourite colour. I love my garden very much, and that's not just the cider talking.
Sunday 31st January
I've worked for four hours today, and I've been thinking more about being medium-old. I rather like it! It's the age where one can get away with limitless obsessions and crazy collecting. Teapots with cat paws for spouts, flying mallard wall ducks... And have just enough energy to work all day in the garden, and have friends saying nice things like 'I don't know how you do it'.
I've weeded the house garden, the circular garden around the Big Gum tree, and then the garden in the Shrubbery. It's been super-sunny, and I've been taking my breaks on the Adirondack seat in the shade, with iced water, peaches, and liver treats (those are for the dogs). And since the house lawns have just been mowed, the borders look spectacular.
Esk Sunset
The weeding is pretty easy in the Shrubbery, though sorrel is growing near the ram paddock. It's a rough-and-ready sort of garden area, with Blush Noisette and Scabrosa roses, plus a host of scruffy shrubs and a wonderfully coloured Sycamore Maple tree called (oddly) 'Esk Sunset No. 2.' The double Kerria has 'spread' - suckered? a bit, but I knew it would. Years ago I planted a swag of old-fashioned roses in the back of the Shrubbery. Only two or three remain, and nearer autumn they're moving out. The soil? sun? watering? aspect? nurturing? Their location just hasn't been suitable.
Monday February 1st
Wow - February! It's a lovely sunny day, but a bit hot. I've already watched two hours of daytime TV - the British police soap called 'The Bill' is one of my latest obsessions.
This is getting serious - I find myself thinking about the characters as I'm working in the garden. After watched the demise of DC Nadir (who fell tragically in love with a beautiful blonde drug-runner), I then tried to explain to Non-Gardening Partner how confused and sad I felt. Oops. Too easy to blur reality!
Drooping Phormium Leaves
Three Hours Later...
I've been good. I turned off the TV and weeded the top of the Island Bed, though there are more weeds to pull out. That blasted top-soil compost mix again! I've shifted and replanted some Bergenias, and planted a Phormium which was totally pot-bound and had fallen over, pot and all. I had to use a hammer - terracotta breaks so easily!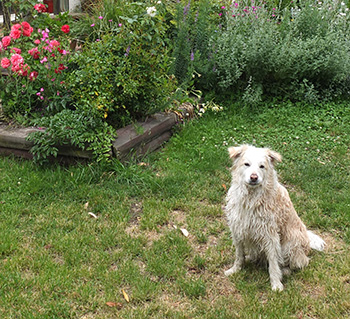 Here is Rusty
Dogs...
Late afternoon I read more of my book sitting on the Adirondack seat, surrounded by lounging dogs. I'd like to think that they just adore my company, but more likely was the time of day - 'dinner time for dogs'...
The latest dog park gossip : a Bull Terrier bit a Husky's ear, and another old lady was knocked to the ground by a fat, frolicking black Labrador. One does need to remember that a dog park is for dogs, I know.
And here's my final thought for the day. If I had three wishes, one wish would be that dogs had a longer healthy and active life-span. As it is their time is so compacted. Rusty is eleven years old now, prancing around like a puppy with his new medication. I wonder how long his life will be. Being realistic, the subtraction is scary.
Make the most of every Rusty moment, I reckon. Love you, dear dog.