Mid-winter balance...
Pink Kalmia Flowers
To balance my gardening life I need some hands-on plant tasks, as well as burning the hedge trimmings. So it's time to write a list of plants that need shifting. Mid-winter is the perfect time, frost permitting. And everything that comes out must have a pre-planned destination. Not just shifting for shifting's sake.
1. Out of the Driveway Garden come the following : The Kalmia (sulking, last noticed flowering in 2010, oops) and the Cotinus (struggling, very runty). They are off to more spacious accommodation in the Stumpy (AKA Willow Tree) Garden. But first I'll have to tie the Stumpy Garden's Rambler (Kew Rambler) back up into the fastigate Oak tree. This will require the step-ladder and maybe a system of ropes and pulleys, hee hee. Ouch. Fallen ramblers are lethal, and I often get stuck in a rose, caught up by my hair. Such a complicated wriggle to extricate self...
Kew Rambler Rose
2. Out of the path by Rooster Bridge come all the Anomanthele seedlingg. They're going into the wee garden space by the container. Another oops - this will need to be weeded first. The grasses will form a mass planting, look jolly good, and reduce the need for weeding in the future.
There now. That list isn't too scary, is it?
Much, Much Later...
Blast! No daylight time to get anything shifted. I did plant the miniature roses (evicted from the Allotment Garden) in temporary pots, and dug out more irises smothered in the salvia uligosa. But my shifting list is on record, and I will totally embarrass myself if I can't tick some of the items off by the end of this journal page. Accountability for the garden journal writer, hee hee. Or the never-ending journal page, scrolling forever...
Bonfire - Day Nine
That darned bonfire! It dithered for two hours, during which time I gathered up barrowfuls of dry gum leaves to encourage it. Finally it whooshed into action, and I spent the next two hours gathering trimmings off the lawn. It's now gurgling rather nicely in the early evening gloom. Too little too late! So far, with respect to the hedge, I have endured nine bonfiring days. The water race lawn is far closer to being completely cleaned-up than is was. Oops. Stating the obvious, here.
Winnie the Dog
To cheer myself up I went out and bought potting mix, seed potatoes (Agria and Jersey Benne), and two half-price packets of spring bulbs - little spiky yellow daffodils called Rip Van Winkle, which I've had before and lost, and some white grape hyacinths. I'll pop them in a pot. And just for the record, two white Flower carpet roses and some white irises are now neighbours in the Allotment Garden. Hope they like it in there.
Thursday 29th June
Aargh! I am bonfiring, not because I want to, but because rain is forecast over the next few days. As far as my other work goes, I've trimmed the rambler and tied it up. And sorted out the Salvia patch in the Allotment Garden so it grows neatly (ha ha) in one place. So far so good. Except Winnie has been sneaking over next-door. Not so good.
Much, Much later...
Yes! The lawn is done. It's clear of trimmings. Clear! My bonfire has been unspectacular, not one of my best, but nothing that a bit of poking and prodding after sundown won't sort out. It's been a real slog. I spent the whole afternoon wishing and hoping it would rain (so I'd have an excuse to stop). Lucky me - it didn't. Winnie has stayed with me, leaping into the water race to chase her stick. After three such jumps she sits down on the grass and chews it into pieces. Where's your stick? I say. It's lost! This is a word she knows. So I rake up another barrowful and find a new stick.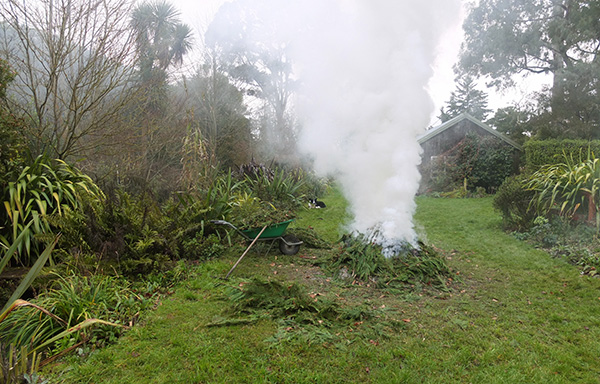 Bonfire - Day Ten
And guess what? While the bonfire was hissing and fizzing I dug out the Kalmia and the Cotinus. They have been lovingly planted in the Stumpy (AKA Willow Tree) Garden, surrounded by compost and mulch. I want this garden to be leafy-shrubby, so I removed a couple of roses (no idea of their names or colours). They are now in the Allotment Garden. Yeay for me! I have kept faith in my list.
Slight adjustment. I have only completed the first item on the list. But hey! A seven hour day! And half the list completed! Can't do much more. Yeay for me indeed!