Hello July...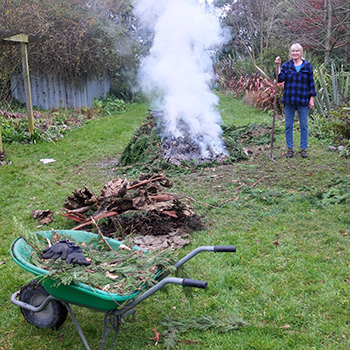 Bonfire - Day Eleven
Oops. How time flies! Hello July, another winter month, rose pruning and fern trimming month. And - aargh! There are still hedge trimmings to be shredded and burnt - the other side of the big Leyland hedge, and the Deodar hedge down the side of the Orchard.
In the spirit of silliness I am taking a photograph of each day's bonfire. And they all look exactly the same. Funny that! Not the most dynamic of images to present in a series...
Saturday 1st July
Just a few, quiet thoughts before I start. Please, July, can you try and be a no-snow, no-freeze month? Non-Gardening Partner is away for a wee while, and I need all the pumps and pipes to keep working. Am not a chainsaw woman, either, so please no trees to crash down in a winter storm. Actually, how about no serious winter storms at all?
OK. I'm negotiating. Would you like me to start your thirty one days off with a hiss and a roar? Or (more likely) a phutt and a fizzle? I'm starting the clean-up of the trimmings mess in the Orchard. Did I hear you answer 'a hiss and a fizzle'? Very picky and pernickety, July. You need to chill out. Aargh! Not too chill, please...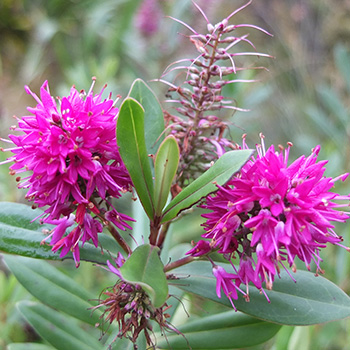 Winter Hebe Colour
Much Later...
I've made a start, and my first July bonfire is gurgling away. It's nearly dark. I've built a pile of branches in the Orchard for the shredder - just one pile of many. But one is always better than none. And to celebrate the fact that winter gardening also involves plants, I've planted a peony in the Allotment Garden.
And now I am going into the (cold) water race to pull out some large stones, needed for the Allotment Garden. I see them every time I cross Middle Bridge. I remember them, I forget them. On the way back I will poke at the bonfire.
Sunday 2nd July
Hmm... The garden is in winter drab mode - some mornings it's hard not to let the drabness seep into one's thoughts. But how lucky I am to have a brown and green winter garden to enjoy! These are the loveliest of colours.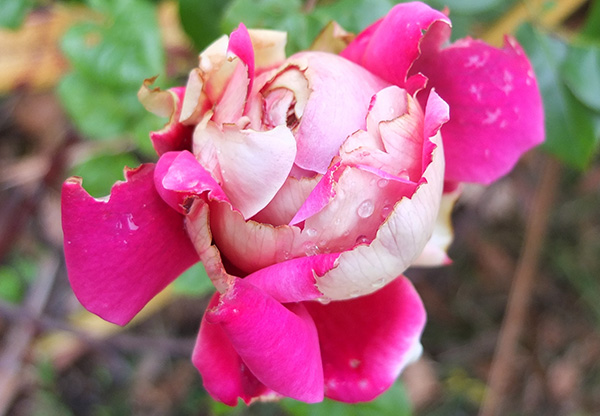 Silly Rose!
This morning I even found some daft roses trying to flower - the cerise hybrid tea Kronenbourg, covered in fat buds, with one desperate flower open to the elements. Dear rose!
Bonfire Day Twelve - NGP
Deodar Trimmings
Right. I'm off to pick up some more hedge trimmings. This time it's the Deodar hedge down the side of the Orchard paddock, and all the branches are going into the trailer. They are too messy, not straight enough for feeding into the shredder.
Much Later...
Yeay for Non-Gardening Partner! He and I filled the trailer, then I had to go out. So he took over the bonfire and burnt the lot. Phew! Naturally I took a photograph. Soooooo smoky!
Monday 3rd July
And yeay for my friend! She arrived with lunch (sushi) and then did my bonfire for three hours while I raked up more branches in the Orchard (I now have three piles). So she is featured in the Photograph de Jour, tending Bonfire Number Thirteen. Or should I say Same Old Bonfire, Day Thirteen? I gave her the choice of pose - action woman or proud chest-puffer. She chose a combination of the two (see below).
It must make a nice change from seeing me in something blue, leaning on the rake, hee hee.
Tuesday 4th July
I am not, not, NOT going to crank up the bonfire today. It's a blue skies day with the clearest, crispest air. The air is going to stay this way. So what to do in the garden? Just a bit of tinkering and pottering, I think. Getting out in the winter sun, enjoying having smoke-free clothes and hair.
Later...
I weeded along the boundary edge of the Allotment Garden. The sky stayed bright blue all afternoon. Such a happy colour for sky to be, particularly in winter.
Bonfire - Day Thirteen