Welcome winter...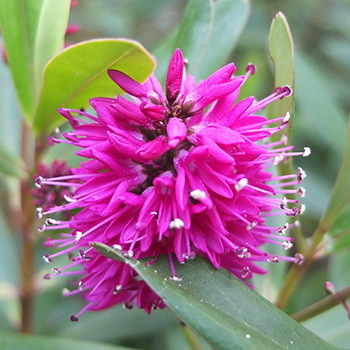 Winter Hebe
Aha! Welcome winter, don't be shy. Come on in, stop on by. But please don't be noisy, or rude. Winter - be a chill, cool dude! Hmm... Poetry aside, it's the first day of official winter (southern hemisphere style), and so my official Great Winter Garden Clean-Up can begin.
A System!
A successful GWGC is all about having a system. A system is THE thing! Yeay for systems! The idea is to do something every day, even if it's raining, or freezing, or (aargh!!) even snowing. And the system is simple, really. Wet weeds go to one of my quasi compost heaps. Drier trimmings, branches of trees, Cordyline leaves etc. go to the bonfire. Leaves (fallen) go in black plastic bags to eventually make leaf mould (next year would be nice). Rude things (oxalis, creepy grass, etc.) are tipped straight into the rubbish bin. So each 'item' is separated at the point of production, with a compulsory clearing up session at the end of the day. Some years I've tried the two wheelbarrows trick. This year I'm doing just one wheelbarrow, separate piles, and one rude-things bucket.
Thursday 1st June
Actually, I've already made a start in the Pond Paddock Gardens, testing out my winter system. It worked! Well, for one day, yesterday, it worked. I also did a quick sweep of one of the house gardens, trimming the dahlias. I was good. I did a good clean-up afterwards, and didn't cheat (putting leaves on the bonfire, for example).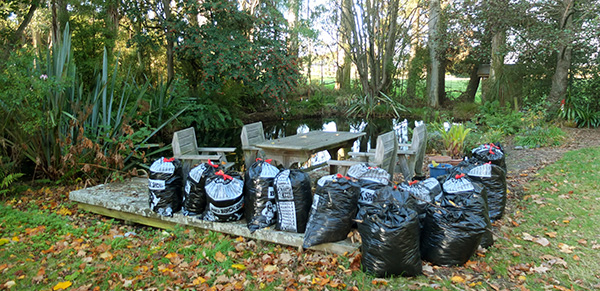 Bags of leaves
Oh, there's one more thing. I must always carry spare pots with me. Any plant seedling which could be useful for the future is potted up, right there and then.
Camellia Gay Baby :

Suggest you are very careful and specific if you Google search this shrub.
Yesterday I dug out two white Flower Carpet roses, suffering underneath two Gay Baby camellias (cute name, but they are giants - over two metres tall). There are some very juvenile Cordylines in the lawn. Best that I use them elsewhere than the lawn mower knocks them over. And there's something else. There always is! Rewards! Hot coffees, yummy protein-rich snacks. Very important when the weather is wintry.
Later...
So far so good. Two barrowfuls of prunings - I've attached the golden Choisya in the Apple Tree Border, its branches far too long and lanky. Hope it resprouts. I've got the leaf piles ready for bags. I've taken photographs of dead things. No! I mean dormant plant material, oops - perennial Aconites, Echinops, Macleya, Miscanthus zebrinus...
Winter Miscanthus
Reward - hot coffee, and should have been accompanied by a tuna roll with spinach and mayonnaise, but Tiger the cat ran off with it. How rude! Now I'm taking Winnie the dog for a road walk (we've already been to the dog park), and then back into the garden for session two.
Much later...
It's dark. Yeay! I've worked right through all the daylight hours. I've burnt all the rubbish. I've dumped all the weeds. I've bagged all the leaves. I didn't cheat. Yeay!
Friday 2nd June
I am soooooo tired! Not unhappy, just a huge gardening day yesterday, followed by a really hard-working extreme-energy choir rehearsal, and an odd headache in the middle of the night. It's one of those mornings when I wonder - should I just stay dozy and loll on the couch with a book? Or zoom around the dog-park in the wintry fresh air, followed by an exhilarating swim in coolish water? Argh! The original old cold shoulder treatment, applied by self to self.
Later...
The latter, for this woman of winter action! I'm back from the dog park, and a refreshing swim, and now Winnie and I are going for a walk down the road. Then, if (and only if) I feel like it, I will trim the Hypericum shrubs in the Septic Tank Garden. About time they were cut down to size. The Weeping Maiden Camellia in there (flowering now, so early) needs her personal space, and there's a second pink one which has disappeared under the Hypericum's pushy branches. Oops.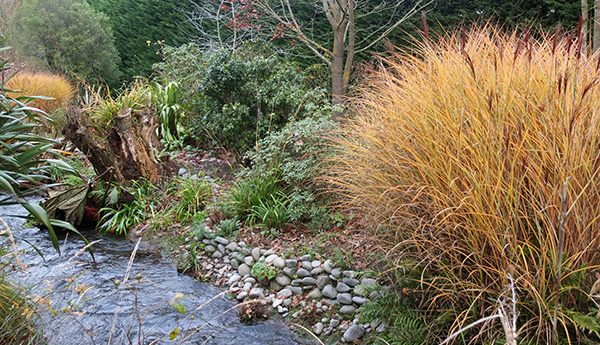 Winter by the Water
Saturday 3rd June
Yeay for me. Four hours gardening, all the Hypericum is pruned to mid-calf height, and the prunings burnt. The new Camellias can breathe again! Actually - oops - I've spied a lot of coarse green Carex seedlings in this garden, but do you know what? I've made an executive decision. I'm leaving them there to fill the gaps with their strappy clean green leaves.
Hypericum Flower
And I'm leaving the lemon flowering Lamium as well. Will just have to keep clearing around the Camellia bases until the shrubs grow taller. Sometimes I try to control things too much. Sometimes semi-invasive ground covers can be a blessing. Hmm... Can they really? Please don't quote me.
Layers...
I had to layer the bonfire with three loads of gum tree rubbish, in order to get it burning properly. And while I poked and prodded at the bonfire I'd throw Winnie's moon ball over the water race and get her to 'go round'. Off she'd charge, over Middle Bridge, retrieve the ball, then short-cut through the water back to me. Lots of dog and person exercise.
And now it's dark! Only five o'clock too. That's mid-winter here for you.
Don't shoot the messenger?
My 'old' new phone is back. Just poking around (very silly, this) I clicked a few icons, said yes, and introduced myself to Messenger, not totally sure what it was or would do for me. Suddenly a dozen friends popped up, waving and saying hello, like I was long-lost. But I have always been there. Funny stuff, social media. Have now worked it out.