Relaxing?
I'm relaxing in the breakfast chairs with the first morning cup of tea. I gaze through the bay window, admire the sweeping lawns, the tough grandeur of the gum tree, the Shrubbery's cute stone wall, which so beautifully balances the curve of the nearby shrubby Island Bed.
The Island Bed in Spring
The Island Bed's curve is 'generous' - I read about that requirement in a British Gardening magazine.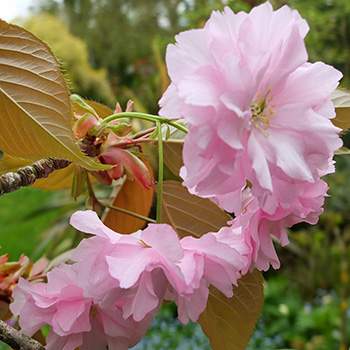 Kanzan Flowering Cherry
Smile fondly...
I smile fondly at dearly departed Fluff-Fluff's Memorial Kanzan Flowering Cherry, pale and pretty blue forget-me-nots speckled at its feet. Ah, spring, you beautiful season. A wonderful season for early morning dreams.
I gaze again through the bay window. Blast! Streaks of bird droppings, corner spider-webs, dust - and not all on the outside. The window glass desperately needs cleaning. Back to reality with a crash and a bang.
But gardeners can be such rebels sometimes. I refuse to waste time on the windows. I'd rather be outside bending low to pull out weeds that pushing a watery mop up over my head. So I'm off to take some more spring photographs - of the Kowhai, the late Camellias, and whatever else takes my fancy. Those windows can wait. For ever, or as long as it takes...
Much Later...
It's been a brilliant dogs and gardening day. Pebbles enjoyed the dog park. I bought some more seedling plants (spring onions, petunias, pelargoniums...). We went gardening, I continued my path clearing in the Wattle Woods, and the bonfire obliged by re-igniting.
Late afternoon the tranquillity was shattered by mass barking. A visitor! In drove Zak's mother with a load of horse manure in bags for me. There was no nonsense from Pebbles (last time Zak visited she threw a hissy fit and I had to rugby tackle her). Three happy black and white border collies, and thirty wormy bags of three-year-old horse manure. Yippee!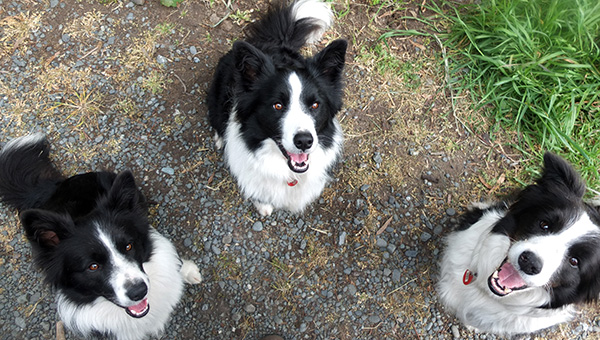 Three Border Collies
Allow me to record some sad demises, noticed while wandering with dogs and camera. RIP the following shrubs, which were shifted properly (honestly they were) into superb locations, a sensible times of the gardening year, and were well watered. Some plants just don't appreciate the good life.
RIP
A Weeping Silver Pear in the Glass-House Garden.
The Acer with interesting grizzly bark in the Island Bed.
A purple Cotinus, rescued from the Driveway Garden along with a pink Kalmia (which lives).
So you win some, you lose some, not a problem.
Non-Gardening Partner (my weather guru) reckons it's going to rain all weekend. Hmm. So guess what? I am NOT cleaning those windows. I will be far too busy with my dogs, doing important things like checking on the Dogwoods, photographing the Wisteria, and looking after some house visitors. I plan for the rain to do my window-cleaning, anyway.