Dear, Darling Garden...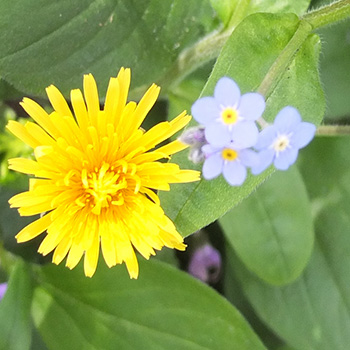 Dandelion and Forget-Me-Not
Dear, Darling Garden. Have I told you lately how much I love you? And what exactly I love about you? I love your plant growth, and your special spaces, and your overgrown paths. I don't love your dandelion flowers, though. Every border has a collection of these bright yellow daisy faces, spread out most evenly, as if someone worked out the appropriate frequency, drew up a grid, and kapow!
I've been busy these first October mid-spring days, trying to get the garden looking its best - for visitors as well as for me. And I have a goal! I am trying to create an orderly, yet quirky sanctuary, lightly brushed with with my own (slightly daft) personality - but, most of all, a place of serenity and comfort, with inviting seats upon which where one can listen to the bellbirds, or marvel at the gentle sounds of running water.
Mundane distractions...
I test one such out - the secret garden bench, snug on the Shrubbery. Alas, there are no beautiful bell-birds songs. The dogs start howl-singing to the dogs over the road. Then the arm-rest of the cute rustic seat comes off in my hand, affecting the balance of my longed-for cup of tea. Down it goes all over my gardening jeans and shoes. How can one contemplate the miracles of nature with such mundane distractions?
Anyway, several paths behind the Shrubbery are now cleared, but I need a weed-killing session - there's a creepy grass which I can't seem to dig out, and lots of - ahem - dandelions. Aargh! Pretty yellow!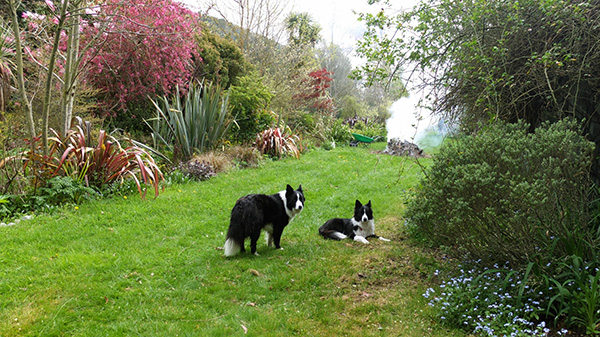 Spring Bonfire
Right. Here's today's big gardening plan. Continuing my great path rake and clean-up, I will move through the Wattle Woods. Lots of dry gum leaves also need cleaning off the gardens, and I suspect I will make many trips to the bonfire. There is no wind (unlike yesterday), so I will finish my day burning.
Pebbles and Winnie
Dog News
Pebbles (my new black and white Border Collie dog) has now been to the dog park three mornings in a row, and has been semi-sociable - that is, not needing to be brought low to the ground by my old-lady rugby tackle. She's trotted around, meeting new dogs each day, with a long lead trailing (just in case), moderately relaxed, able to ignore the canine passers-by.
Just the tiniest of growls, just the once. Phew! Love you, lovely Pebbles. Well done. She's doing so well - a different dog from that scary snarler who attacked (mildly but awfully purposefully) poor big brown Escher during her very first days here.
Spring News
It's such a mad scramble - what to do first? Gush in this journal, zoom around taking photographs, do some serious gardening? What's new? The Crab-Apple blossom, the Kowhai in flower, the yellow rhododendron Saffron Queen.
What's still going strong? The Genista in the back of the Shrubbery, and the delicate pink-edged white Camellia in the Wattle Woods. What's finished? Most of the daffodils, and the first flowering cherries (thanks to the wind). And - almost - that oddest of Camellias, Jury's Yellow, which of course isn't really yellow at all (but it is rather lovely). My goodness that was quick!
Aha! When in doubt, do everything, and as simultaneously as possible, hee hee...