Pets 2018 Football World Cup Draw
The Draw - World Cup 2018
Here is the Moosey Family and Pets 2018 Football World Cup Draw. Each entrant gets two teams. Big brown Escher is, naturally, an honorary member of the dog family. The winner's prize is a large pack of steak. I've checked - all the contestants are carnivores.
The Entrants...
Escher (dog) : Denmark and England
Winnie (dog) : Sweden and Japan
Pebbles (dog) : Mexico and Uruguay
Tiger (cat) : Spain and Colombia
Minimus (cat) : Croatia and Brazil
Buster (cat) : Portugal and Russia
HG : Switzerland and Belgium
NGP : Argentina and France
Go Belgium!
Go Belgium, I say! Apart from England it's the only other country that I've actually been to. Results so far : Pebbles (Uruguay) and Non-Gardening Partner are the first ones into the quarter finals.
Penalty shoot-out!
Oh my goodness! Cats Buster and Tiger have just had a penalty shoot-out. Miaow! Sorry, Tiger, but the younger cat has beaten you. And now Minimus is doing an extra time battle with Escher. The greyest, smallest cat (as far as height off the ground goes) versus the brownest, biggest dog.
But wait. Yeay for Minimus! Croatia has won, another penalty shoot-out. Such things seem so arbitrary to the uninformed football fan. But Minimus thinks they're just fine!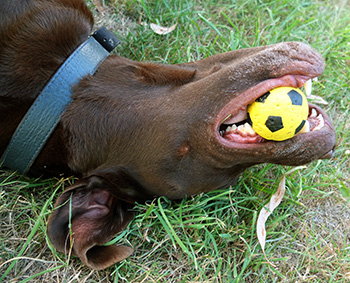 Dog with Ball
Brown dog and the cats...
Now Escher has to pin all his hopes on England. I don't necessarily have a soft spot for England (oops, land of my birth and all that) but I'd love Escher to do well. Show those pesky, superior cats that brown dogs can sometimes pick 'em.
Update : Quarter Finals
Lucky Escher! England won the last place in the quarter finals. Sorry, Tiger the cat, but you've missed out completely. So unlucky, particularly since you're getting very bored with your diet (special thyroid food). A juicy piece of steak would have gone down a treat.
Update : Semi Finals
Farewell to the two collies (Sweden and Uruguay). Aha! It's cat versus dog (Minimus's Croatia vs Escher's England) and me (Belgium) versus Non-Gardening Partner (France). Seems fair...
Aargh! My steak dream is shattered! Belgium is knocked out. Watch this space...