Oops...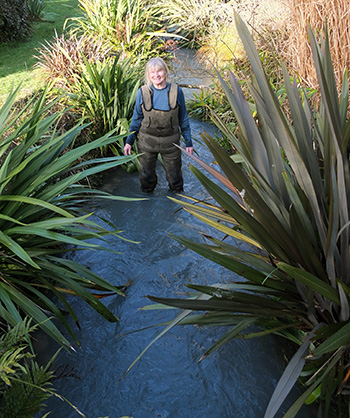 In the Water Race
My goodness! A whole week of winter has chugged past, and not one gardening journal entry. How odd. Time for 'Last week in the garden I did the following', that sort of thing. So what exactly did I do this week past? Oops. The memory has suddenly gone off-line. Need to check my gardening notebook, the paper one, just in case I scribbled something down while sitting by the log burner.
Yes! I was alive! I did have a gardening life. And it went like something this :
House Pet News
Pebbles has dropped her special lime green dog frisbee in the water race. It's gone downstream in the current, along with the deceased rabbit she was investigating. Minimus my grey cottage cat (Croatia) has beaten Escher the brown dog (England) and advances to the final of the 2018 World Cup. Neither animal seems particularly concerned with this outcome.
Escher has been visiting, while his father helped stack the last firewood logs from the Hump. Sorry for your loss, Escher, I said gravely. He looked blankly at me. 'What? Aargh! Wait for meeeee!' Poor Escher doesn't know which dog to follow - Pebbles goes this way, while Winnie goes round the other way to get 'there' first. Where-ever 'there' happens to be, if there is an out-building or a piece of garden she can 'go round' to get there she will.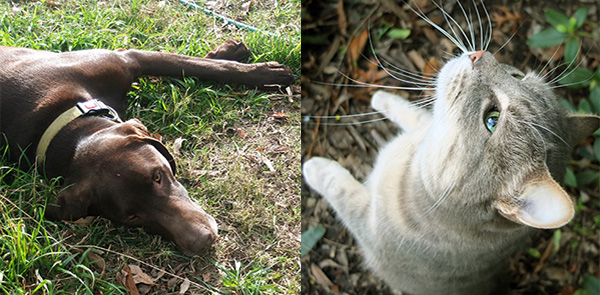 Escher vs Minimus
Go round!
After stacking the logs in the front paddock the dogs walked to and fro with me and the wheelbarrow. I spread lots of loads of horse manure under the rhododendrons in the Dog-Path Garden, and they practised 'going round'.
Thursday 12th July
Today I did some wonderful work in the water race, wearing my frog-suit. My new spade (thanks, Non-Gardening Partner) has been slicing neatly through unruly ferns and Carex grasses, helped by the axe.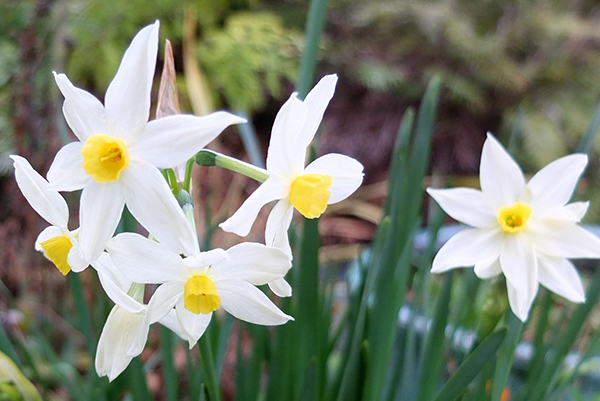 Paper Whites
Three hours in the water, and only my hands got wet and cold. I love my frog-suit. I also found more sweet little Gunnera seedlings. Sneaky wee darlings!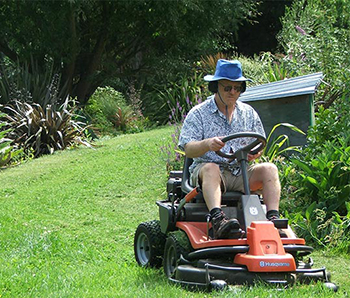 Non-Gardening Partner
And the winner is...
By the way, Non-Gardening Partner (France) has won our World Cup Family and Pets Competition, and his prize is a slab of fillet steak. Congratulations, I say. Use your prize wisely! Several animals and one person would rather like you to share it...
OK, it is supposed to be the month when I prune the roses. Slight problem. I have over three hundred, some in better 'health' than others, where pruning may be the last of their needs. And it is supposed to be the month where I do my Great Winter Clean-Up. I rationalise the garden, I shift things, I plan forwards, I fix old mistakes. Hmm.
Fly By, July!
And July flies by, leaving me behind. Oops again.