Good morning, mid-winter.
Winter Polyanthus
Good morning, mid-winter. You're behaving - by lunchtime, beautifully pleasant gardening weather, blue sky, shining sunshine. But your early mornings are a bit bleak, particularly for someone (me) who has been sleeping fitfully (suspect because of drinking too much wine).
Decisions, decisions...
This morning, after trying unsuccessfully to sulk (almost went back to bed), I made some decisions. I took a pill for my headache. I washed my hair. I put a new bird feeder out, and walked my dogs. Then I tipped the House Merlot down the sink. No more wining for me. I am preparing for 'Dry July'. The money I save can be spent on new plants. And now I am off to garden in the sun.
You see, I did the maths. If I buy even three cheap-as-chips bottles of House Merlot per week - well, that's the price of a new rose from the nursery, plus a couple of little pots of colourful polyanthus flowers. Ask yourself - which would you rather have? Which will give more pleasure? Easy. The plants win.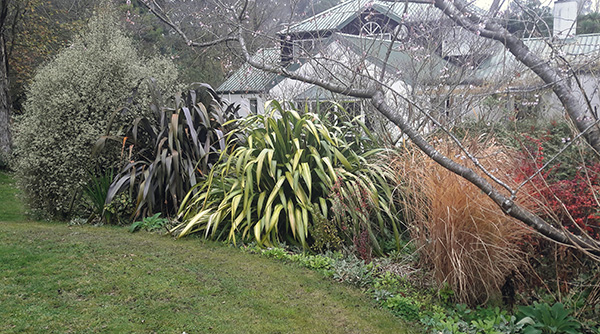 Winter Island Bed
Three days later...
No alcohol, no problem. And I can play Bach on the piano a whole lot better in the evenings, hee hee. I've spent the last few gardening days pruning my way through the orchard climbing roses, mainly cutting out old canes. Will ask Non-Gardening Partner to run one of his cutting machines over the very tops.
Star of Holland
RIP Star of Holland...
One of the Stars of Holland contained a lot of dead wood. Started chopping merrily, then the whole rose came apart at the base. Oops - no wonder it was struggling. A beautiful rose, though not very fragrant, according to my old nose.
I've finally cleared a path through Chevy Chase, thanking (NOT) that rude rose nurseryman who recommended him for an archway. I bought two off him, didn't I? And planted them on either side of one of the orchard archways. Chevy Chases are not archway roses. They are beautifully robust cherry ramblers with robust, rambling instincts. Ask the nearby Hazelnut trees. Hmm. Check them out on last summer's photograph, below.
Then I carted eight barrowfuls of prunings back through the archways and dumped them by my bonfire. No time for a bonfire, though. And no glass of House Merlot as a reward - rather an evening meal of fish'n chips by the log-burner, some cool iced water, and a bagful of new library books. Yeay!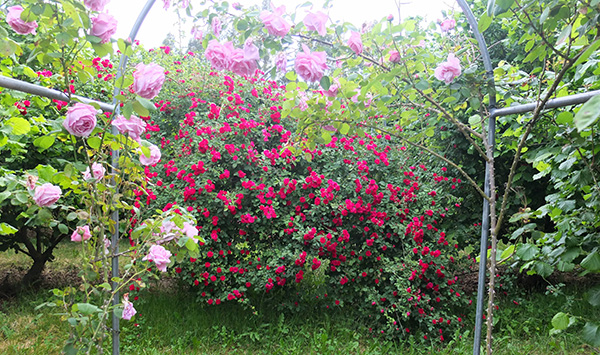 Chevy Chase Rambling along the Ground