Musical...
Gardening near the water race is very musical - water burbling and bees buzzing like squeaky cellos and violins, birds chirping flute melodies as they build their nests in the trees above (well, I think that's what they're doing). And, if I'm lucky, no barking trumpets (i.e. dogs).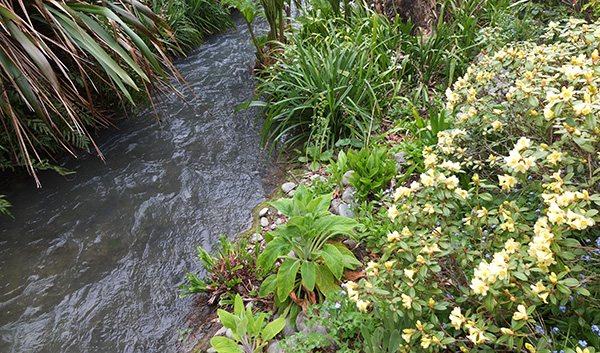 Rhododendron By The Watrer
Today the dogs have been peacefully snoozing, flopped on the grass. It's been a lovely day - after yesterday's storm the weather has swung back to its glorious, blue-skies best. I've spent nearly five hours weeding in the Stumpy Garden. The pale yellow rhododendron is flowering. Nice.
Claude Monet in Autumn
Said hello to the newish Rugosas (Ann Endt, Rugspin, and Belle de Poitevin). Haven't pruned them as yet, may not. The most beautiful rose in the whole world, Claude Monet, grows in here, too. His striped flowers are stunning, but he's mean spirited in their production. Obviously I don't feed him properly! The above photograph was taken in the autumn of 2007, so he's been in residence for a while (has been shifted around a bit, though).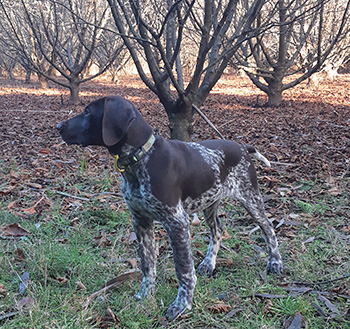 Frida the Puppy
Dog party!
And then, mid-afternoon, a dog party! Big brown Escher and Frida the spotty puppy came to visit. We raced around and around, crashed through the water race (Escher), leapt into the pond (Winnie and Escher), chased sticks (Pebbles), and tried to copy the big dogs (Frida). Going in the cold water was a bit scary for the puppy, though.
Friday 27th September
Have just spent another four glorious hours by the water, but more assertively than yesterday. Firstly I weeded vigorously around the Koru courtyard, where the invasive little Euphorbia is looking its most wonderful and welcome best. Ah - the optimism that spring brings...
Then I put on my wading suit to get in the water and trim Phormium leaves and ferns. The stiff attached gumboots are quite hard on my old arthritic feet and ankles, the secateurs hard on my arthritic fingers. Oh dear! Poor old thing...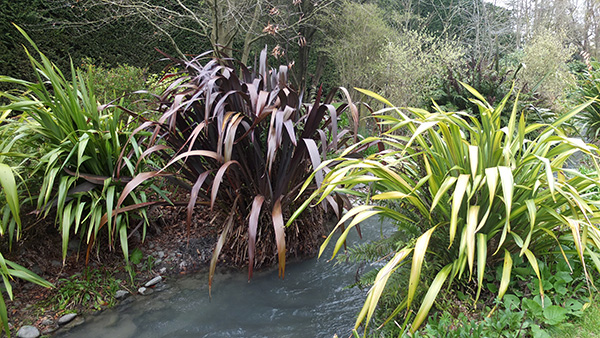 Phormiums Cleaned Up
At the end of the day I made the best decision ever. Ditched the waders (this involved about ten minutes wriggling and jiggling) and collected up all my tools (don't always do this, oops). Dragged the last few day's dry mess out from underneath the hedge, and burnt the lot. Only took another hour. Yeay for me! The perfect end to my gardening day, and week.
Mount Fuji Flowering Cherry
Now I am going to practice my Albeniz. Am loving playing El Polo from his Iberia Suite. It is arpeggio-free, therefore kind on the achy secateur-worn fingers.
Real musical things...
Am loving all my real musical things at the moment. This morning was Barking Friday (JS Bach-ing with my flute friend). Except we played Handel, but that's perfectly acceptable. Tomorrow my retro jugband (in which my flute playing friend switches to washboard) plays happy tunes at a library doo. Then on Sunday I turn into a cathedral chorister and sing in a concert performance of Haydn's Creation Mass. From the sublime to the ridiculous and back to the sublime, I reckon!