Slow weeding...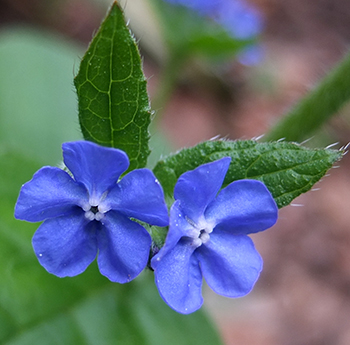 Alkanet Flowers
Spring weeding can be quite lazy - it's small-scale, slow weeding. I kneel down, get totally muddy knees, grubby fingernails, and a few hand scratches (weeding e.g. underneath the rugosa hedge). I crawl carefully to the next weeding position. No need to rush...
Monday 16th September
Today I crawled my way down the Allotment Garden, pulling out baby Cleavers, annual grasses, and Shepherd's Needles. All the weeds here have blown in from next door. They jolly well have! Well, that's my story. So I throw them all back over the fence, hee hee. This garden is full of fat green growth, and lots of Alkanet (a weedy forget-me-not which the bees love).
Late yesterday Non-Gardening Partner mowed the house lawns, so now I have edges to trim as well. OK. At least I haven't lost my edging shears - an expensive buy, but semi-looked after. Nothing worse than edgers that won't edge, if you know what I mean.
Weed, weed, and then weed some more...
Tomorrow I have no commitments whatsoever, so the plan is to weed and weed and then weed some more. Repetitive and simple. I will try not to bend over like a crane. I will enjoy the smell of freshly mown grass, blue skies smiling at me (oops, that's a song), and the beautiful spring blossom. Which the wind had better not be messing with.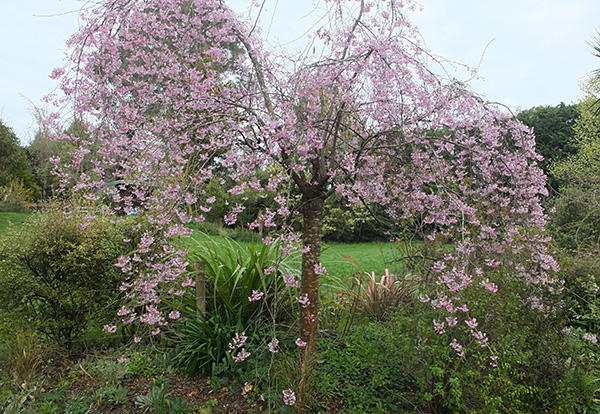 Weeping Pink Blossom Tree
Right. It's time to clean my fingernails, wash my hair, and make myself presentable for yet another piano performance.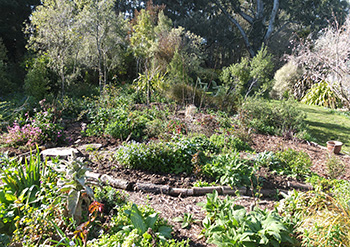 The Hump Garden
Next day...
What a lovely low-key gardening day it's been! I did lots and lots of lazy weeding in the house borders. Then I went to the nursery - just to buy some potting mix - and found a bargain bin. Yeay! I grabbed two Lavenders for the Dog Kennel Garden, some cute Dianthus, and three Choisya Sundances - they're already planted in The Hump. And another fluffy pink peony to plant near Tiger the cat. Then I shifted some Agapanthus over to the other side of the Hump path and planted two rows of Cliff's Kidney potatoes in its place.
Being in my garden all day brings me much joy. Perhaps I should be doing something new and exciting with my life, like trekking in the Himalayas or journeying up Norway on a train. But I'm extremely happy being a lazybones stay-at-home, with my travel dreams swirling inside my head. My garden is my best-ever place. Actually, it's much more exciting buying new shrubs than plane tickets!
Flowering Cherry Tree
Right. Off to the cottage I go. I'm going bed-adventuring in Antarctica on the Vinson Massif, hee hee - well, reading a book about climbing it, to be more precise. Such a difficult place to get to. Aargh! I will only ever get there in a book...