Look on the bright side...
It's yet another grey, drizzly day (we've had a few of these), so all I'm really doing (apart from sniffing and sulking) is walking the dogs. Each time I get back inside my socks (and therefore my feet) feel cold. I'm feeling rather dull. But the garden is full of wonderful little bursts of colour - and lots of green to enjoy. Best to look on the bright side...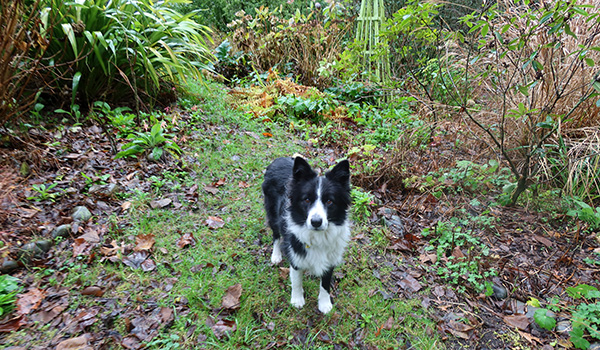 Pebbles in the Drizzle
But I'm a bit cross. After coming oh so carefully out of self-isolation to go back to choir rehearsals, I've immediately managed to catch a head-cold. And I certainly didn't get it from a brisk dog-walk in the drizzle. Some gushy soprano has hugged me and given me this!
Sniff, sniff...
Perhaps it's just a little reminder that the nicest people spread head-colds, often without knowing. And before I get too self-righteous, let me confess that I felt OK a couple of days ago and sang some Palestrina and Rutter - possibly spitting freshly incubated cold germs towards some unsuspecting fellow chorister? See how this all works? Oops...
Greenery by the Pond
Tuesday 30th June
Another dull day, though for a couple of hours the garden was bathed in sunshine. I sat on the patio table and read a bit of my book - lovely to see blue sky and feel the sun on my face. But my head-cold was annoying, so I took myself back to bed (with Black Fred the cat and Pebbles the dog for company). It was supposed to be for a bit of a sulk, but I promptly fell asleep.
The big orange digger...
Woke up dreaming : next-door's big orange digger was tipping loads of sharp edged rocks onto my garden, squashing all the bright green Phormiums. I was standing in the way flapping my arms and shouting at the driver to stop. Mind you, next door's orange digger does behave rather oddly. It trundles down its driveway, does a looping turn-around in its front paddock, trundles back, does another twirl, and down the driveway again. There is no apparent reason for these little journeys. They usually happen when I'm walking the dogs. Hmm...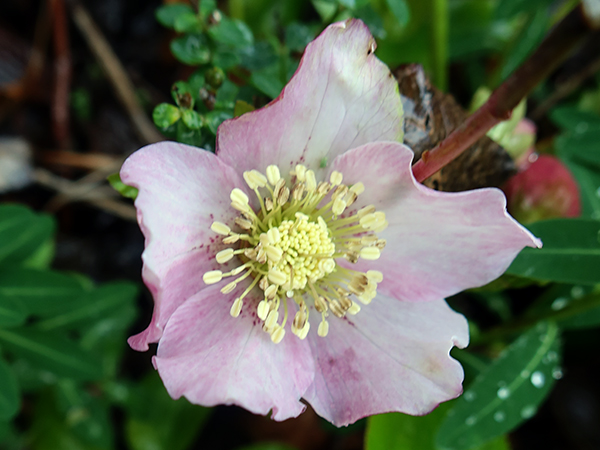 Pale Pink Hellebore
On one dog walk today I noticed that all the big Miscanthus grasses have finally turned a dull golden-yellow. There's that 'dull' word again, I'm sorry! Tomorrow I'll do a Camellia and Hellebore check - much more cheery!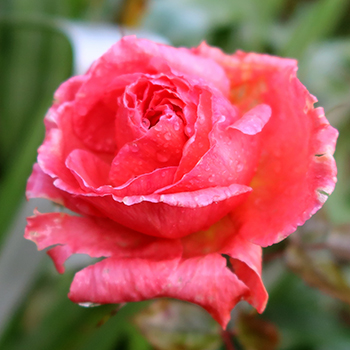 Paddy Stephen Rose
Thursday 2nd July
Yeay! Finally I feel much better. I'm even been writing some music. Today is the coldest grey day so far - only five degrees Celsius. Brr... I've taken the dogs for walks, with the camera. My pictures don't look at all bleak and grey - there's such a lot of beautiful greenery. I found another silly rose flowering by the glass-house, and the first pink Hellebores. It's wonderful to be out and about (even if it's raining) and see some warm pink colours.
Friday 3rd July
For the first time this week I did some gardening. It wasn't so inspiring, but I enjoyed myself. I weeded down the driveway. The sun was up there, but oh boy it was chilly down below it! Nice to see the lime green Hellebores getting ready to flower. I love all the Hellebores - so subtle and shy. Well, mine are. I don't grow any fancy ones - have never really been tempted.