A gloomy, grey week!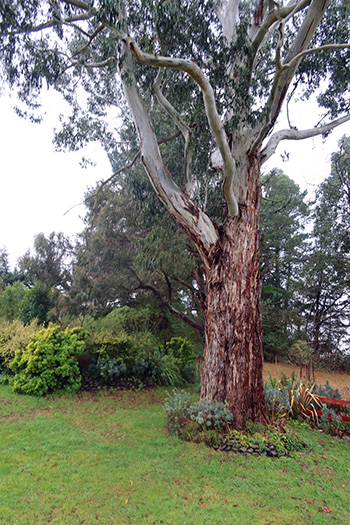 View out my Window
It's time I did some good winter gardening. Who cares if it's gloomy and grey and drizzly? I jolly well shouldn't. It's not too cold - just a gentle touch of bleak mid-winter, that sort of thing.
So yesterday I read books, watched trains on Youtube, and sat in front of the log-burner knitting woolly clothes for the teddy bears. I practiced the piano, I walked the dogs, I patted the cats...
Cats! Red Fred is off to the vet this morning - one of his cheeks is very swollen. Does this seem to bother him? Not a jot! But first, I'm off to walk the dogs round and round the orchard, and check on the sheep. We have acquired an extra ram, who kept busting through (and jumping) the fence from next-door. So he's had a dose of worm medicine and is in the orchard with our merino ram (Beau) and some already pregnant ewes. A chunky, friendly bloke, useless wool.
Later...
Hmmm... Today is exactly like yesterday, very bleak and grey. I've spent most of it either walking the dogs or reading. Red Fred is all fixed up and back home - he had a very large abscess from a cat bite. Buster, was that you? A tummy full of fancy-pants vet cat food, a warm log burner to stretch out in front of. Not a care in the world, now.
There's no chance of me doing any gardening now - only an hour and a half of daylight is left, and I've just washed my hair (excuses, excuses). So that's it, really. Back to the green teddy bear knitting.
Spot the Sheep
Yellow Daffodils :

Yellow - the colour of the sun, and of things that remind me winter will soon be over!
One gardening thought : a friend has given me a bucket full of bright yellow gladioli bulbs. Where to plant them? A very deep question, one which should get me through to dusk rather nicely. I so much love the yellow spring daffodil bulbs, so the idea of yellow summer bulbs rather appeals.
Friday 26th June
Oops. The same again, for the last two days. Bleak and grey, not very cold, but drizzly and gloomy. Oh dear. Whatever happened to the intrepid four-seasons gardener who used to live here? She is sunk in the depths of the dog couch, surrounded by new library books (yeay!) and bear knitting. With quite a few breaks to walk the dogs and annoy the sheep in the orchard.
Satuday 27th June
Finally! Wow! Celebration! Yeay! I've just done four hours gardening. Quite by accident - my intention was to go to the woodshed and get firewood to stack by the back door.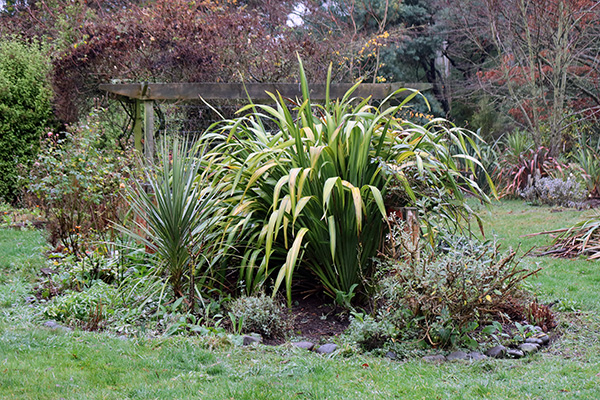 All trimmed
It was another very grey day, and the wet Olearia hedge along the woodshed path, very overgrown, tickled and watered my nose. So I took immediate action and trimmed it. This lead to that. I weeded the path, I trimmed a nearby overgrown Senecio, a Hebe, the giant perennial Nepeta clumps, and a messy Yellow Wave Phormium. I trimmed some ferns (they've all turned brown). Noticed some fresh pieces of invasive Lamium around the base of the Zepherine Drouhan rose. Dug them out. Kept finding more. Kept on digging. Took ages - annoying stuff to remove.
Zepherine Drouhan Flowering
Finally, four hours after setting out, I ended up back in the woodshed where this all started. I split some of the larger pieces of wood, and stacked two barrowfuls ready for the log-burner. Yeay! At last, a proper gardening day. And guess what? My mossy green knitted bear outfit is finished!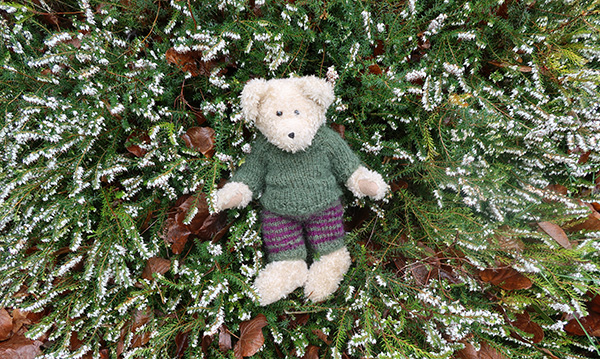 Bear in Erica