Welcome to Winter!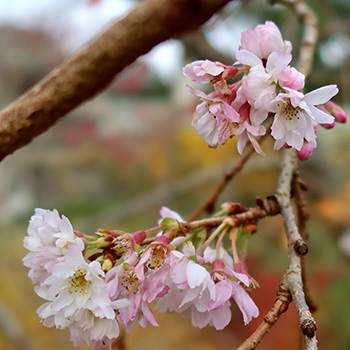 Winter Blossom
It's winter. Ta da! Fanfare of trumpets, as out come the warm winter garden clothes, woolly socks, hat and gloves. I have big plans for this rather ominous day, the first day of winter. First, the bonfire ash needs to be scooped up and spread in the orchard. I rather thought the tractor could do this. That is, Non-Gardening Partner.
Then I want to spread compost and garden mix into the Hump Garden so I can plant roses and miniature Agapanthus. This means a trip to the landscape garden place, involving Non-Gardening Partner again.
Then I'd like a few dead tree branches sawn down. Guess who does all the chain-sawing in my garden? Looks like I've organised someone else to do all the work, while I point at things and nod encouragement, hee hee. But wait - there is something for me. I could get the bonfire going again and clean up the last of the dead Phormium leaves. And bag up more fallen oak leaves.
Tractor on the Back Lawn
Dog news...
Winnie the dog, recovering from cruciate ligament surgery, now goes for longer 'short walks', putting equal weight on all four legs, as we wander around to find the Toilet de Jour. Her vet is pleased with progress - the stitches are out, the bucket is off. She's still spending most of her time in her crate - a bit boring for a Border Collie dog, but she accepts it with good heart.
Pebbles
Tuesday 2nd June
Yesterday I started my winter gardening off very energetically. I sorted out that bonfire, finished burning the flax leaves, and did lots of leaf raking. But today? What a lazybones day I've had! The early morning fog seemed to fill up the insides of my head. The garden has been a lost cause!
I did my ballet class (with the Tuesday wobbles), went out to visit a friend, bought some fresh salmon, came home, walked the dogs (separately), and read some of my latest e-book. More walks with the dogs (separately), then another friend arrived with fifteen bags of rotted horse manure. This should have done the trick, garden-wise. Well, it didn't. The fog (and the horse manure) stayed firmly in place. I scuttled back inside, set up the sewing machine and made pink onesies (more sensible than pyjamas) for the teddy bears. As one does.
Wednesday 3rd June
Oh dear - another foggy day. I have done my ballet (less wobbles on a Wednesday), and read some more of my e-book (a gloomy detective story set in the Peak District in winter). I've walked the dogs, separately, twice. Winnie is walking really well - there's a real bounce in her step. The bounces would be much bigger, if she wasn't restrained on the lead!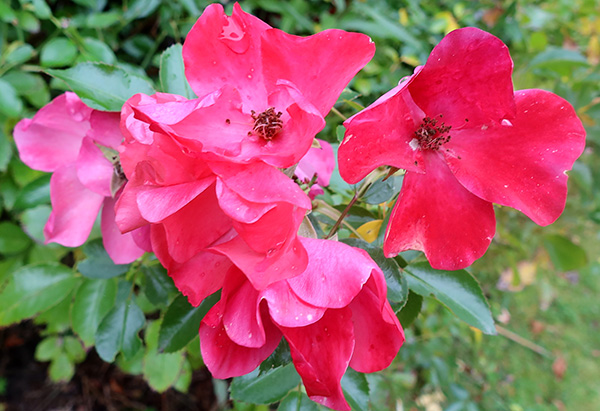 Late Flowering Rose
Now I'm going to neaten the edges of some little woolly blankets - again, for the teddy bears, naturally. OK, so I haven't made a very good start at being an intrepid winter gardener, hee hee. But at least the bears will be warm in their beds at night...