Snoozing...
Blondie Phormium in a Pot
Good morning to my garden and dogs. Good morning to the Fred cats, snoozing in front of the log burner. Good morning to my inner gardener - alas, she seems to be snoozing as well. Have been distracted (rather delightfully) by 'musicking'. Today, however, I am back, and I am procrastinating. The last messes of hedge trimmings are waiting to be raked up and burnt. Yuck!
Good dog news...
But I have good dog news - we all managed a well-behaved walk around the orchard, two dogs on two retractable leads. I am trying to modify my dogs' behaviour. All I can do is try. And try again. And keep on trying. When a dog is on a lead, then they have to learn that I am in control, right? Grr....
Winnie now goes back in her crate for a safe snooze. I stop fiddling and tiddling with my music scores and get out there to enjoy my garden. It is a beautiful sunny spring-like day. Blast the hedge trimmings!
Much later...
Oh yes. Enjoying the sunshine and the beauty of the day, I did lovely gardening until 4pm. I trimmed ferns and Phormiums, I collected mess, I cleared the gardens around the Koru brick courtyard and scooped up dead leaves. Found a couple of roses which had expired - not sunny enough for them here. Or maybe I pruned them to death last year? Oops. Hope not. I did some nice small scale things - potting up cuttings of Lupins, pulling apart a variegated little Carex and repotting the pieces, and taking some cuttings of Scrophuaria.
The Olearia hedge is Trimmed
And then - pouff! Time to approach the bonfire. I raked up four more barrowfuls of hedge trimmings, collected heaps of dried Gunnera leaves, and stepped back. Burnt the lot - mainly flames, I'm pleased to say.
Dusky Pink Hellebores
Now I'm going to de-smoke myself (shower and wash my hair), and find a complete set of clean clothes. I will make a cup of tea, sit by the log-burner and watch the birdies fluttering on their bird feeder. Hopefully no Fred cats will be lurking underneath the patio table, ready to pounce. So cruel - had to bury two little birds yesterday.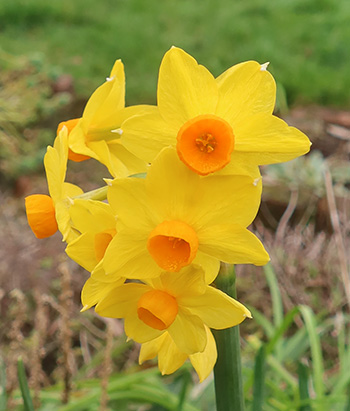 First Yellow spring Bulbs
Wednesday 12th August
Blast! There's a wee outbreak of Covid community transmission in New Zealand, so the country is going back up a level. I've cancelled my jazz choir rehearsal. Good choirs are extremely spitty, so to speak, and can't really practice social distancing or wear masks. Thought - I could wear a mask in the garden, cos there's something out there giving me the sneezes, and I don't usually get so-called hay-fever.
So what's up for today? Hmm. Feeling a bit sad - was really loving having my choir back up and running. A good day to stop thinking, put my head down, and start more trimming and raking. Crank up that bonfire again (hopefully not a smoky one). Prune some more roses. Stop moping around.
Much later...
A sad day for singers but a good day for gardeners. My friend brought me sushi for lunch and did some rose pruning. I raked, burnt, and trimmed -.the biggest Miscanthus grass is done. I adore this ornamental grass. But do I enjoy cutting it back? No way! And there are several others in my garden - aargh! One a day, maybe? They certainly rev up the bonfire...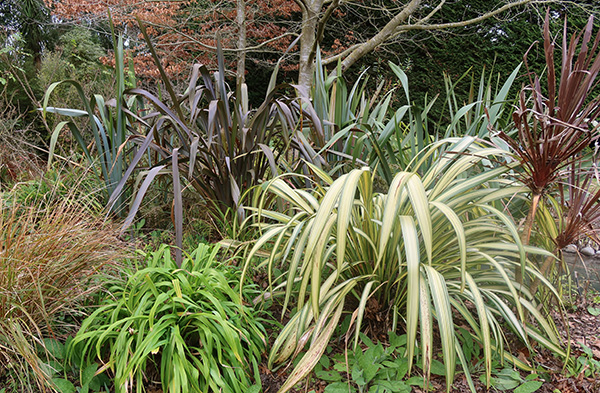 Winter Phormiums
A gentle reminder for tomorrow, while I remember. I need to get into the water race and trim the large Yellow Wave Phormium by Middle Bridge. Also the coarse green carexes underneath it either need to be trimmed or dug out. I will wear my wading suit. Something to look forward to - how long will it take me to wriggle into it, I wonder?