Decisive or dithery?
As a compulsive self-analyst I am very experienced at evaluating my gardening day. Has the time spent resulted in appropriate progress? Have I thought things through, and made good decisions? Have I been decisive, or dithery? Yeay! What a day! I say, I say! A nine and a half out of ten day, the only fault being that I should have worked for another half an hour - but it feels so nice being clean while the sun is still shining, if that makes any sense at all.
Superbly decisive...
I have been superbly decisive. I went into the Hump Garden with the intention of weeding. But I shifted a path instead. My thought process was totally robust. Firstly, the Olearia shrub next to the path was growing beautifully, getting very fat. I would have needed to trim it. Secondly, the last time I used the path was last spring when I dragged myself along it on my bottom, weeding. Not the greatest frequency of use, then. I would expect a path to earn its keep by being walked along, with feet. Thirdly, the route just went too low down in the Hump Garden. I don't want to go down there. Too much mess, too much shade in winter, too close to the dark and dreary Leyland shelter hedge, under which there is even more mess...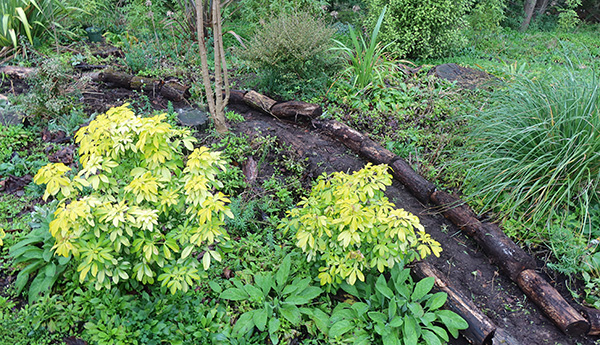 New Path in Hump Garden
I didn't need to replant anything major, just scooped out clumps of forget-me-nots and relaid the edging logs. Easy as!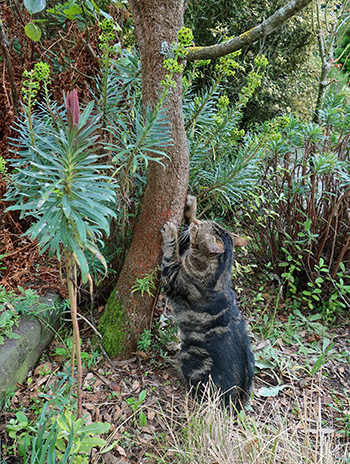 Fred Sharpening His Claws
Cat news...
Earlier this morning I'd been out playing Handel and Telemann with my flute friend. I'd let Lilli-Puss loose in the house, with doors and windows open, so she had escape routes - just in case. She rather spooks both the Fred cats by advancing up to them. Hey! This isn't what happens. Wrong way round! You're supposed to be scared of ME!
Saturday 14th August
A morning of rain, then mid-afternoon the sun came back out. We zoomed off to the landscaper to get a trailer load of garden mix, and I've spread five barrow loads in the Hump Garden. That's all - probably ten to go. Now am sitting at my computer with Lilli-Puss on my lap.
Yeay! Animal life in the house is finally more relaxed. Lilli-Puss can join us without too much Fred-fuss. Winnie the dog is now allowed time out of her crate without being on lead. Her favourite visiting place is on the patio underneath the bird feeders, where she licks up bird poop and pieces of dropped fat. Yuk!