Lockdown gardening continues...
Cream Camellia
Good morning, Camellias. Good morning lockdown, day four. Three days of concentrated gardening (no diluted gardening allowed). Three days spent happily in my gardening bubble. Exponential garden improvement - updates daily, like the Covid numbers. Oh boy.
New Zealand has serious lockdowns. Can't go out to get my hair cut - blast! The kitchen scissors in the bathroom mirror yet again, hee hee. Can't even buy potting mix. And people behave differently in lockdowns. For example, I bake muffins for afternoon tea (never do this in normal times). I have also ordered a meat pack to be home delivered next week. As one does. Must support my butcher, whose shop is not allowed to open.
Later...
Yeay! Another great day. I finished planting the miniature roses in the ground by the Herb Spiral, watched by Lilli-Puss. I also planted three Noack Flower Carpet roses, Gaura, and Bergenias. I've tipped a lot of spare potting mix onto this garden. Now I need a load of garden mix from the landscaper, who is of course shut.
Pink camellias
Then I pruned more of the Hump roses with the edging shears. Easy pruning, this. I planted a striped Phormium in a pot and placed it just so on a very low tree stump. I collected up buckets of wet weeds. And - yes! I did a rough clean out of my glass-house, to get it ready for seed sowing.
Spring yellows!
Chainsawing allowed in lockdown...
Meanwhile NGP chain-sawed down a wilding pine and put the messy bit through the shredder. So, as you can see, it's been a day where lots of little things that needed doing have been done. Yippee for lock-down gardening!
Sunday 22nd August
So this is day five of lock-down, and I am still happy in my gardening bubble. Today I'm going to work by the water race. I will weed, I will prune, I will rake up mess. I will put in much effort, and achieve much. Gardening life in lockdown (and, indeed, at any time) is simple - rude barking dogs are the only distraction.
Late lunchtime...
Simple in theory. I adore the concept of large ornamental grasses - in particular, the varieties of Miscanthus. But today's victims of the trim are Calamagrostis and Cortaderias, and the latter is horrible to clean up. It has a thick ring of dead petticoats, so to speak, and the living grass spears have a cutting edge. Ouch.
Miscanthus Seed-Heads
Do I really like it? I've come inside to ponder whether to continue tidying or just dig it out. By the way, it's the South Island New Zealand native, Austroderia richardii, not the huge Argentinean nuisance.
Later again...
Sorry for getting grumpy about the grasses. I love them, and that's that. The Cortaderia lives on. In fact, I think I might buy a couple more (see the photograph below, which was, alas, not taken in my garden). When the nurseries open, that is... And great news : I've found my good (dressmaking) scissors stuck at a jaunty angle in the water race bank, and cutting grasses is easy as with these. Oops.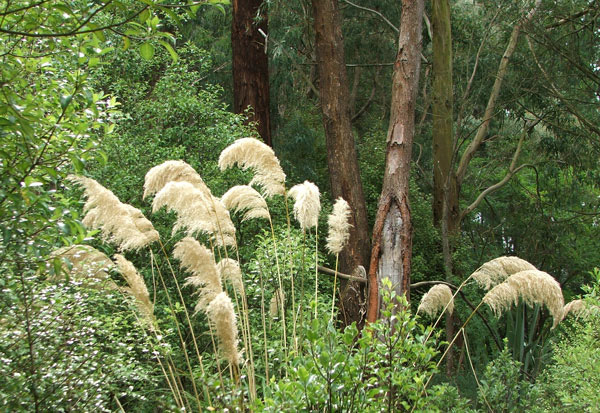 Cortaderia - Toe Toe Grass
Dumped all the mess, barrowed two loads of home made compost over to the Hump garden. Planted the miniature Agapanthus in a ring by a frost-sheltered path. Pruning the Iceberg standard roses, clearing fallen crab-apples off the path by them, raked all my mess up, and collected all my tools. Yeay for me.