Where to put the fairy doors?
What a funny day! It's been trying to snow, nothing too serious. I've been lurching around outside trying to place my first batch of newly made fairy doors for a photo shoot.
Snowflakes on WInnie
Flakes of snow have been covering my camera, and my faithful dog Winnie. But no settling, thankfully. My garden does not require any snow.
Fairy Door
Where to put the fairy doors?
I have lots of big trees. But the fairy doors (made from photo frames) need to be visible from a path, and their positioning hasn't quite been as easy as I thought. Too much thinking and they start to look really silly.
It's all about first impressions, and there being an access way in to peep at them closely. Am still learning. Maybe they could have little garden paths of their own. Certainly they need little door steps to cover the bottom bit of the frame.
I tried out various trees, but my doors were looking more and more silly. Decided they need to be attached rather than propped against the trunks. It kept raining and trying to snow. The temperature stayed rather low, so I spent the rest of the day inside, reading by the log burner.
No squabbling...
Watched the little birdies through the window. And a few large ones (blackbirds and starlings). No squabbling, all equally sharing in the food I've provided - a lard ball, bananas, kiwi fruit. And then flying over the the Crabapple tree. Rather lovely!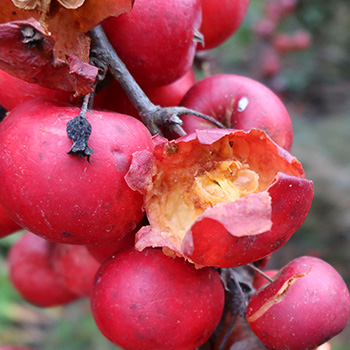 Bird Food
Next day...
This afternoon has been glorious for gardening, and so I went into the Hump determined to make a huge difference and clean up almost everything. Yeay, right? Dear me no - I hardly scratched the surface, so to speak! I scooped armfuls of green weeds from the gardens and the paths, trimmed dahlias and roses, lopped medium sized branches off a sprouting Eucalpyptus tree, and barrowed loads of burnable mess over to the bonfire.
Little things take ages!
Should be pleased with my day, but little things took me ages, and nothing got finished. Every time I trundled over to the bonfire with wheelbarrow I saw so may things that needed trimming. So I stopped to pull out dead Alstroemeria stalks, trim ornamental Calamagrostis grasses around the house, cut down bronze fennel stems, and so on. Finished the day by digging out a few dry Anamanthele grasses. Loaded them on top of the bonfire to encourage the flames, then smothered everything with hedge trimmings. Lots of steam and smoke came forth. Poked and prodded while the sun sank behind the gum tree. Dusk! Time to stop.
Hello Tiger the Cat
But three huge positives : Lilli-Puss spend a lot of the afternoon outside (so good for her mental health). I had a nice chat with dearly departed Tiger the cat - her yellow Polyanthus are now visible, flowering by her memorial pukeko statue. And, last but not least, I didn't lose any of my garden hand tools. Yippee!