2022 Birthday Week
Spring!
May have mentioned that this is my Birthday Week. It is not the biggest of big birthdays, but I am going to enjoy myself and do groovy things. My idea of groovy things can be a bit odd, however. For example, yesterday (oops) I went adventuring for three hours in the Arctic Watershed with a Canadian Youtuber adventurer - lots of exhausting portaging, dragging my (well, not actually my) canoe over swamps, through messy arboreal forests, and so on. I was on the French River.
OK, so this was a New Zealand gardener's fantasy morning, but hey! I had a wonderful time, and it was pretty cold (like four degrees Celsius) outside in my real world (but no mosquitoes or black flies, phew). The southerly blew through in the evening, and this morning there was the lightest dusting of snow. Snow on the daffodils! Pretty!
Late afternoon...
Things soon warmed up, and I spread three barrow loads of path mulch in the Hump garden. Then went over to the Stables to sort out some path edging logs for a lower path I'd been weeding. Great excitement - saw three standard roses in bags, dropped off by my friend from down the road. So I planted them immediately on the edge of the Hump Garden, but still in range of the irrigation. Like a wee surprise birthday present, because guess what? This is my birthday week. Oh, I've already mentioned this...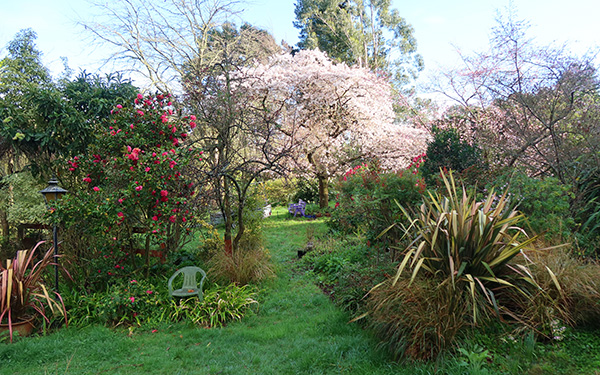 Spring Blossom
Unfortunately the wind was pretty chilly, so only lasted two hours. Now I am going to do my piano practice. Yeay for Prokovief! I am making much more sense of him. All it needs is a lot of listening and a bit of thought. And, of course, getting the fingers to play the right notes, That always helps.
Purple Honesty
Thursday September 8th - My Birthday Day
I've had the best day. Lots of fun at my ballet class, then lunch with a friend, then into the garden for a wonderful, timeless weeding session. I split up clumps of miniature Agapanthus and replanted them along the edge of the Hump Garden path - much better.
All of a sudden it was close to five o'clock - dinner time! I picked myself a bunch of daffodils and Forsythia, then Non-Gardening Partner and I bought a couple of pre-prepared meals, a small block of chocolate, finished off a fruity non-alcohol cider.
No need to clean my fingernails and go out to a fancy restaurant. I'd much rather relax after dinner with Fred the cat smooching me and sitting heavily on my lap. And those lovely dogs, who spend hours of their lives waiting (sometimes not so patiently) for human-initiated excitement.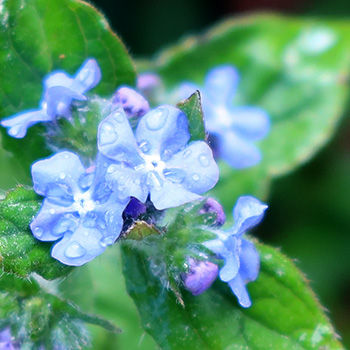 Alkanet Flowers
Hopeless cricket, hopeless Speckles...
Went to bed and listened to the New Zealand versus Australia cricket match on my radio - a most bizarre game. Just one little disappointment for the day - Speckles the stray cat didn't bother coming (yet again) for his evening meal. Hey there, Speckles, you could have made the effort to peep around the corner of the cottage and hiss at me. Hopeless cat.
RIP Queen Elizabeth 2nd
Overnight (New Zealand time) Queen Elizabeth 2nd died. What an amazing woman.
Friday September 9th
I've had another really groovy day. I've sorted out the lower Hump path, fixed up its edges, weeded around the miniature Agapanthus, and replanted three roses in nearby gaps (one is Mrs Oakley Fisher). I've spread all the mulch from the trailer onto the main path - it looks good. That means I can get another load this weekend. Yeay! Slightly worn shoulders from using the shovel, though.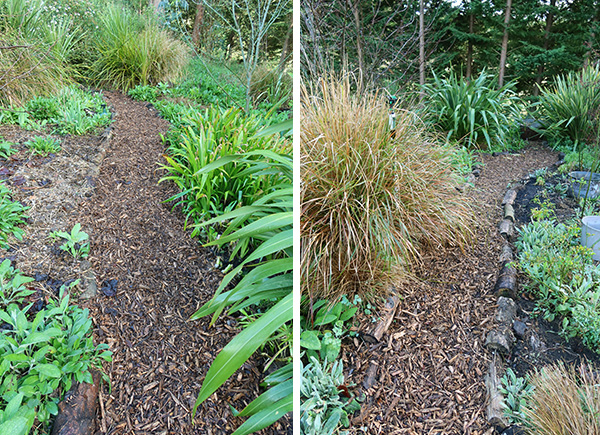 Mulched Paths in the Hump Garden
Have a bagful of new library books, clean hair, warm dry feet, and some salmon frying up for my meal. Yeay again! Little things are absolutely wonderful.