Perennials or potatoes?
Potatoes
Each year I dig or clear a new potato patch. And then I fill it up with new ornamental plants - usually roses, oops. This year I'm going back full circle, to the very first potato patch I ever planted, at the side of the woodshed. I think it might have been thirty years ago (eek!) and is now full of perennials.
So I've been working since 9:30, and starting to get a bit bogged down, mentally. Time for a coffee and some afternoon tea. Have decommissioned the perennials garden by the pergola, reclaiming it for the spuds. So far have been weeding, planting roses, shifting little plants (Stachys, Bergenia, and Aquilegias), clumps of summer Phlox, and moving mulch around.
The big stuff is to come - three huge, heavy clumps of daylilies have to move across the little path. I can do this! OK. Let's go.
Not too much later...
I did it! They were really heavy, so I dug over-sized holes and just rolled them over the garden and in.
Tuesday 13th September
Today has been less productive, mainly because I haven't quite been bothered changing my jeans and shoes. Hopeless! But I have been wheeling path mulch around for nearly three hours. It seems to take me ages to do very little.
Herb Spiral Path Mulched
I've nearly covered the paths around the Herb Spiral, the path running next to my new potato patch, and I've tipped four barrow loads on the Hump Garden paths. Now the sun is nearly setting, and the cherry blossom looks gorgeous. Yeay!
Money well spent...
And the best money well spent on my garden this year? Thirty dollars for a mixed bag of daffodils, which I planted mainly in pots by the house and the cottage. Should do this every year, yes?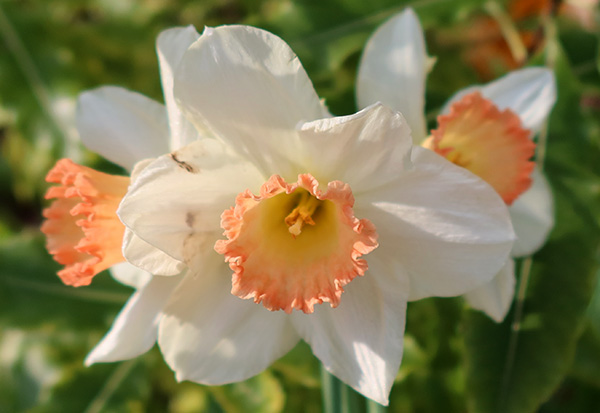 Apricot Daffodils
Thursday 15th September
Yeay! Another great day full of busyness : my ballet class, a cafe lunch with a friend, some Monteverdi singing practice, then shifting perennials, weeding, manuring, and mulching them in their new location by the Herb Spiral path. Have even lit the bonfire. Am very happy.
Speckles the stray cat...
Last night's conversation on the cottage verandah with my feral stray cat Speckles. Three degrees Celsius, really late, am only wearing a cotton nightie. Brr...
Helloooooo, Speckles! It's you!
Hissssssss...
Darling Speckles - I haven't seen you for ages. I've been worried.
Hisssssss...
Let me get you some food.
Hisssss...
Here's your milk.
Slurp, slurp...
Speckles is Back!
Why do I bother? Because I'm nice, that's why!