Sparkling September
Eek! I forgot to say hello to September. It's my first spring month, and polite gardeners all over New Zealand will be smiling, thanking this lovely month for arriving in their gardens. Greetings, sparkling September, a belated but warm welcome to my garden.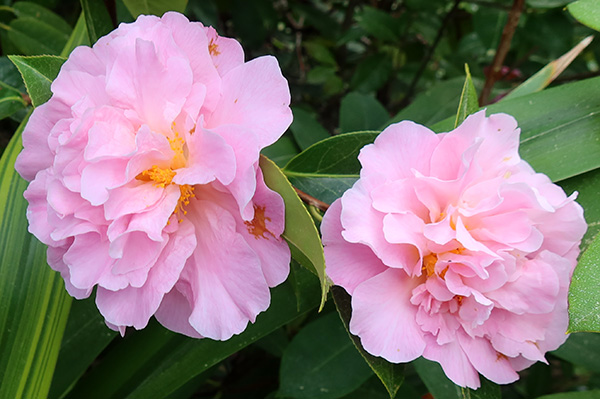 Nonie Haydon Camellias
This morning I have to sing some Mozart, so I won't be with you until just after lunch. And then the fun will begin! Non-Gardening Partner (who's been off the hook of late) will be sent off with the trailer to the landscaper to get some mulch for the Hump Paths. Then, wielding his electric chainsaw, he will be escorted around to finish off the trimming. Under strict supervision.
Plantation Pink Camellia
He could also help barrow that mulch onto the path. And tie up the big rambling rose which the wind blew off the Gleditsia.
Later, dusk...
So NGP bought me an early birthday present - a load of path mulch and four big bags of potting mix. Tried the chain-saw idea on him - not a goer, I'm afraid. Worked for nearly three hours, finished weeding the Hump Paths and cleaned up my mess, which is all dumped by the fence. Decided I'd done enough for the day - am now inside, clean, wearing my new apres gardening shirt. Have watered my new pots. My gardening jeans are soaking in the washtub. Dear September, I hope you're pleased with my weekend work. I am.
Springtime plans...
The plans for the week are to spread all the mulch, then get another load next weekend for another network of paths. And to start some seeds (all home collected) off in my glass-house, and divide and pot up some Lupin clumps. Yeay! Such a groovy season.