Almost June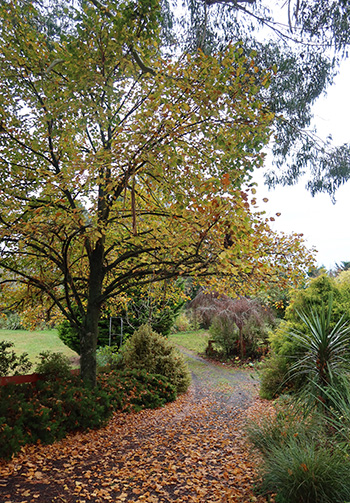 Winter in the Driveway
Eek! It's almost June. Mid-winter is closing in. So here's today's plan : it's got a rather nice look to it. Good balance, lovely things to look forward to.
Part One : Morning. Sort out the felled Pittosporum mess. Cart logs over to Stables, pile branches for shredder.
Part Two : Lunch break. Put on a pretty shirt and clean jeans, go to Botanic Gardens, and meet my friend. Yeay!
Part Three : Afternoon. Back into grubby gear, light bonfire.
Part Four : Apres Gardening. Shower and hair wash, light log-burner, enjoy slow cook lamb and carrot casserole.
Then choose a Youtube hiking video ('My Own Frontier' does some great trips in the USA wilderness parks, highly recommend watching his adventures). Joy! Bliss! Nothing like a bit of intrepid couch-hiking after a busy day in the garden.
Later...
And now, a recap of the day, with impressions and details. Part One only took me nearly three hours. Six heavy barrow loads of logs, piles of branches for the shredder, one pile of long slippery logs ready for the chainsaw.
Tree Mess
Part Two was just wonderful. A warm, peaceful, relaxing lunch in the Botanical Gardens. Part Three - I really was going to do it. I carted stuff over to the bonfire and then - well, whoopie doo! The wind came up. So that was that, hee hee. So I sat on my bottom and scraped moss off the bricks in the Koru courtyard instead. An hour before sunset the wind died away, too late for me to get the bonfire going properly.
Minimus my cottage cat :

Minimus is now thirteen years old.
I took my afternoon cup of tea over to the cottage and sat with Minimus. Speckles the stray has gone momentarily AWOL again. How clever are some cats, though? 'Where's your friend?' I asked Minimus, and she trotted off down the side of the cottage to look for him. Awwww....
One nuisance knee...
And now to enjoy Part Four. So I am inside, the log-burner is going, I'm feeling rather tired, one of my nuisance knees is aching, and my hands are rough and covered in 'dings'. Hmm... Time to relax with a zero-alcohol beer. And lashings of hand cream! Am going to balance my meal on my good knee and do some couch-hiking in Yellowstone.