A quiet mood...
I'm in a quiet mood, because Black Fred is at the vet. He's having an X-ray to see what is causing the large lumpy swelling on his cheek. Am worrying. But I will do some gardening - I have two hundred daffodil bulbs to plant, and more clearing up to do after another three sessions in the water race over the weekend trimming things. Was so proud yesterday - worked so hard, with such visible improvements.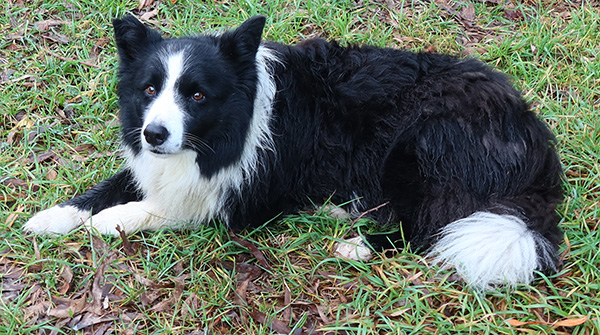 What feathers? It wasn't me...
Maybe some photographs first? And I need to clean up those feathers. Lots of feathers. Large feathers. Maybe a paradise duck or a pukeko? Thanks, dogs...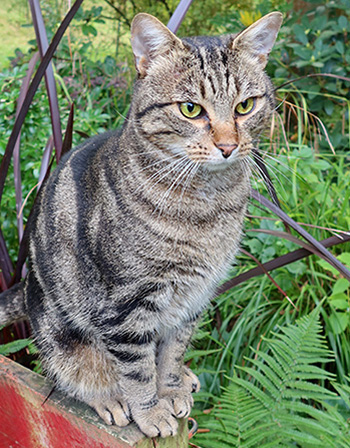 Black Fred
Half an hour later...
Hmm. The word 'procrastination' comes to mind. So here's the plan. Firstly, no clothing excuses! Put on gardening jeans and boots. Then start planting daffodils around the patio gardens, in pots and in the ground. Yes? Yes! Then a patio clean-up. Sitting at the patio table surrounded by delightfully manicured beauty is the idea.
Three hours later...
Gardening Fact No. 1 : it takes ages to plant things properly, even if they are only bulbs. Gardening Fact No. 2 : Wisteria has lots and lots of leaves which fall down on patios in autumn. Gardening Fact No. 3 : Mexican daisies (Erigeron) are beautifully invasive! Right. Coffee time.
Later still...
So I have picked up Fred. He has fractured a bone on the side of his face. Vet wonders if he was fighting a possum - again! We think this happened a year ago when his tummy got badly ripped up. Dear cat! He is incredibly hungry, smoochy, and bunty. Hopefully there will be no complications and his fracture will heal itself.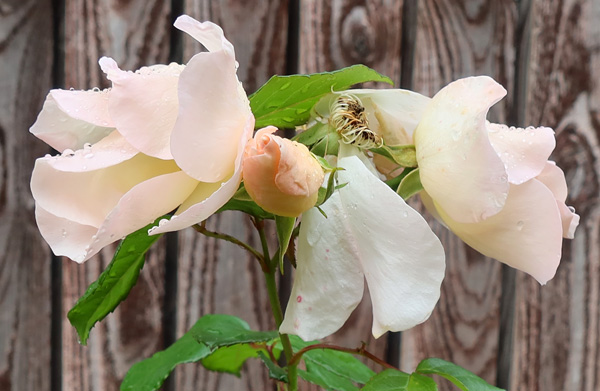 Late Sally Holmes Roses
Great excitement - a friend arrived earlier with two mature red cordylines, almost as tall as me. Wow! They've been in two big pots. Where to plant them? I think in the Pond Paddock garden, just along from the cottage.
Speckles the Stray
Tuesday 24th May
Little things can never taken for granted by a cat owner. I managed again to sneak Black Fred's pain relief and antibiotics into his food (it's not always so easy to fool a cat). Minimus my cottage cat likes one of the new wet food pouches I'm trying (phew - she's getting so fussy in her old age). And Speckles the stray miaowed at me when he came for breakfast. No hissing! Yeay!
Right. Today's plan is to go for a morning swim, then come home, plant more daffodils, and then crank up the bonfire.
Much later...
I have had an amazing day. Just wonderful. After swimming I planted daffodils in pots by the cottage. Then I dug two deep planting holes for the Cordylines by the cottage - took me one hour each. I had cat company - firstly Minimus being nosy, then Speckles miaowing and chirping. Unfortunately Red Fred then appeared to chance his luck - had to gently escort him away with my possum stick (kept on the cottage verandah just in case I open the door in the night and get a possum fright).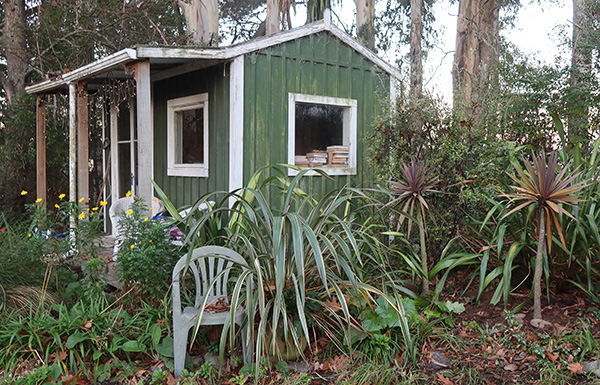 Red Cordylines By The Cottage
Lit the bonfire (a smouldery one, full of damp vegetation), then sat on the Frisbee Lawn to have late afternoon tea. Black Fred arrived, absolutely full of himself. His swelling has gone down. He followed me inside and yet again I sneaked his medication into a tasty cat snack. Ha! Have never been successful doing this before.
Now it's nearly dark and we are going to the local for a roast meal. Yeay! I don't have to cook!