Fizzled out!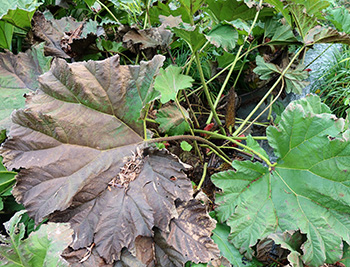 Gunnera
My May has fizzled out a lot. Each day I've planted maybe thirty daffodil bulbs, and now they're all in. Have planted pots of Bergenias in the garden by the Herb Spiral. Can't think of much else. Oops.
Unfortunately the 'Haven'ts' make a much more impressive and dauting list! Haven't finished clearing in the water race - the patches to go still are still blocked by large stems and green Gunnera leaves, and we haven't yet had a big frost (which burns the leaves off). Still finding rogue Gunnera plants in the water race. Haven't finished clearing up my mess. Haven't raked up the remaining leaves from the Pond Paddock, or sorted out my dozy bonfire (too much wet vegetation). Haven't weeded much, either.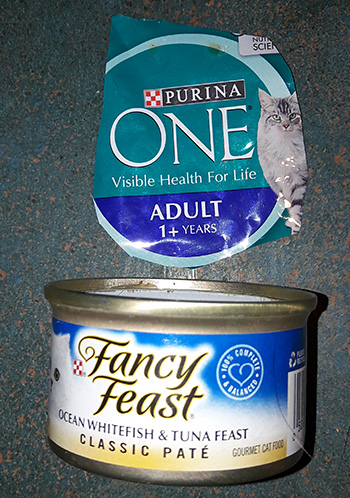 Favourite Fred Food
Catty highlights...
I might have been flitting around like a social butterfly? Not quite sure. Have been carting in loads of firewood and lighting the wood-burner a lot. Maybe I've been gazing at the flames and drinking lots of cups of tea? Honestly, I can't really remember.
Highlights of these last days have been catty - tricking Black Fred into eating his medication every morning, sitting on the cottage verandah with Speckles for his compulsory socialisation, and so on. This afternoon I really need to refresh my gardening self.
Much later...
Yeay! I cleaned up two barrow loads and filled the bin with Phormium pieces (they don't compost and cannot go into the green waste). Then I organised Non-Gardening Partner to chain-saw a large and uninteresting Pittosporum down. It took him maybe twenty minutes.
I spent the next hour dragging branches and logs off the garden. Not one shrub or ornamental tree was damaged, and the amount of light which is now falling on the brick Koru courtyard is just amazing. What a difference! Hey, moss! Beware!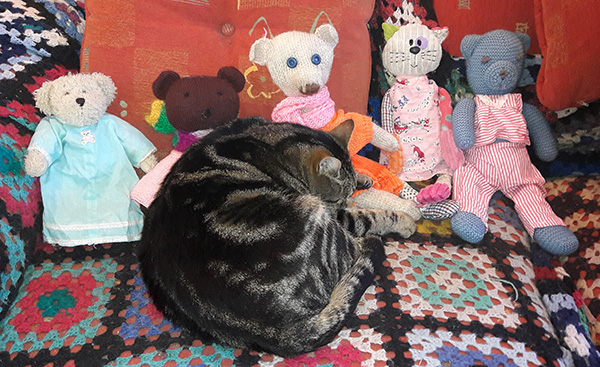 Fred with the Bears
And now I'm sitting in front of the log-burner with Black Fred and a bunch of well-dressed teddy bears, and yes - I am staring into the flames.
Monday 30th May
Woke up with mad dreams and huge garden intentions. Then my listening ears kicked in. Blast! Splatterings of rain! Great for my daffodil plantings, but not appropriate for clearing the tree mess. Went swimming instead.