Autumn glory...
Good morning to yet another gloriously golden autumn gardening week. Put it this way - you've started off being glorious, so please stay that way. Crisp, but not cold. Wonderful blue sky.
Glorious Autumn
Leaves changing colour, fluttering slowly down. A golden glow everywhere. Autumn loveliness all around. So inspiring. And lots of short sharp phrases for emphasis!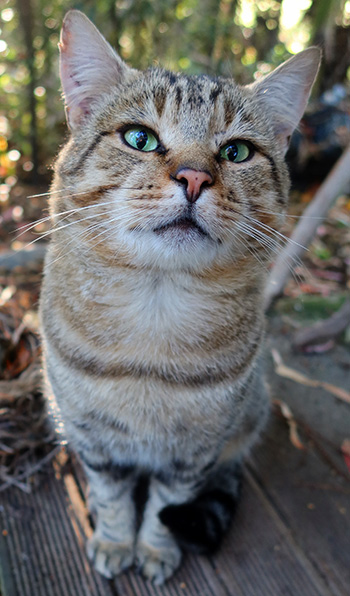 Speckles the Cat
The cottage cats...
My early morning routine, socialising with my two cottage cats : Minimus has her cuddle on the bed as I drink my first cup of tea. Then on go the thermals and out onto the verandah, where Speckles has his breakfast, accompanied by much head-patting.
Sometimes he shakes his head free of the irritating patter (me). But most of the time he just keeps on eating. Good food, so get used to it, Speckles!
Cat comparison
Thirteen years ago I found Minimus, a wild, starving little kitten, who'd managed to get trapped in the back of my woodshed. This was her good fortune : after just three days of feeding her she purred and even let me pick her up. Speckles, a beautiful mackerel tabby, started raiding the cottage for food about nine months ago. Might it take three years for him to relax and purr for me? There's certainly less alarm in those sad eyes lately. I think he's beginning to like me.
Have worked in my garden, happily if slowly, for three hours - not the most productive chunk of gardening time I've managed lately. I've weeded and cleaned up the Driveway Garden Astelias, and trimmed tree branches overhanging the driveway itself. Have dragged everything to the burning heap, but it's been too windy to burn.
A great excuse to have a shower, and relax with my book. I am adventure-walking with Levison Wood (plus an invisible crew of photographers, fixers, guides, and security guards, none of whom are mentioned) through the Americas.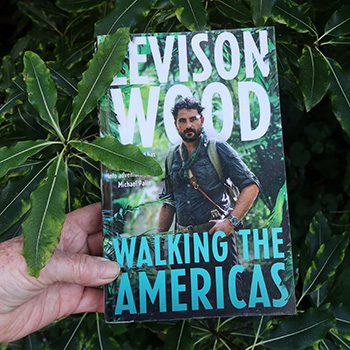 Adventure-Walking
Tuesday 12th April
Last night, while womanfully struggling through the jungles of Costa Rica, there was a howling cat-duet behind the cottage. On and on (and ever upward) went the scooping siren noises. Investigated with torch. Aha! Fred versus Fred. Both stuck, glowering at each other, neither prepared to retreat or (thankfully) attack. Luckily my torchlight diffused the stand-off. I wish they wouldn't do this.
Have already made a start on my gardening - guess what I've been doing? Trimming yet more seedling Pittorposums. If I left my garden to go wild, in ten years time it would be completely submerged in these pretty evergreens. Then only the strongest of my other plantings would survive - the largest Phormiums, the rambliest roses. An interesting thought, this.
Later...
Blast. Have just driven home from swimming with the windscreen wipers on their medium setting. Will stay inside until the rain eases. Plenty to do - piano practice, book reading (about to cross into Panama), housework... Cancel that last item!
Autumn and Pond Cottage
Wednesday 13th April
This morning (sooooo sorry about this), while Speckles was busy eating breakfast he let me stroke him right down his back without flinching. And no hissing when I first appeared with cat food and milk. Yeay! He likes me! Reality check : hungry feral cat is fed morning and night by a silly, sweet-talking old lady. What's not to like?
I have a short window of gardening opportunity today, so the plan is to continue trimming unwanted saplings (nice word). No machetes, just my trusty loppers. Not lighting the bonfire - have an evening singing rehearsal, don't want to stink out the alto section.
Thursday 14th April
Book check : Last night I finished my book journey, getting through the infamous Darien Gap without incident. Am thankful that I don't have to sleep in a hammock, and I only go walking in a Pittosporum jungle - no humidity, no snakes. Wondering about going walking just to write a book about going walking? And the parallel - doing gardening just to write about doing gardening? Hmm.