An experience...
A few days ago one of my lovely singing friends visited to 'experience' my garden. And what an experience - we were swinging legs over trip-you-up grasses, ducking underneath tree branches, fighting our way through huge strips of gum bark hanging from the trees like vines in an impenetrable jungle. Oops.
The Cottage and Pond Paddock
Things were sooooooo messy - not a good look for a visitor (though she was extremely polite). Then I took her to the pond to see the garden gnomes having their Book Club. Heard myself saying apologetically 'This way - there is a path in here somewhere.' I'm surprised she didn't tip into the pond. A wee bit embarrassing, really.
Gnomes on the Reading Stump
So today I've spent five hours clearing the pond path (should have done this before my visitor came, oops). I've carted seven wheelbarrow loads off to the bonfire. I've sliced hundreds of seedling trees and grasses out with my sharp breadknife. Found some gnomes who had face-planted in the dirt. Seedling Pittorporums were growing right through the white wire seat. Obviously no-one has even tried to sit here for a while. Oops again.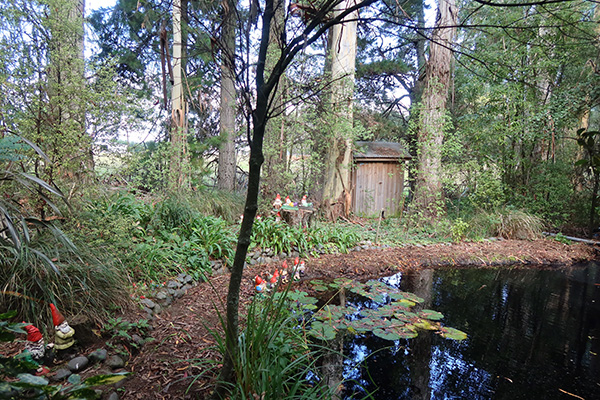 Cleared Pond Path
Oh boy. What a mess! Come back, friend! This is what my pond path should have looked like. Much more enjoyable. Much safer!