Puddling with puddles...
Wow! Heavy rain, which was forecast for today, has arrived. Yesterday was the calm before the (rain) storm, so naturally I poked around in the house and went out to cafes with my friends. While today, naturally, I feel like gardening.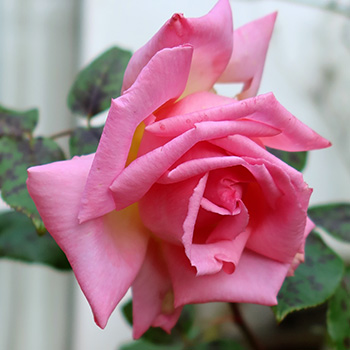 Compassion Rose
Puddling with puddles!
No chance! The lawns and driveway are puddling with puddles (what else?), the house cats and dogs are hunkered down in the house - even Speckles the stray turned up earlier to eat and to shelter underneath the cottage. He's been AWOL for five days, and silly Minimus (my proper cottage cat) seems to have missed him. So she's been a nuisance, going outside to check for him in the middle of the night.
My attitude towards Speckles is a little less sentimental than it was (I may have mentioned this before, oops). He knows where I am - in the cottage each night, with food for him. His choice if he bothers to check in. Sadly, I don't think he'll never be a nice cat. OK, he lets me pat him, but can suddenly widen his eyes, swipe with a paw, and bite my arm - not proper cat manners.
Nothing to report...
Well, there's nothing more to report on this steadily rainy day, except to show you a photograph of a brave rose flower on the patio - it's Compassion, a quality that many in the world could use much more of. Enough said.