After the rain...
Pebbles and the Angel
Aha! Good news! Good morning (a bit late but never mind) to sunshine, blue skies, and my garden. The magic of free-draining soil - all the puddles have gone. I've been busy cleaning up the stone wall which marks the edge of The Shrubbery. I've raked up lots of gum tree mess, pruned back Escallonias, dug out Euphorbias which were smothering a beautiful green Astelia, picked up heaps of gum tree bark, and so on. The little square courtyard is accessible again.
Now for the not-so-good news : the bonfire. I have to try to get it going. Then I'll spend the next two hours encouraging it and (hopefully) burning all my mess.
Later, dusk...
Yeay! I did it. And, what's more, it rained throughout the last hour. But my resolve was great, I got pretty wet, and my bonfire flamed away merrily in the drizzle. Nice work!
Two days later...
And I did it again. This time I cleared mess from around the BIG GUM in the house lawn, where a terracotta angel was patiently waiting for the gardener to remove the gum bark from her face. This time I had a 'more flames less smoke' bonfire - very nice.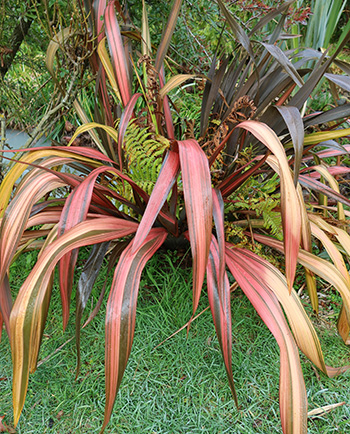 Red Striped Phormium
And now it's Saturday...
This morning I put on my posh black gear and went off to sing in a choir performance. A big fat bass singer turned up, full of his own importance, and stood right behind me. He then proceeded to cough and splutter all over the back of my head, without covering his mouth.
What a wimp!
I was such a wimp - didn't speak to him, just removed myself instead and came home. Trouble is, I spend most of my time talking to dogs, cats, and plants. So it's easy to lose one's nerve when speaking to a big, fat, important bass...
Off came the black and on went the denim, and I trotted down the drive to finish trimming the overhanging trees in the Welcome Garden's lawn. Busy, busy! I chopped down the messy long grass, and redefined the edge for the lawn mower. Then I barrowed out four loads of mess for the bonfire, added lots of prunings of Parkdirektor Riggers (ouch - such a thorny rose) and some dried Gunnera leaves, and lit it. Whoosh!
Edge of the Welcome Garden