A is for April...
NGP with one of the Fred Cats
Oh yes. A is for April, and April is definitely Autumn. Some colder, more snuggly nights. Merino clothing, woolly socks and slippers, collecting kindling and barrowing in firewood for the wood-burner.
Thank you Minimus
Minimus the cottage cat is my night-time temperature indicator - when she burrows underneath the crochet blanket on the bed I know it's less than six degrees Celsius. Thank you Minimus, and thanks for the paw in the face in the middle of the night when you decide you need warming up.
Hello Fred and Fred...
The Fred cats are spending most of the day and night inside the house. We all love the wood-burner, and it's so much more visually appealing than the heat-pump. So we sit in front of it and stare, waiting for that rosy flaming glow.
Looking back...
Looking back, my gardening hours were a bit low in March, but I'm sure it was a rather wet month. Certainly I noticed a lot of rain, and my spirits were often rather soggy. Hopefully I will do better in April. Best to measure my work results by the season, rather than the month, yes?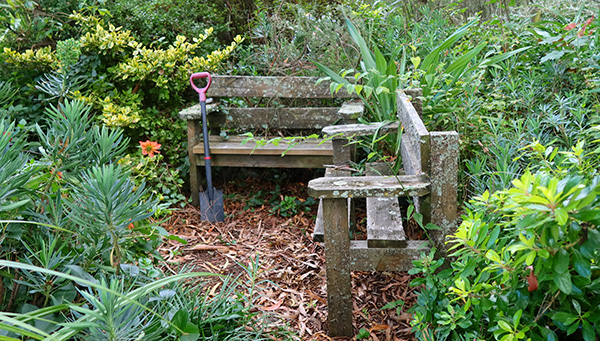 Spot the Spade...
Right. I am off to take lots of garden photographs. When in doubt, grab either the spade (if I can find it) or the camera (lovely). I will float around (wearing my heavier autumn gardening boots) taking pictures of flowers and greenery. And paths and bumble bees. And so on, etc. etc.
Sorry. No bumble bees or paths. Just lots of beautiful flower colours and foliage patterns to enjoy.