Rationalising the Dahlias...
I am rationalising my Dahlias. They are far too random. I've sorted them into colour groups, which are as follows: lemons, yellows, brick reds, magentas, mid-reds, bluey-reds, soft oranges, lilacs. This seems sensible.
Sunday 30th March
All soft orange and lemon Dahlias are to go in the Jelly Bean Border near the Graham Thomas roses, or in the Driveway Border near the Buff Beauties. All lilac dahlias are to go into the Hump. All mid-red dahlias are to go in Driveway Border.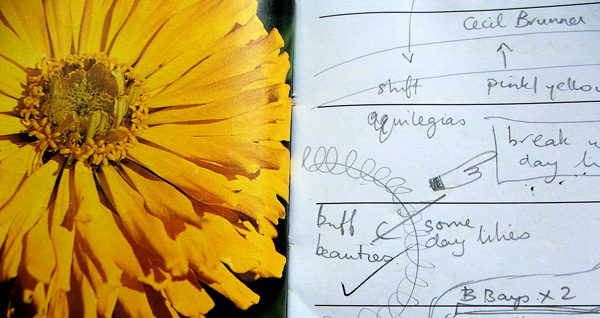 Early Gardening Notebook Page
Ideas for the Driveway Border: Maybe shift out some of the Hebes - leave only one. Who needs three? Plant three of everything in a large country garden? More ideas - put the two Cornelia roses together. Move the Japanese Anemones and the Hostas. Shift the Dublin Bays? Yes. Put them all in the Pond Paddock Border behind the Glass-House.
List of Things To Do
Dig grass by pond.
Shift apple-blossom Penstemons and Abraham Darby roses.
Shift mauve and yellow dahlias out of Driveway Border.
Get pea-straw and horse-poos.
Collect pansy seeds, blue, white, and yellow ones.
Saturday 12th April
Pot maintenance: All pots around house to go to the glass-house. Re-pot plants and organise. Get all pots from upstairs balcony. Cross fingers that the perennial Lobelia is still alive...
Pick Othello roses for house - they must be put in vase. Cut down Nicotiana Sylvestris and trim Penstemons really short. Red Hot Pokers? Do something. Shift Buff Beauties and Abraham Darby...
Taj-Dog in the Spring Garden
Saturday 26th April
Take cuttings of the following: Gaura Lindheimer, Catmint, Lythrum, Black Knight Salvia, Mexican Salvia. Get pea straw and horse manure. Lots. Split up terracotta orange daylily clump and shift away from rose Rosy Cushion.
Here are some desirable perennials and roses: Variegated Scrophularia, Artemisia lactiflora, Filipendula rubra, and Joe Pye weed. Cardinal de Richelieu and La Reine Victoria. And some more April things to do: Take rose cuttings of Othello, Nancy Steen, Mary Rose, and Graham Thomas.