Mid-Winter Gardening
Rose Flowering on Mid-Winter's Day
It's mid-winter's day at Mooseys Southern Hemisphere Country Garden - the winter gardening solstice - the shortest day of the Moosey gardening year 2004. Obviously in the depths of winter there can't be much to take pictures of, can there?
Northern Summer
Back in London, the northern hemisphere Moosey web-master has discovered the joys of summer garden visiting (and summer garden photography). He feels sorry for me down here - he thinks my garden's all bleak and bare, with skeleton trees and artistic clumps of dead seed-heads and gloomy vistas.
Southern Winter
Wrong! First of all, this is Canterbury, New Zealand - home of the crisp southern winter mornings and clear blue-skied winter days. The sun is just mellow enough to allow iconic photographs of cordylines (Cabbage trees) silhouetted against the clear blue sky.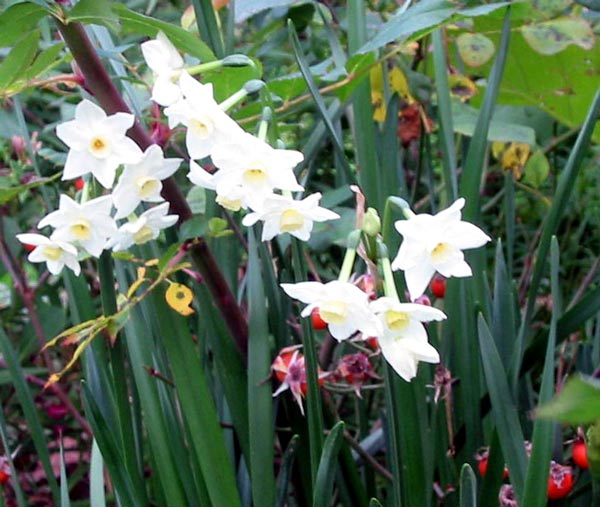 Jonquils Flowering on Mid-Winter's Day
And there are still patches of flower colour in the garden - many late roses are still blooming, as are some annuals and perennials.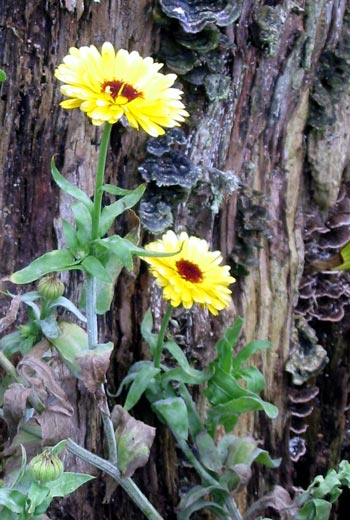 Calendulas Flowing on Mid-Winter's Day
Looking Forwards to Spring
I'm definitely looking forwards to spring, but there are some clumps of spring-like jonquils already flowering. Well behaved shrubs like rhododendrons and camellias are (of course) in bud, waiting their proper turn.
There is a surprising amount of flower-colour around the different gardens. These late sown annuals like Calendula are still in flower. It'll take more than a three degree frost to stop these beautiful plants - sheltered up against a tree stump in the Willow Tree Garden, they are still alive and well.
It's also time to get into the glass-house and start sowing new seeds for next spring and summer. Trouble is - the mid-winter weather has been just too nice!
Winter Flaxes
Forget the bleak and bare. New Zealand winter gardens with the good sense and space to plant flaxes (Phormium Tenax species and hybrids) are never bare. Tree leaf colour may be gone, but this makes flax leaf colour even more appreciated.
Many New Zealand native trees and shrubs are evergreen - this means exactly what it says - forever green, even in the middle of winter. As long as there's no snow to weigh the branches down and have them breaking off. Oops.
So it follows that as long as gardeners down here remember to appreciate and grow New Zealand natives, then there will be fifty shades of green to enjoy on mid-winter's day.
Foliage and Flaxes on Mid-Winter's Day
Of course, it will be the summer solstice in London and other places in the Northern Hemisphere. Wherever you garden, have a happy solstice day!