Driveway by the House
As you walk around the gradual bend in the driveway, past the weeping cherry trees, you'll see the house surrounded by roses. The trees and shrubs in the Driveway Garden mightn't have changed so much since I first came to Mooseys, but they've certainly grown!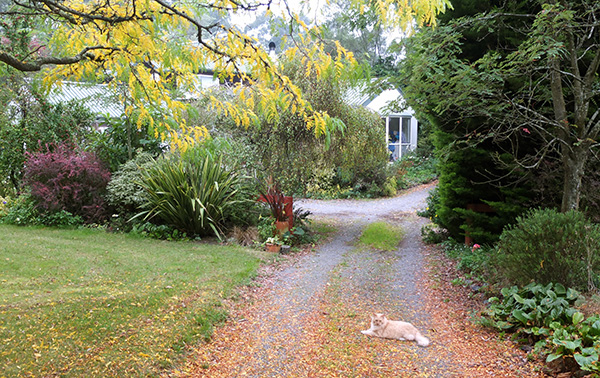 Autumn Cat in Driveway
In the early days there was rough grass each side of the driveway, and the garden by the house was planted with a grid of Pittosporums and covered in bark chips. I removed the bark and added some of my favourites - roses, little red flaxes, perennials, and smaller shrubs like hebes.
Cats and Dogs in the Driveway - 2000
And naturally there's usually a cat or a dog hanging out on this part of the driveway. Are we going for a walk? Are we going back into the house for a snack?
House and Driveway - 1997
White Iceberg Roses
Many of the original plantings where the driveway meets the house are still here. The white climbing Iceberg Rose has always been uncomplicated and healthy, though companion plants have grown tall around it. The conifer is another story. I used to appreciate the conifer - it behaved itself and always looked fresh and healthy. But then it grew much too big for this position, and my hedge-trimmer man trimmed it into the shape of a 'big blob' (my instructions).
I took the earliest photographs in the summer of 1997, when the Iceberg Rose had enough space to grow. I believe the rusty coloured rose was Whisky Mac. After blooming brilliantly for some years it died on me. Was it my pruning? I really don't think so, though I was a novice.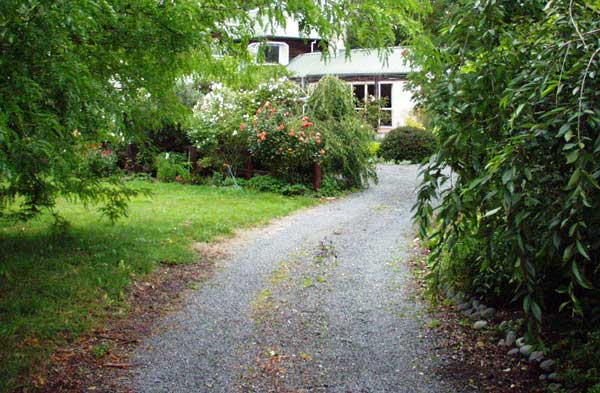 house and driveway - 2003
The overhanging tree in 2003's photograph has vicious spikes on it which threaten the lawn-mowing person, and scratch the roof of the car. It's a locust tree. There are other smaller locust trees, or Gleditsia, here in the garden which are completely thornless, although they must have seeded themselves from this parent tree.
Fluff-Fluff the Cat on the Driveway
This photograph features Fluff-Fluff my big pale ginger cat, and was taken in the summer of 2010.
Collies in the Driveway
Some things may change, but there'll always be a cat or a dog walking this section of the driveway looking out for the Head Gardener.