Introducing the Frisbee Lawn Garden
The Frisbee Lawn Garden started off as a narrow border ringing the Frisbee Lawn. In went rough rejects - Salvias, Dahlias, Senecios, and the like. I then started moving irises and daylilies into the sunniest places. I added a few New Zealand shrubs and hey presto! The border was full. That was easy!
The Frisbee Lawn and Garden
Every couple of years it was widened - just by a spade's width - and Non-Gardening Partner (who mows the lawn) didn't seem to notice. And a word about that lawn - in summer when there's little rainfall it gets parched and goes brown. I've put in many requests for irrigation. No luck so far! The far corner of the Frisbee Lawn contains mainly Agapanthus, Euphorbias, and Cordylines. Again, there's no irrigation, so the plants and shrubs in here just have to tough it out.
The Stables Garden
Just across the drive from the Frisbee Lawn is the Stables Garden. NGP, bless him, must take total responsibility for this. One day he commented on the area having 'good soil'. The next day I started digging.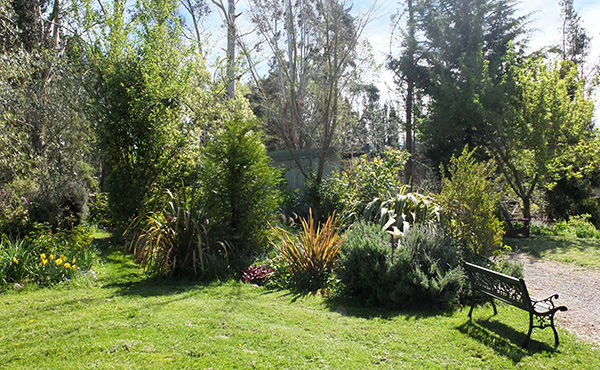 Early Morning in the Stables Garden
The Stables Border has since been expanding, and has a large variegated elm and a flowering almond, assorted ornamental grasses, perennials and roses. The garden and lawn behind the Stables is peaceful and secluded.
Roses and Dog Kennels
Some other distinct garden areas can be visited in this part of the Moosey Garden Tour. Firstly, the Birthday Rose Garden - a birthday present for Daughter of Moosey, just what every girl who's travelling overseas wants. Each year I'd buy more roses and peonies. Happy Birthday!
Around the back of the garage is the Dog Kennel Garden, containing a collection of eclectic objects and odd little plants (including some compulsory conifers), created around the old, original dog kennel. initially I tried to create a rockery, but then Camellias, Phormiums, Pseudopanax and Rhododendrons took over. Of course they would! I knew that...
I've built a small Lavender Garden for Rusty and Winnie (the current Moosey dogs) to surround their modern dog kennels, with Cordylines, miniature Agapanthus, and lavender around the edges. A Potato vine climbs over the roof of Rusty's run, providing shade in summer.
My latest development is a the Allotment Garden, a narrow strip of garden beds which run down the driveway behind the Leyland hedge. This was supposed to be a traditional edibles garden. Oops. Being super-sunny, I couldn't resist popping in a few roses. And then a few more, and so on.
The Frisbee Lawn itself continues to frustrate me, though. Sometimes I'm tempted to plant the flat part of the lawn with trees, and the slope with tussocks and grasses. Then I see Rusty rolling on the grass, or chasing his tennis ball down the slope and I see reason.
Roly Poly Rusty Dog
Better not mention my latest plan for this area - a large second pond. I'm sure my dogs would understand - well, maybe not young Winnie, who loves chasing and catching her orange frisbee here. Oops.