I've forgotten to stake the dahlias...
Single Magenta Dahlia
Summer rushes on, and yet again the gardener has forgotten to stake the dahlias. Late developers start to grow, while other plants start to die down... I have become a weekend gardener again. It's a very sudden transformation - one day I see gardening time stretching out in all directions, then the next day it's all used up.
Saturday 3rd February
I am back at work. Today I am going to walk around with a cup of tea and a small notebook, writing down what I see and what I want to do about it. Then I will check back in to write my strategic plan for the day. It's all to do with gardening accountability. I've only been back at school a week and I've already got the mind set.
I'm back. The strategic plan goes like this. It's pretty boring.
Trim... Dead-Head... Plant... Do edges... Trim... Dead-Head... Plant... Do edges... Trim...
Sunday 4th February
Super hot today, by New Zealand standards. Just watered the new plantings under the Wattle Tree Garden, and the pots around the patio.
Sri Lanka has now beaten us TWICE at cricket. We are hopeless.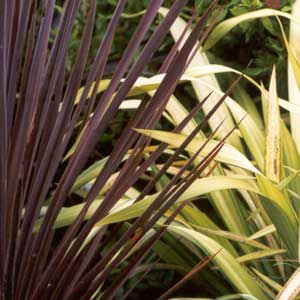 red
cordyline
and yellow wave flax
Tuesday 6th February
We've had a holiday today. I've made a start on cleaning up the dog-path which goes from Middle Bridge to the Plank. I've uprooted my daily quota of gorse seedlings, and dug out a rather disastrous grass which has seeded everywhere. I feel very guilty, too, as it was planted innocently, by me, near a waterway. Next summer I'll probably see it growing by the main road as I drive past, and I'll be so ashamed.
When I think of it, that's how I got my gunnera - it turned up in the bank of the water race during our second summer. Doesn't make me feel any less guilty though.
Sri Lanka has now beaten us THREE TIMES at cricket. We are worse than hopeless.
Saturday 10th February
Today is far too hot to garden - for me, anyway (28 degrees). I'm going to wait until 4 or 5 o'clock and return. There are a lot of happy weeds out there!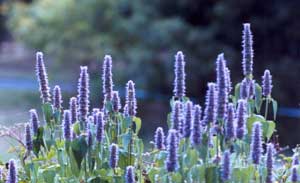 Agastache along the Driveway Border
Sunday 11th February
All day today there was cloud cover, though the temperatures were in the 20s. I weeded and cleaned up all the edges over the water race. There were quite a few mature gorse seedlings to do battle with. Ouch!
We actually won the cricket, though, which makes a most satisfying end to a great weekend.
Tuesday 14th February
It's Valentines day today and I've had the morning off work. I love my garden. I've spent two mellow hours weeding in the shade over the water race. The path through the rugosas and the natives has been reclaimed. The growth in those beds is rampant, and some rationalising of plant assets will be required this Autumn. Oh dear - there are roses in there which have to move - but where to? I already have far too many.
clearing the hump
Saturday 18th February
Something exciting has happened - tree man was here on Thursday, and many of the pines and gums in the Hump are either topped or felled. There is a huge mess, and I have been stacking and lopping and clearing all morning.
Another area which has been tree felled is by the back door leading from the carport. Two trees were dangerously near the house, and they have 'gone', leaving the garden space there with great new possibilities. Now there is more light and space. It would look beautiful as a fernery with pungas, but of course the conditions would not be wet enough.
The Pakistani cricket team is here. Watch this space...
Sunday 19th February
Today we lost the cricket.
Saturday 25th February
Today I have been seriously inspired by H.R.H. the Prince of Wales. I read some chapters of his book 'The Garden at Highgrove' while having my pre-gardening cup of tea. Highgrove seems to be full of large abandoned pots (gifts) trying to look stylish. The photo of H.R.H. in sharply pressed cream slacks bending down to weed in his thyme border finally did it. I raced outside full of plans and schemes and messy garden energy, and got terribly dirty weeding and digging by the water race. One of the dog-paths is wider now, and 2000 gorse seedlings have been pulled out. I wonder if there will eventually be an identified 'last seedling'...
my stumpery
Later...
H.R.H. the Prince of Wales has a Stumpery! An area of garden full of old tree stumps immediately sounds stylish. Apparently a stumpery has its roots (or actually its stumps) in the 18th century English picturesque movement. H.R.H.'s stumpery is 'moody, melancholy, mysterious and magical'.
Ha! I also have a stumpery (and I didn't have to acquire the stumps and get them here with an articulated truck, hee hee).
Sunday 26th February
I feel very sorry for the gardener inside H.R.H. the Prince of Wales. I would get jolly annoyed if people kept giving me large pots to put in my garden, which was already overloaded with such.
I am off outside now to continue my gorse seedling pulling in Middle Border. Later today there is cricket. No comment. Also the rugby Super 12 started yesterday. No comment.