Where is Sifter the cat?
I start off sick, home from work but too sad to garden. But my normal enthusiasm soon returns. Unfortunately Sifter the cat does not - where can he be?
Tuesday 13th August
Yesterday managed a little light pruning and shifted a few barrowfuls of mulch around. The weather again was amazingly mild - it's so frustrating that I didn't really feel like doing much. I did see the big pink azalea in flower, and picked the first Daphne. The white camellia by the sleep-out is also starting to bloom, and there is a small clump of yellow daffodils staring out at the house from the Septic tank border. I really miss blue flowers at this time of the year - I can't wait for the grape hyacinths to start up. Perhaps yellow is over-rated...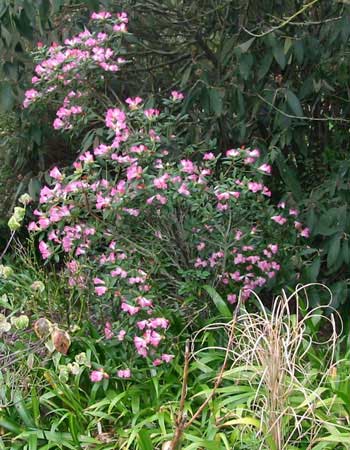 the
large pink azalea
in flower
Today it's raining and I'm off to the shop to buy yummy things to drink before retiring to bed with Fine Gardening magazine. I have been saving it for 5 days now - carting it around still wrapped in its plastic, waiting for the right inspired moment.
Later...
A couple of geriatric shuffles round the garden with the dog, and I stopped to pull a few weeds out by the Hen House. Tomorrow I might try a small gardening timetable, with a system of rewards. The weather is supposed to be mild again. When will I recover my gardening energy?
Wednesday 14th August
Still sick. Pottered around for about one hour feeling dreadful. Retired inside. Where is my gardening energy?
Friday 16th August
I can't believe that I've been off work for a whole week and have hardly been in the garden at all. Yesterday, however, I spent about two hours clearing around the Pergola - the Lavender Lassie rose whose colours offend the neighbours (Crepuscule and Penelope) is dug out ready to move down to the Stables Border. I've also tried to dig out the deeply rooted and annoying weedy perennial which I think is called Lovage. Actually I was going quite nicely until the weather turned suddenly cold, but I'm doing far too much fantasy gardening inside my head and not enough in the reality of winter dirt. Today it's drizzling, I'm still coughing, and Taj-dog has arrived on the patio with black (dirt) paws. He has been digging somewhere. Hopefully I will go outside later (I didn't).
Saturday 17th August
Drizzling again, but today I made my very first purchase of seeds on the internet. What a big baby! I got terribly excited clicking things and putting them into my shopping cart. Will I be as excited when I get to sowing and pricking out? I think I have some nice flowers ordered, anyway. Typically I can't remember much of the $45 purchase except apricot foxgloves, dark red-black hollyhocks and blue viscaria. I remember almost buying some poppies.
The first miniature daffodils
Sunday 18th August
I am off outside to clear some logs (yesterday Stephen chain-sawed more of the Wattle Woods garden mess). I am trying not to be sick any more, telling myself it's a state of mind. The sun is shining, this must be a good thing. I have been dreaming up bizarre schemes to allow me to leave work permanently with no guilt. Wonder how I can best do this? Hmm...
Saturday 24th August
It's early in the morning and the weather is mild. What shall I do first? Finally I am feeling a lot better , it's Saturday, the garden is waiting, the sun is almost shining, and I still haven't folded over the gunnera leaves or spread the horse-poos on the driveway border. Enough procrastinating!
Later...
I have been pottering in the garden until after 5 o'clock. Now I am relaxing in flowing white linen shirt, with apres-gardening green jersey delicately draped over shoulders. I have sown seeds, pricked out cornflower seedlings germinated from my own purple plants, and potted up many rooted cuttings of favourite variegated pelargoniums. I have burnt rubbish, carted mulch, shifted roses, pruned roses, moved a giant flax to a much more sensible place, and started to clean up the Dog-Path, slicing off the grassy weeds and pulling out the gorse seedlings.
Blue Muscari
Spring Flowers
There are more daffodils in flower now, and I've collected a modest bunch for a vase. The pink camellias in the Wattle Woods garden are in bud. There are some grape hyacinths already flowering, and sprinklings of blossom in the trees. Spring is slowly creeping in, with tiny flashes of life here and there - nothing too obvious, nothing over-stated as yet.
And I am pleased to report that I am feeling much much better. I am determined to be a better gardener this spring and summer, and to keep producing annuals for planting in the spaces. I will not get bored with my seedlings and abandon them to dry out and die. I will also have (for the first time) a well organised, carefully planted, and tenderly nurtured vegetable garden. There will be no dock weeds. And I will grow heaps more parsnips, because they were my most successful crop last year. This all reminds me to order in my organic vegetable seeds.
Sunday 25th August
Finally I am back to my early morning routine - hot drink, head swirling with gardening ideas, as I check in with my diary. A southerly storm is due later today, with snow down to 400 metres - it's impossible to imagine this happening as the sun is shining and it's very mild. What shall I do first? If I am sensible I'll stay out of the glass-house until the weather breaks. And I noticed yesterday that the roses are all starting to form new shoots, and there are a few that I haven't pruned.
I think I might devise a circuit - barrow a load of mulch into a garden bed, return with a barrow of rubbish and rose prunings to the fire, shift a barrow of logs into the wood shed, plant a few of the potted roses, that sort of thing. It means I'll be very busy without the satisfaction of seeing any one task obviously accomplished, but never mind.
Later...
I feel really good! And I'm actually quite pleased with the plantings over the water race, particularly the clean green flaxes. On many other occasions I've been tempted to dig them out and banish them to a far fence-line. It's funny how reactions to plants are so inconsistent. Just wait - I always rave about the beautiful magenta-purple honesty flowers (almost in bloom) and then suddenly one day I want them all gone.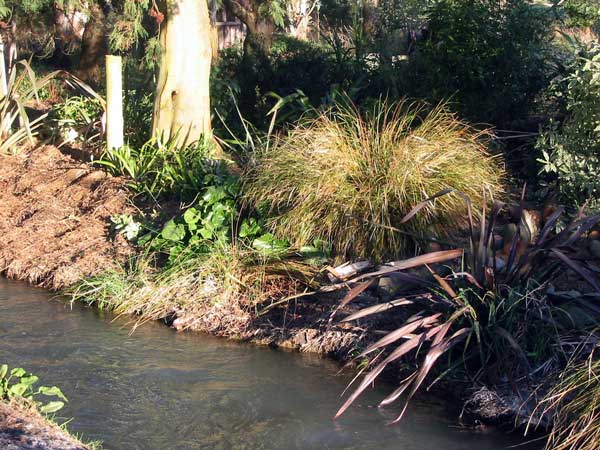 The water race
Today I've done lots of small things, but don't feel dissatisfied at all. I did major path maintenance through the Hen House Border - as my flaxes expand, why shouldn't my paths be re-routed to sweep curvaceously past? There are only a few random roses left to be pruned now, and I've cleared and trimmed along the water's edge of the Dog-Path. I've noticed that Duck Lawn has moved - or rather the ducks this spring seem to have moved to a different lawn by the Oaks. There are at least two pairs who potter around and spend long periods of time sleeping(?) on this stretch of grass. For the sake of consistency, however, Duck Lawn should remain the name of the oval grass area between the Hen House Borders and Middle Border. Or should it be called Duckless Lawn? Hmm...
Miniature daffodils
Friday 30th August
I want to give a small spring flowers report. There are many more patches of daffodils now flowering. This year the clumps of miniatures are very successful. I like the graduated flowering times, too, though this is a happy accident rather than a good design. The purple honesty is starting to flower, too, and there are large patches of white crocuses (such clean, pure flowers held so close to the soil) which I can enjoy from the breakfast chairs.
And sadly, a report on big fat Sifter, who has yet again gone cruising. This time, however, he has been AWOL for 5 days, and we suspect that he has just sifted off and joined a new family somewhere. So we may be down to three cats - the lowest number ever at Moosey's.
Sifter's loyalty has been changing these past months - for example, in my two week holiday when I was home in the garden every day he went AWOL - obviously he didn't care much for, or need, my company. We have thought of advertising in the local paper:
Has this cat adopted you in the last six months? Do you now think that this cat is yours, but suspect him of leading a double life?
Saturday 31st August
Sifter has now been missing 5 nights. I am very cross with him. Being an opportunist cat is all very well, but we've loved him and fed him and offered him warm fires, chairs and beds with good company, and all sorts of food treats. Perhaps he is gone for good.
Today I did a little weeding and burning, then got out the clippers and did the edges over the water race. This is the first time for weeks that I've done edges. And Stephen mowed the back lawns. I saw peony shoots starting up, and hosta shoots too. There are more and more patches of daffodils, and the row along the front fence is starting to flower. I watered the seeds in the glass-house and cleared more logs of wood. There is a sense of everything just starting to warm up and grow. It's quite serene.