March is my scruffy month...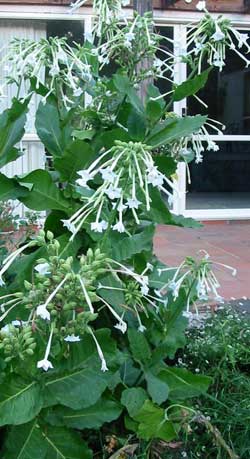 nicotiana sylvestris
It's March. I'm not sure what usually happens in March - the seasons have been so unusual this year. Perhaps March might bring Summer. A quick look around the garden, though, confirms my suspicion that March is my scruffy month.
Friday 1st March
It is actually Friday night, and I am writing in anticipation of a full-on gardening weekend. The big Nicotiana Sylvestris by the house are at their best now, beautifully fragrant in the evenings. I am going outside to sit quietly, breathe deeply and have a cold drink before retiring. I am looking forward to the garden-time tomorrow.
Saturday 2nd March
The morning is fresh and full of promise. As soon as I can find some socks which do NOT fall down inside my gum boots I will be off outside with wheelbarrow, secateurs and all. I'm serious about the socks! Imagine trying to test socks for gum boot suitability before buying them. The shopkeepers would throw me out!
Results of my no-staking garden policy
Too Windy
It's now early afternoon and I have totally petered out. Hopeless. My latest socks have been hopeless too, and I have been reduced to bare feet in gum boots (gross). I think I might become an old lady and go have a lie down and read my magazine. In my defence I would like to say that the nor-west wind is fiercely blowing gum tree leaves around and affecting the gardening ambience. And I have been watering pots and weeding the vege garden (boring - I don't even like the vege garden that much, only the peas in late spring).
I am back, having slept for four hours. The blustery bossy wind is still noisy outside - too windy. I am going to go for a walk after I've written this. Can't understand it - I was so looking forward to being in the garden today. Must be old age ... hmm...
Sunday 3rd March
Yesterday I was a lapsed gardener. Today I will try the slow, gentle approach - demanding nothing, expecting nothing. Thus I shall be rewarded? Accordingly I will not rave on about my gardening soul, or make mind-boggling lists. In a few minutes, after I have drunk my first morning cup of tea, I will glide into my sockless gum boots and drift out the door. I will try to resist the urge to make any further comment now. It's hard, though, not to write a wee list, just to get oneself back on the straight and narrow...
Wee List (oops...)
Perhaps plant Wisteria (sensible)
Possibly do all edges (boring)
Maybe plant new large flax (naughty) and new stripey Miscanthus (very naughty)
Probably water pots again (that darn wind)
That'll do!
Later...
I have spent two hours clearing and weeding out the back (doing nothing on the list). I have collected lavatera seeds (both white and pink), and shovel-dug out at least six large dock weeds from the vegetable garden and the rose garden behind it. Two barrowfuls of mess is better than none. After my coffee break I did more clearing, as Stephen had obligingly chain-sawed down a rogue elderberry from the Island Border. I raked the wattle seedpods off the paths in the Wattle Woods. I cleared around the Pond Border edges. Funny to think that the Pond Paddock was a bare stock paddock when we first arrived seven years ago - the sheep used to sit under the Wattles, when they weren't eating the new rose shoots through the house fence.
When I get in this moochy sort of mood the best thing is just to potter thoughtlessly, head down, no analysis, no questions asked. It is the start of the scruffy season, after all.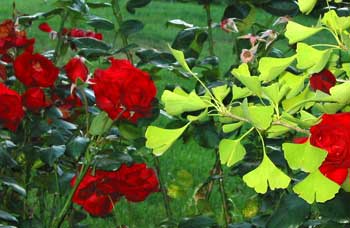 Red rose by the ginkgo tree
Sunday 10th March
Yesterday I did mundane things like burn the rubbish pile (the rogue elderberry, various barrowfuls of wattle seeds, etc.) and clear the Dog-Path Garden of weeds and outgrown pansy plants. I also dug out a lot of the slightly unrefined blue geranium (I think it's a British weed called Lord Robert or something). And helped get in 200 bales of lucerne hay to the shelter of the hay barn.
Today I am about to go out and clear the remaining gardens over the water race. I like very much going over there - the physical barrier of the water separates me from the house, house gardens, telephone, and bag full of school work which I need to look at before tomorrow. The roses I planted there are blooming madly again, and everything looks great. It's not at all scruffy, and I must remember this when I get all sad about the March garden look. Hmm... I will return a little later, hopefully in a calmly jubilant mood. No list required - keep it garden-simple.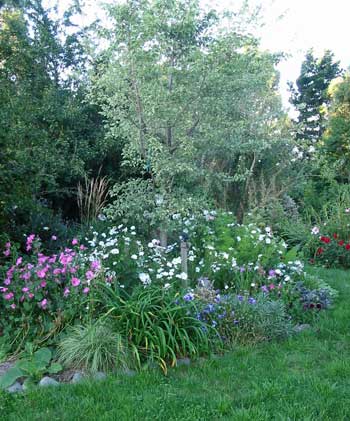 The new Elm Tree Garden
Later...
I've only done 3 hours work, but this cannot be helped. Gardening has to be stress free, and I've come inside to do some school work. I am so looking forward to the holidays, and I've only just had some! o well, at least the rest of the gardens over the water race are weeded and the edges of the lawns are trimmed and neat. And as I said before, there is absolutely no scruffy stuff over there. I must analyse the plantings in the house gardens to see what the difference actually is. It may just be the polychrome yellow euphorbia which ages disgracefully and is self-sown in the side borders of the Pond Paddock. It may be the floppy self-sown dahlias. It may just be an illusion.
Saturday 16th March
Something terrible (in the gardening sense) has happened! Tomorrow - Sunday that is, a weekend gardening day - I am taking one of my school sports teams away on a trip to the North Island, driving for hours, and staying away for SEVEN NIGHTS. This means I have lost ONE AND A HALF WEEKENDS of garden-time. Eeeek!
So today I plan to make the most of my freedom. I think that I will just potter, enjoy and relax in the garden. Perhaps I will remember to plant the new Wisterias. Perhaps I will water the pots. There will be no pressure (unlike the pressure that New Zealand is under in the cricket, but enough of that).
Nathan Astle may have hit the fastest double century of all test match time, but we still lost the cricket. However, one small garden battle has been won. I have waged war on the scruffy euphorbias which have self-seeded everywhere. They are now banished to one half of the Stables Border only, and things look so much better. Being a self-seeding fan and a lazy, let-it-all-flow gardener has definite drawbacks, the March scruff being one of them!
The Stables Border looking tidy
Tomorrow I will drive off to spend EIGHT WHOLE DAYS away from my garden and cats, not to mention the nice people I live with. I wonder how madly things will grow while I am away? It is horrible to miss three weekend days in March. My local nursery starts its Easter garden sale tomorrow, and I will not be there to scoop up all the bargains. I guess I could post a message in my own guest book if I get too sad. Maybe I can sneak off and look at some gardens up North - I will take my open gardens book just in case. Farewell.