Too many new daffodils...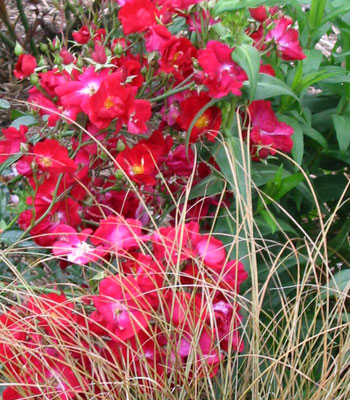 Red Rose and Tussock
My holiday is going really well. It's often during this autumn break that I start making ridiculous plans for garden improvement. But I seem to have overestimated the numbers of new daffodils needed for the Moosey Spring Show.
Monday 15th April
I like to think of myself as in intrepid, adventurous gardener - one who would zoom straight outside on this cool crisp Autumn day, the third day of her holiday, to plant at least 1000 new daffodil bulbs. Does it take a whole hour to drink one cup of tea and eat one small plate of porridge? Oops... perhaps a cup of coffee would now be nice, while the sum rises just a little more and gets a little warmer?
Tuesday 16th April
I was really good! I worked hard for nearly four and a half hours. I DID ALL THE EDGES OVER THE WATER RACE. I even cleared the trimmings. I planted 500 daffodil bulbs in pockets of space in the willow tree border. I pulled out all the path-blocking Nicotianas.
Garden Dreaming...
I did quite a lot of garden dreaming, punctuated by fierce noises from a neighbouring chainsaw. I feel good about the garden, especially when the lawns are newly mowed and the edges are done.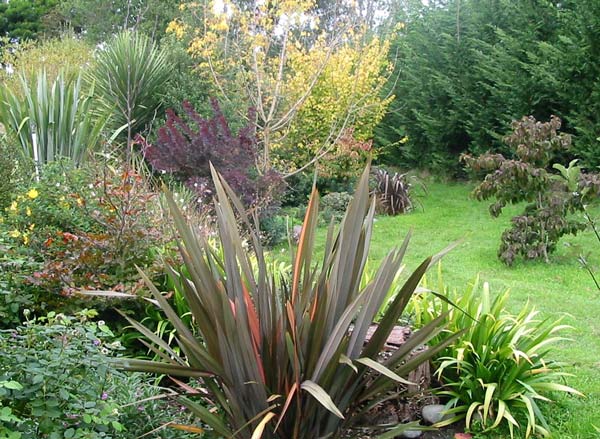 flaxscape
Today I am being intrepid and adventurous in a totally different way - we are going on a celebratory tramp in the mountains. Is my pack too heavy? Not really, since the others are kindly carrying all the food. Being a recovered sick person has its advantages, and I should be able to keep on exploiting them, hee hee! I have new clothes, too, which is terribly exciting - a down jacket which stuffs itself like a shy puffy black monster into its own inside pocket, a light warm wool merino layer for keeping warm in the hut, etc. etc. I will stop right now before this diary transforms into an outdoors adventure clothing catalogue. When I return I will have photos of nature's rock garden, which will be full of hebes and phormiums and beech forests and tussocks. No problems with design out there!
Oak tree leaves
Late Thursday 18th April
We are back from our 3 day tramping trip in the Lewis Pass. It was a brilliant trip - two nights at a really warm hut in the Nina Valley and a huge day trip up (and up and up) to Devilskin Saddle - scrambling up nature's ladder holding on to tree-roots, sidling through ferns and beech forest, up ridges and through stony streams.
Devilskin Hut :

Devilskin is a small bivy (hut) in the mountains in the Lewis Pass area - warm and safe in bad weather!
We pushed on past the small orange hut on the bushline, through huge tussocks, to have lunch on Devilskin saddle (1234m). It's an amazing feeling sitting on the top between two river valleys. And imagining how welcoming that orange hut would be in bad weather. I saw a lot of silver astelias of varying sizes, and wiry little hebes at the bushline. The tussock grasses on the saddle were huge and healthy - quite inspiring. The ferns also were quite beautiful - and the mosses.
I made some great gardening plans while plodding through the bush. My biggest plan was a large pond in the middle of the Frisbee Lawn, surrounded by natives with paths that push past the plants. Maybe some rocks, too, and a rustic wee orange hut with a sleeping bench inside...
Friday 19th April - Good Friday
I am up, an intrepid returned tramper dressed snuggly in light weight merino hut clothes, ready to slurp down a cup of tea before visiting the Easter nursery sale. Good morning to Stumpy the cat, whose company I missed.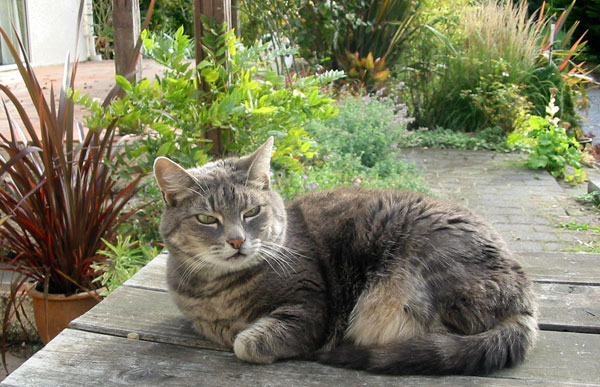 Stumpy the Cat
It's quite cold and drizzly outside, but the views of the garden are clean, green and beautiful. After the beauty of natural bush and mountain vegetation the garden looks so colourful - the warm pinks and golds of the flax leaves, the red geranium flowers, and the red and yellow dahlias which are exploding everywhere after months of water neglect. But enough of this daydreaming and thought reminiscing about walking on a carpet of beech leaves. We are off to the sale. Back soon.
Back With Some Bargains
We are back, with a modest collection of bargain bin plants including some variegated comfrey for fifty cents. Unfortunately it's about seven degrees outside and drizzling (though to be fair there's no wind) so there is little incentive to plant anything. Today might be a good day to stay warm inside and read old gardening books, or maybe plan that new pond. I might become an intrepid gardener again, but for now it's the log fire.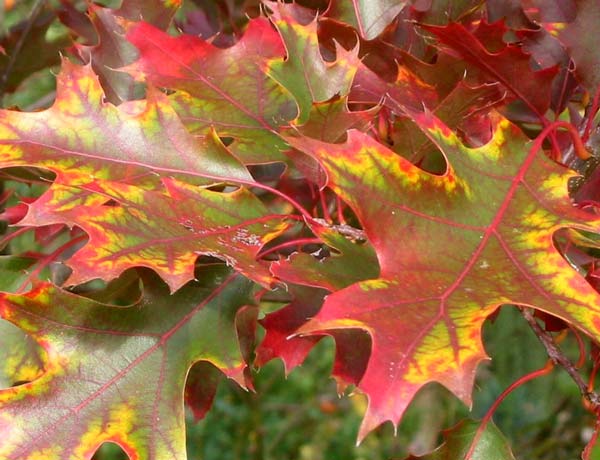 More Oak tree leaves
Saturday 20th April
I am about to drink my first hot cup of coffee. There are $30 worth of plants out there (all seem to be variegated) to organise, and 2500 daffodil bulbs. There is no drizzle or rain, although temperatures are quite low. I am an intrepid gardener dressed in thermals, not easily put off by such things. I am done with planning new ponds, designing avenues of posts and chains covered with old fashioned roses. I am a four-seasons gardener who revels in the dirt and the soil and the mud. Inclement weather will not stop me.
Later...
I have worked really hard for at least five hours. In the lunch break we went off to get a trailer load of rotting pea-straw. I've now laid newspaper and mulch right along the water race garden. I've planted some of the new plants, and another bucketful of bulbs. I have also discussed the new pond with Stephen, trying to appeal to the civil engineer inside him, and he grudgingly agrees that the project is feasible... We walked around the Frisbee Lawn and discussed levels - there will still be quite a bit of lawn left - I think the idea is a winner. We also walked out in the middle paddock where the Hazelnut trees are going and I can see I have quite a bit of new space to play with. Lots of fun will be had plotting and planning.