The short and sweet snow storm...
I'm busy cleaning up after the (short and sweet) snow storm. Snow in late September! The daffodils now have good reason to droop, and the Honesty has been knocked back - as has the gardening confidence of the head-gardener. Nothing like a serious clean-up programme to put things right!
Thursday 22nd September
Yesterday I abandoned the garden to sulk and thaw on its own - we went on a scenic train trip from the east to the west, through the Southern Alps. It was magical - standing in the open air viewing car watching the rivers and mountains, over viaducts, through nineteen tunnels (including the famous Otira tunnel - a quarter of an hour long), past lakes, wet-lands, tussock-lands and gorse-lands (oops - not quite as romantic as the others!)...
Snow Dog
Back to the Garden...
But this is supposed to be a strictly-gardening journal, so I will remove my thoughts from the expansive South Island landscape and get back to the small Moosey dirt-patch. This morning I've worked for a couple of hours clearing the Pond Paddock borders. I've trimmed Hebes broken by the snow, dug out more ground cover Hypericum, and unearthed a David Austin rose with the label Emmanuel.
Poor rose, with ghastly Hypericum roots strangling it below ground and a large snow-squashed green species flax covering it from above! Also some little dwarf irises stagnating alongside have been rediscovered - too late, possibly, for flowering this year. It occurs to me that I never need rescue plants from sale tables and bargain bins again - there are enough 'rescuees' in my own garden!
New Plants for the Garden!
Now I am about to do something really exciting - I have a birthday present credit at the local nursery for X dollars, where X is a financial variable at most equal to 300. Wisely I've saved it until this week, when the nursery is having a HUGE SALE! Yippee! What will I buy? Where will I plant it? Plant them? Oh dear - what's the plan? There is no plan? Oops...
My instructions are to buy at least one conifer, and possibly some new plants never before seen in the Moosey garden. My instinct is to buy some more lovely coloured hybrid flaxes, and some more blossom trees for the Hazelnut Orchard (25% off marked price). Hmm...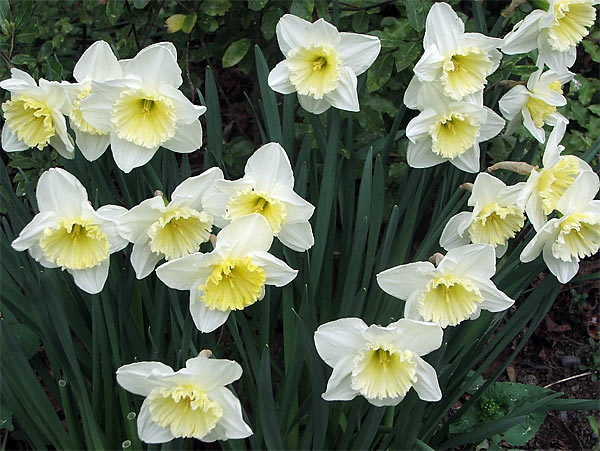 Poor Daffodils
Later...
Feeling a little nervous about a random plant spending spree, I decided to prune another row of Hazelnut trees, and burn all my rubbish instead. Tonight I will rationalise, and write up a plan. I will choose wisely, put everything in a spreadsheet, and the London Mooseys will be proud of me. Ha!
Friday 23rd September
Aargh! I honestly don't know what to spend my nursery credit on. What do I need? A weeding machine. Let's get serious. More roses? When in doubt, spend nothing? Write a list? Draw a paper plan with circles and stars and asterisks? Oh boy. A gardening dilemma.
Common garden sense tells me I should go down to the nursery right away, take a pen and paper, look around, and write down the things I see and like. Surely the Moosey Garden is big enough to find spaces for an odd assortment of plants? What about trees? I am in a blossom mood at the moment. Crab-Apples? Fruit trees? I could have a fragrant garden, or a Mediterranean garden, or a strictly lavender garden. The only place I can think of for a completely new dug space is around the water tank. Think calmly, Moosey, think!
The Water Tank Garden - Constraints
Gum-tree roots nearby.
No irrigation (though this could be arranged).
Leyland shelter trees nearby.
The Water Tank Garden - Positives
Sun from mid-morning until late afternoon.
Access - the new stile over the fence by the Hen House.
Stone-free soil.
And one lovely, subtle, pale green water tank - a sculptural feature?
Right. First I'll prune one whole row of hazelnut trees (puppy can get some morning exercise chasing the shrieking plover birds). Then I will quickly investigate the area surrounding the water tank. I don't like this dithering version of Moosey - bring back the Random Impulsive model!
Saturday 24th September
Ha! I am back! A small New Zealand Native garden (no Pittosporums) it will be, with a low Corokia hedge, and one rogue conifer as per the London Moosey agreement. I am off to the nursery later this morning with the trailer - I can promise many documentary photographs will be snapped! My goodness how seriously we sometimes take ourselves!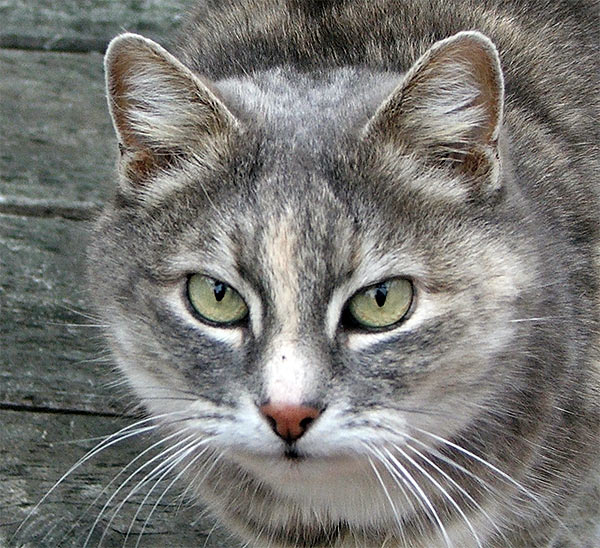 Good Morning Jerome
Good morning to Stumpy the cat, my journal-writing feline friend. And good morning to her elusive sister Jerome who has decided (oddly) to sit at my feet. Good morning to puppy who has begged the crusts off my morning toast. The first hot cup of tea - magic! A gardener refreshed, full of optimism, health, energy, and ideas - more magic! Cat-company of the very finest - quiet magic! And puppy the gardening companion, plodding alongside the wheelbarrow in sun or snow (aargh!) - most magical!
Later...
I think my 'old-ladyness' has gone up a level. These days, if I do too much hand-intensive gardening in one day, my hands get sore, and my fingers ache at night! This is terrible! I don't mind the silver lights in my hair, and I've been a non-kneeling gardener for a while now. But this sore finger thing is a worry! Humph.
I am stylishly apres-gardening in country checked blue shirt and jeans (the perfect outfit for famous gardener being interviewed), and we are about to go to the nursery. I've weeded, pruned Hazelnut trees, pulled out flopped-over Honesty, cleared more gum branches felled by the snow, and burnt all my rubbish. There's no need to rush - I have an hour and a half to spend my birthday money. Back soon.